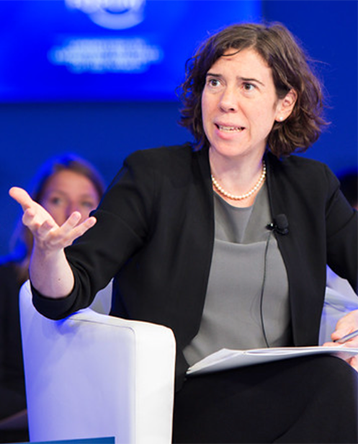 Erica R.H. Fuchs is a professor in the Department of Engineering and Public Policy at Carnegie Mellon University, and a research associate with the National Bureau of Economic Research. Her research focuses on the development, commercialization, and global manufacturing of emerging technologies, and national policy in that context. She was the founding faculty director of Carnegie Mellon University's Manufacturing Futures Institute–an Institute across six schools aimed to revolutionize the commercialization and local production of advanced manufactured products.
Over the past decade, Fuchs has played a growing role in national and international meetings on technology policy, including being one of 23 participants in the President's Council of Advisors on Science and Technology workshop that led to the creation of the Advanced Manufacturing Partnership, and serving on the expert group that supported the White House in the 2016 Innovation Dialogue between the U.S. and China. In 2012 she was selected a World Economic Forum "Young Scientist" (top 40 under 40 globally). She currently serves as co-chair for the National Academies committee on U.S. Science and Innovation Leadership for the 21st Century, on the M.I.T. Corporation's Visiting Committee for M.I.T.'s Institute for Data, Systems, and Society, of which M.I.T.'s Technology Policy Program is a part; and on the Advisory Editorial Board for Research Policy.
Before coming to CMU, Fuchs completed her Ph.D. in Engineering Systems at M.I.T. in June 2006. She received her Masters and her Bachelors degrees also from M.I.T. in Technology Policy (2003) and Materials Science and Engineering (1999), respectively. Fuchs spent 1999-2000 as a fellow at the United Nations in Beijing, China. She grew up and attended K-12 in the Reading Public School District in Reading, PA. Her work has been published among other places in Science, the Nature journals, Research Policy, and Management Science; and has been covered on National Public Radio, by Bloomberg, and in the New York Times.
Technology Development: Government and Location
Education
2006 Ph.D., Engineering Systems, Massachusetts Institute of Technology
2003 M.Sc., Technology Policy, Massachusetts Institute of Technology
1999 BS, Materials Science and Engineering, Massachusetts Institute of Technology
Media mentions
Bloomberg
Fuchs discusses automation and manufacturing
EPP's Erica Fuchs says that automation allows manufacturers to move to mass customization and "parts consolidation," which means making products that have fewer but more complex parts. This shift requires experimentation and offers "a chance for the U.S. to lead," Fuchs says. 
Fuchs to attend WEF's Annual Meeting of the New Champions
EPP's Erica Fuchs will attend the Annual Meeting of the New Champions sponsored by the World Economic Forum from June 27 - 29 in Dalian, People's Republic of China.
Khosla, Fuchs, and Whitacre on National Academies committee that launches report on ARPA-E
Former College of Engineering Dean Pradeep Khosla chaired the committee, of which Professors Erica Fuchs (EPP), and Jay Whitacre (EPP/MSE) were members, that launched the National Academies report analyzing the effectiveness of ARPA-E.