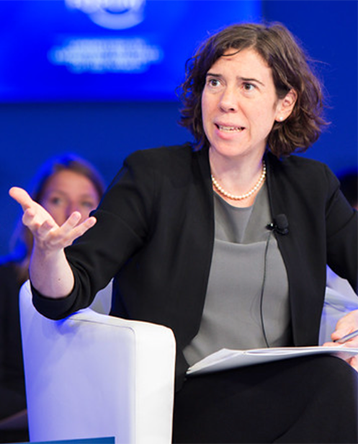 Erica R.H. Fuchs is an associate professor in the Department of Engineering and Public Policy at Carnegie Mellon University. Her research focuses on the role of government in technology development and the effect of location on the competitiveness of new technologies. Fuchs was selected in 2012 as World Economic Forum Young Scientist (top 40 under 40, internationally). Her NSF CAREER award-supported research focuses on rethinking national innovation systems. She has also been honored as a Carnegie Institute of Technology Early Career Dean's Fellow (2013) for her research on how manufacturing and product development differ when undertaken in the U.S. versus other nations and the implications for U.S. competitiveness, and as an Oak Ridge Associated Universities Junior Faculty Fellow (2008) for her research on the impact of offshoring on technology directions.
Over the past three years, Fuchs has been playing a growing role in national meetings on the future of U.S. advanced manufacturing, including advising the President's Council of Advisors on Science and Technology during a one-day workshop and welcoming President Obama during his 2011 visit to Carnegie Mellon to announce the Advanced Manufacturing Partnership. She currently serves on the U.S. Advisory Committee to the International Commission for Optics and previously served on the National Research Council committee on future trends and challenges in optical science.
Before coming to Carnegie Mellon, Fuchs completed her Ph.D. in Engineering Systems at M.I.T. in June 2006. She received her Masters and her Bachelors degrees also from M.I.T. in Technology Policy (2003) and Materials Science and Engineering (1999), respectively. Fuchs spent 1999-2000 as a fellow at the United Nations in Beijing, China. There, she conducted research at state-owned industrial boiler manufacturers on policies to encourage innovation. Her work has been published, among other places, in the Journals of Lightwave Technology, Composite Science and Technology, Research Policy, and Management Science and has been covered on National Public Radio and in The New York Times. Fuchs has been an invited speaker at a wide range of venues including the United Nations Industrial Development Organization, the U.S. Department of Commerce's National Advisory Council on Innovation and Entrepreneurship, and the Council on Foreign Relations.
Technology Development: Government and Location
Education
2006 Ph.D., Engineering Systems, Massachusetts Institute of Technology
2003 M.Sc., Technology Policy, Massachusetts Institute of Technology
1999 BS, Materials Science and Engineering, Massachusetts Institute of Technology
Affiliations
Media mentions
Bloomberg
Fuchs discusses automation and manufacturing
EPP's Erica Fuchs says that automation allows manufacturers to move to mass customization and "parts consolidation," which means making products that have fewer but more complex parts. This shift requires experimentation and offers "a chance for the U.S. to lead," Fuchs says. 
Fuchs to attend WEF's Annual Meeting of the New Champions
EPP's Erica Fuchs will attend the Annual Meeting of the New Champions sponsored by the World Economic Forum from June 27 - 29 in Dalian, People's Republic of China.
Khosla, Fuchs, and Whitacre on National Academies committee that launches report on ARPA-E
Former College of Engineering Dean Pradeep Khosla chaired the committee, of which Professors Erica Fuchs (EPP), and Jay Whitacre (EPP/MSE) were members, that launched the National Academies report analyzing the effectiveness of ARPA-E.
Fuchs serves on WEF council
EPP's Erica Fuchs is serving on the World Economic Forum's Future of Advanced Materials Global Agenda Council.
National Academies invites Fuchs to Innovation Policy Forum
On Tuesday, May 23, EPP's Erica Fuchs will speak at an Innovation Policy Forum hosted by the National Academies of Sciences, Engineering, and Medicine.