Team builds tools, innovations to support federal investment
With major investments in infrastructure and innovation pending, a multi-disciplinary initiative lead by EPP's Erica Fuchs is building the tools and innovations to inform government decisions.
Carnegie Mellon was honored to host Ambassador Katherine Tai, United States Trade Representative, in a roundtable discussion on the data and analytic tools necessary to support U.S. innovation and trade strategies in critical technologies, such as vaccines, batteries, and semiconductors. During her visit, the ambassador observed research demonstrations by faculty and students working in several critical technology clusters on a tour guided by Dean Bill Sanders and Professor Erica Fuchs of Engineering and Public Policy (EPP).
Fuchs, who has testified before congress on the need for data and analytic tools to support national technology decision-making, is spearheading an initiative at Carnegie Mellon to build a national network on that same subject, titled "National Technology Strategy: Critical Technologies, Supply Chains, and Infrastructure."
This initiative brings together faculty from across the College of Engineering, School of Computer Science, and Heinz School of Public Policy. Leveraging its interdisciplinary expertise and skills in a way that is truly Carnegie Mellon, Fuchs' team seeks to create the intellectual foundations, data, and analytic tools to support the government in designing critical technology, supply chain, and infrastructure strategies that realize win-wins across its multiple objectives—security, prosperity, and welfare, including health, climate, and equity.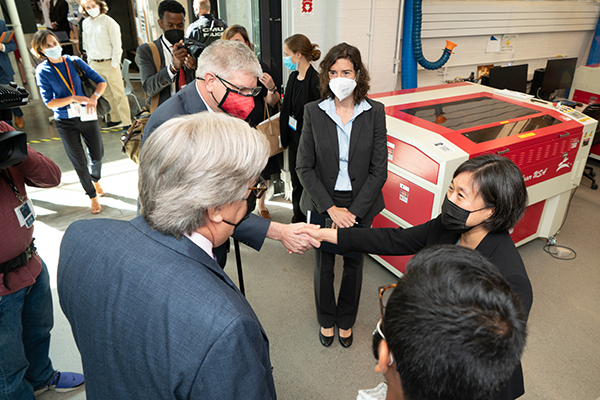 Over the last half-century, the global geopolitical balance of scientific, economic, and production capabilities has shifted away from U.S. dominance. Meanwhile on the home front, economic inequality has increased and social mobility declined. As the federal government works to pass a historic infrastructure bill and landmark investments in science and technology, policy-makers will need new analytics to help ensure their investments realize their multiple goals.
"Carnegie Mellon is one of our premier academic and research institutions, and I am excited to visit and learn more about its cutting-edge technology and innovation," said Ambassador Tai. "This work is a perfect complement to the Biden-Harris Administration's Build Back Better agenda, which will ensure we maintain our global competitive edge. And as the co-chair of the administration's Supply Chain Task Force, I am looking forward to learning more about how Carnegie Mellon's work can help the United States build strong and resilient supply chains that will position the United States for economic success and prosperity in the 21st century."
Team members Erica Fuchs, Valerie Karplus, Lee Branstetter, Ed Hovy, and Rayid Ghani have already begun to show how machine learning and text processing can transform real-time situational awareness of the nation's and international technology and production capabilities.
This initiative exemplifies the multidisciplinary and collaborative environment that makes Carnegie Mellon unique, bringing together an array of faculty, government, and industry professionals for the good of society.

Bill Sanders, Dean of the College of Engineering, Carnegie Mellon University
In parallel, the team is advancing innovations to transform the geopolitical landscape and supply chain dynamics. Faculty and student demonstrations during the event centered around three such innovations in health, batteries, and semiconductors.
Chemical Engineering Professor Katie Whitehead is helping reduce our dependence on cold-chain storage by developing lipid nanoparticles for RNA drug delivery that are more stable at higher temperatures, which is particularly important in less-accessible areas. Meanwhile, in Mechanical Engineering, Professor Burak Ozdoganlar has developed microneedle arrays for vaccine delivery that dramatically reduce the amount of vaccine required and thus help address vaccine shortages, reduce cold-chain storage challenges, and simplify global distribution.
In battery research, EPP Professor Jay Whitacre is innovating to create cobalt-free batteries and pushing new innovations in battery recycling that will reduce our global reliance on cobalt and lithium, often sourced from regions with negative labor conditions such as the Democratic Republic of the Congo.
On the semiconductor front, Electrical and Computer Engineering (ECE) Professor Brandon Lucia is inventing the next generation of computer chips. Lucia's chips require ultra-low energy levels, opening up new possibilities in AI, satellites, defense, and climate science. Lucia works with experts in chip design like ECE Department Head Larry Pileggi, a pioneer of the next generation of computing devices, as well as hardware innovations to transform chip security and global supply chains.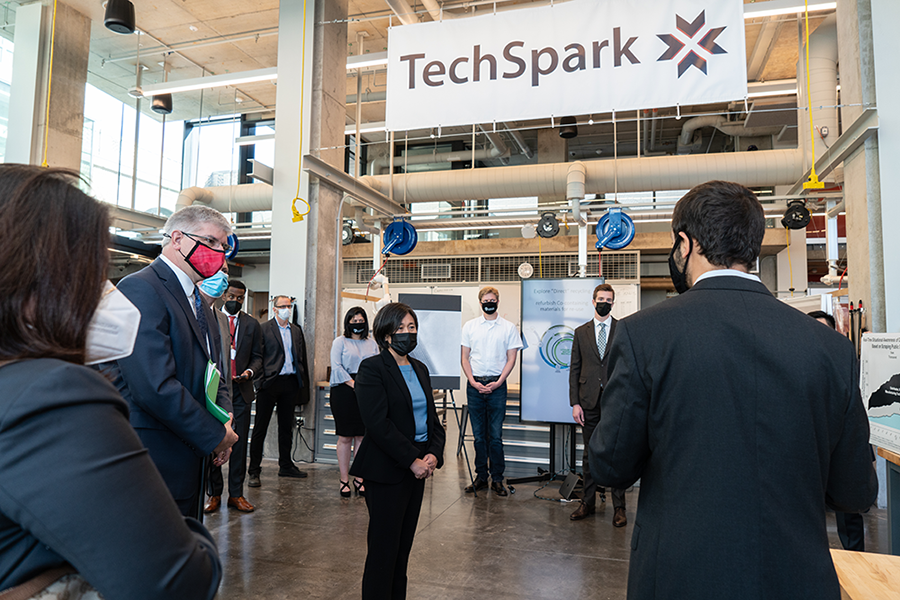 The team's work doesn't stop at real-time situational awareness and innovation. They are also utilizing their novel data and analytics and understanding of how innovations can transform global supply chains to identify policy packages and institutional reform that will help the government ensure its investments realize its goals of security, prosperity, jobs, health, climate, and equity.
"This initiative exemplifies the multidisciplinary and collaborative environment that makes Carnegie Mellon unique, bringing together an array of faculty, government, and industry professionals for the good of society," said Sanders. "I am proud of our faculty for launching this unprecedented endeavor and excited to witness the benefits that the team's work will bring to our nation and its citizens."
With so much analytic and innovative might behind them and across the nation, the team was thrilled to host Ambassador Tai and discuss how to improve security, prosperity, jobs, health, climate, and equity world-wide.