Engineering Ambassador Network
The Engineering Ambassador Network (EAN) is a nationwide professional development organization dedicated to developing diverse leaders who help shape the future of our K-12 youth, the engineers of tomorrow. They seek to share the impact of engineering on the health, happiness, and safety of our world in addition to teaching about the various opportunities a career in engineering provides.
The Engineering Ambassadors (EAs) are a talented group of undergraduate students from the College of Engineering. They are trained extensively in communication and leadership skills, which they use for outreach to the K-12 community throughout the Greater Pittsburgh Area. They provide high-quality engineering programming to historically underrepresented groups in STEM and strive to create opportunities for STEM exposure that reflect the needs of each community. EAs participate in site visits to schools and out-of-school-time providers in the area as well as on-campus events which allow students to learn engineering concepts through experiential learning.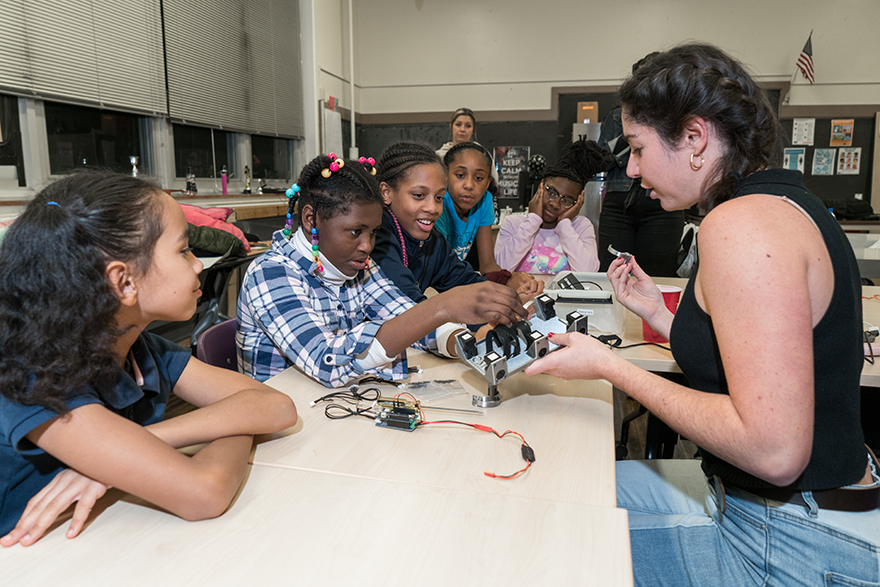 Site visits are provided at no cost to the participants and include interactive, engaging, presentations on an engineering topic paired with hands-on (or virtual) activities. Each presentation and activity is tailored to the learning level of the group. In addition, all materials are provided for the hands-on projects, which helps remove barriers when working with students.
Some of CMU Engineering Ambassador's past and present partners include:
Urban Academy
Neighborhood Academy
Pittsburgh Science and Technology Academy
Obama Academy
Taylor Allderdice High School
Colfax Elementary & Middle School
Greenfield Elementary School
Lincoln Elementary School
Woolslair Elementary School
Sister Thea Bowman Catholic Academy
Propel Homestead
Penn Hills School District
The Carnegie Library Hazelwood Branch