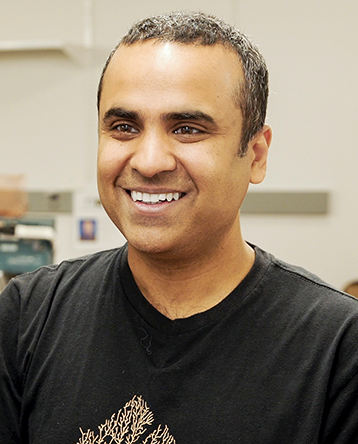 Pulkit Grover is a professor in the Department of Electrical and Computer Engineering at Carnegie Mellon University. He received his Ph.D. from the University of California, Berkeley in 2010. He focuses on interdisciplinary research directed towards developing a science of information for understanding/designing energy-efficient and stable decentralized systems (from low-power communication/computation systems, to large control, computational, and biological systems). He is the recipient of an NSF CAREER Award (2014), the best paper award at the International Symposium on Integrated Circuits (ISIC), the best student paper award at the IEEE Conference in Decision and Control (CDC) 2010, and the 2012 Leonard G. Abraham best paper award from the IEEE Communications Society for his work on energy-efficient communication. For his dissertation research, he received the 2011 Eli Jury Award from the Department of Electrical Engineering and Computer Sciences at UC Berkeley.
He was a co-editor of the IEEE Journal on Selected Areas in Communications (JSAC) special issues on "Energy Harvesting and Wirelessly Powered Communications" (2014-15).
Information Theory, Energy-Efficient Communication and Computing, and Neural Sensing
Novel Strategies for Sensing and Stimulating the Brain Noninvasively and Precisely
Education
2010 Ph.D., Electrical Engineering and Computer Science, University of California Berkeley
2005 M.Tech, Electrical Engineering, Indian Institute of Technology, Kanpur
2003 B.Tech, Electrical Engineering, Indian Institute of Technology, Kanpur
Media mentions
NIH
New grant to fund cardiac electrophysiology research
BME/MSE's Tzahi Cohen-Karni was recently awarded a $3.1 NIH/NHLBI grant to further cardiac electrophysiology research. Over the next five years, Cohen-Karni will partner with Pitt's Aditi Gurkar (co-PI), BME/MSE's Adam Feinberg, MechE's Carmel Majidi, and ECE's Pulkit Grover to study the role of DNA damage in the cardiac unit using induced pluripotent stem cells.
Engineering faculty awarded professorships
Engineering faculty Peter Adams, Elizabeth Dickey, Carlee Joe-Wong, Pulkit Grover, Alan McGaughey, Rahul Panat, and Douglas Weber were awarded professorship titles in February and March 2021.
CMU Engineering
Managing necessary bias in AI
Some biases in AI might be necessary to satisfy critical business requirements, but how do we know if an AI recommendation is biased strictly for business necessities and not other reasons?