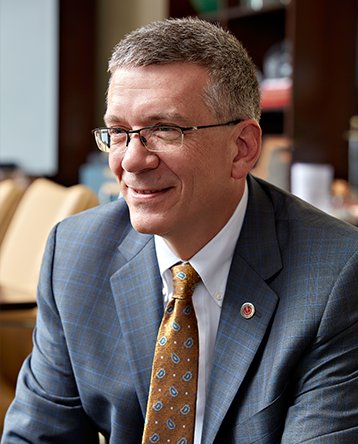 James H. Garrett Jr. is the provost of Carnegie Mellon University. Prior to being named provost, Garrett served as dean of the College of Engineering from January 2013 - December 2018. He is also the Thomas Lord Professor of Civil and Environmental Engineering at Carnegie Mellon University. He was head of the Department of Civil and Environmental Engineering from June 2006-December 2012. Until 2013, he was the founding co-director of the Pennsylvania Smarter Infrastructure Incubator, which was a research center aimed at creating and evaluating sensing, data analytics, and intelligent decision support for improving the construction, management and operation of infrastructure systems. Garrett also served as the co-chief editor of the ASCE Journal of Computing in Civil Engineering from 2008-2013. Prior to becoming head, Garrett served as associate dean for Academic and Graduate Affairs from 2000-2006. Garrett joined Carnegie Mellon at the rank of assistant professor in 1990, was promoted to associate professor in 1993, and promoted to the rank of full professor with tenure in 1996. Prior to joining Carnegie Mellon, Garrett served at the rank of assistant professor in the Department of Civil Engineering at the University of Illinois at Urbana-Champaign from 1987-1990. Garrett received his B.S. in Civil Engineering in 1982, his M.S. in Civil Engineering in 1983 and his Ph.D. in Civil Engineering in 1996, all from the Department of Civil Engineering at Carnegie Mellon University. He worked for Schlumberger Well Services in the Houston Downhole Sensors Division from 1986-87. He is a registered professional engineer in the state of Texas.
Garrett's research and teaching interests are oriented toward applications of sensors and sensor systems to civil infrastructure condition assessment; applications of data mining and machine learning techniques for infrastructure management problems in civil and environmental engineering; mobile hardware/software systems for field applications; representations and processing strategies to support the usage of engineering codes, standards, and specifications; knowledge-based decision support systems. Garrett has published his research in over 60 refereed journal articles, over 80 refereed conference papers, over 90 other conference papers and 10 sections or chapters in books or monographs.
Garrett was awarded an Alexander von Humboldt Research Prize in 2012. He has also received the 2007 Steven J. Fenves Award for Systems Research at Carnegie Mellon and the 2006 ASCE Computing in Civil Engineering Award, among other awards.
Education
1986 Ph.D., Civil Engineering, Carnegie Mellon University
1983 MS, Civil Engineering, Carnegie Mellon University
1982 BS, Civil Engineering, Carnegie Mellon University