The Pittsburgh Penguins have teamed up with two international giants of science and technology, Carnegie Mellon University's College of Engineering and Covestro (among other partners), on a bold initiative to make hockey safer at all levels.
"Rethink The Rink," a first-of-its-kind project has challenged students to develop material solutions that enhance the sport's safety without compromising game performance. This cross-discipline work is indicative of our educational approach at Carnegie Mellon.
David Morehouse, President and CEO of the Pittsburgh Penguins, noted, "I cannot imagine better partners than Covestro and Carnegie Mellon Engineering, acknowledged global engines of innovation in materials and engineering. Combined with insight from the Penguins and the NHL on the hockey and rink management side, we think it is an exceptional team to explore ways to make an inherently physical sport safer for all players."
I cannot imagine better partners than Covestro and Carnegie Mellon Engineering, acknowledged global engines of innovation in materials and engineering.

David Morehouse, President and CEO, Pittsburgh Penguins
Six years of Rethink the Rink has featured a range of real and challenging problems as the teams worked on safer designs for dasher boards, goalie and player helmets, protective padding, safer glass, and safer shot-blocking equipment. The impact of this collaboration is real. Indeed, the dasher board designs from the first round of activity are installed in the Penguins' practice rink.
Dasher boards: Year 1
The first year of Rethink the Rink featured a focus on redesigning the rink dasher boards and glass surrounding the hockey rink. Players are bigger, faster, and stronger than ever before. The aim was to reduce the impact of players hitting the boards and make it safter for players of all ages. 
Students applied their creativity and academic strength to the challenge and had access to experts and materials technologies from Covestro, a high-tech polymers producer to design and develop prototypes for testing. As teams worked to decrease injuries among hockey players, they faced an additional challenge: their new designs for rink boards could not affect how hockey pucks bounce off of them.
The prototypes were submitted to experts at the NHL and USA Hockey for feedback. The new designs have been installed at the Covestro Innovation Rink at the UPMC Lemieux Sports Complex in Cranberry for testing by amateur players.
Dasher boards manufactured and installed:
Goalie helmets: Year 2
In the second year of the Rethink the Rink partnership, teams focused on redesigning the goalie helmets. Because the hockey players preferred the look of older helmets, one team worked to minimize the change in the helmet's appearance while improving safety. They decided that one of the best ways to reduce the impact force on the goalie's head was to adjust the fastening between the cage and the shell. After modeling the helmet, they simulated collisions, took data, and ran tests on the helmet to develop the best design solution.
Protective equipment prototypes: Year 3
In year three, CMU Engineering, Covestro, and the Pittsburgh Penguins shifted focus to shoulder and elbow pads, which have as much impact on player performance as they do on protection. "With bigger players, faster pucks, and stronger shots, we have a real opportunity to drive safety through innovation," said Morehouse.
I have no doubt they'll continue to raise the bar a little higher—and push the boundaries a little farther.

Haakan Jonsson, Chairman and President, Covestro, LLC
"We've already seen promising results from this collaboration, so we're looking forward to seeing how the students approach this year's challenge," said Haakan Jonsson, chairman and president, Covestro LLC. "I have no doubt they'll continue to raise the bar a little higher—and push the boundaries a little farther."
Year 3 internship a win-win-win for Covestro, Penguins, and students
Carnegie Mellon students Joanna Baranowski and Ian Suzuki participated in the 2019 Make-a-Thon focused on safer goalie helmet designs, and the two subsequently earned internships to work at Covestro's Pittsburgh location for the summer. Their work built on ideas generated from the Make-a-Thon.
It's not every day you get to work with the Penguins or a big materials company to do something that nobody else has really done before.

Joanna Baranowski, Chemical Engineering student and Covestro intern, Covestro, LLC
"We worked with the Penguins and a helmet manufacturer to come up with some ideas and concepts on how to make it safer for the goalie when they get hit," Baranowski said. "We had to consider a lot of constraints, and there was collaboration around the clock."
Player helmets: Year 4
In year four of the Rethink the Rink collaboration, students focused on improving the safety of player helmets. The Make-a-Thon proved to be a success, yielding great possibilities for safety improvement and long-term partnerships. "The collaboration with Covestro and Carnegie Mellon is an exciting attempt to use advances in material science to improve the safety of the players," said David Morehouse, president and CEO of the Penguins. "Combined with insight from the Penguins and the NHL, Rethink the Rink is an exceptional way to explore making an inherently physical sport safer. This is a meaningful research project that could help make a long-term impact on the game."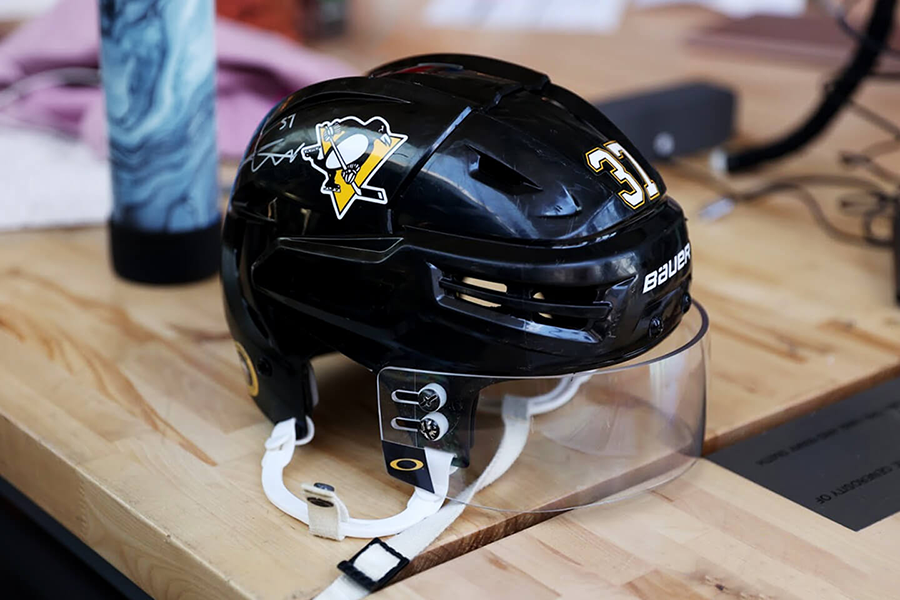 Our students enjoy a challenge, and a chance to be innovative, inquisitive, and bring fresh ideas to hands-on learning projects.

Bill Sanders, Dean of the College of Engineering, Carnegie Mellon University
Making safer glass: Year 5
Year five included new collaborations with Athletica Sports Systems and coatings manufacturer PPG as well as new advancements in hockey safety. Students were challenged to increase the flexibility and strength of the materials used in the dasher board systems that surround hockey rinks. The teams took inspiration from real-world applications and worked to identify tangible solutions that would protect against player injuries.
These students were thinking about the materials I work with every day. Seeing them be so inventive with our products is something I can take back to my work.

Mark Bondi, EP Application Development and Make-a-Thon Coach/Judge, Covestro, LLC
Safer shot blocking: Year 6
In year six, students developed shot blocker equipment to protect players' lower legs and ankles from opposing teams' shots. Teams of students developed and tested materials to uncover solutions that would strengthen player protection without inhibiting performance. From socks to skates and boots, participants were able to not only better understand the issues players face but use innovation and creativity to develop practical prototypes.