Bold initiative to make hockey safer returns for sixth year
CMU students strive to make ice hockey safer for players regularly blocking 100 mph shots.
For the sixth year in a row, Carnegie Mellon University's College of Engineering joined forces with The Pittsburgh Penguins, Covestro, and Bauer Hockey to make ice hockey safer. The annual make-a-thon, "Rethink the Rink," offers students the opportunity to lend their brainpower and creativity to innovating new technology in the sport.
This year students developed shot blocker equipment to protect players' lower legs and ankles from opposing teams' shots. Despite how often injuries occur when players use their skates to deflect the puck, there is no standard shot blocker equipment.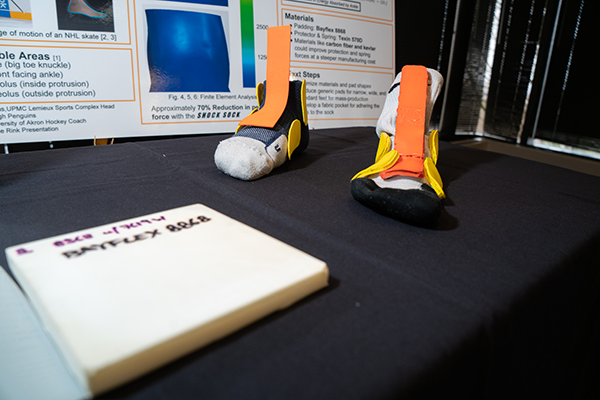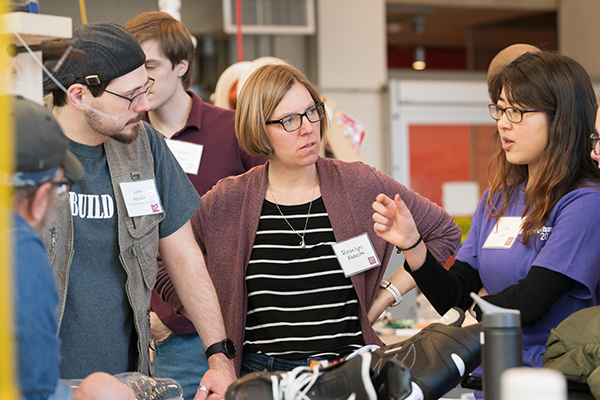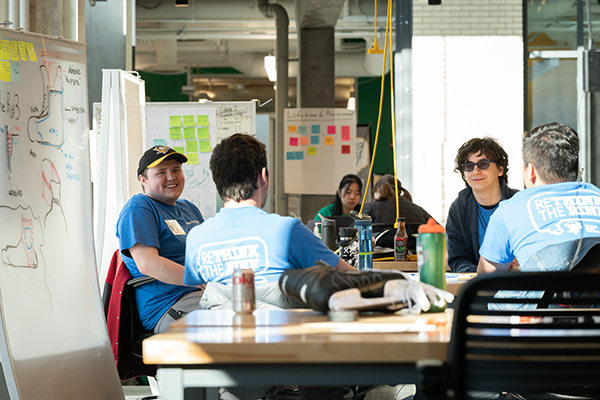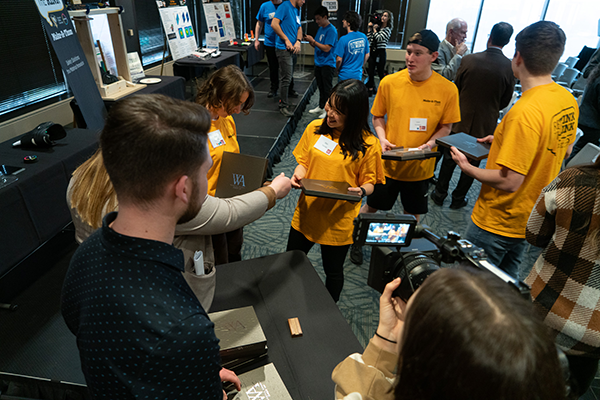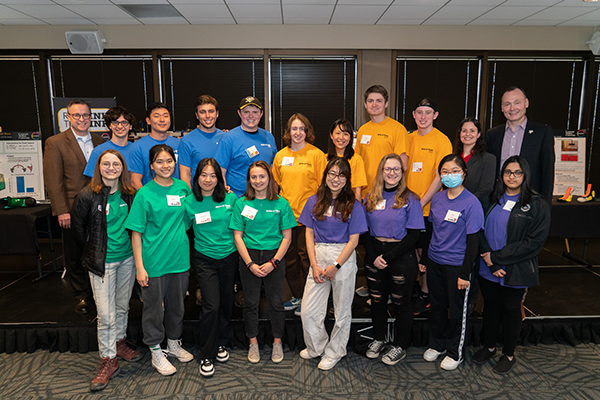 Over the course of a week, CMU Engineering students developed and tested basic prototypes in the school's makerspace with input from hockey professionals from the Pittsburgh Penguins and materials experts from Covestro. Their challenge was to uncover material solutions that strengthen player protection without inhibiting performance.
At the end of the week teams presented their prototypes to a panel of expert judges from the Penguins, Covestro, Bauer Hockey, and the College of Engineering. Each team was recognized for their accomplishments.
Working with the materials experts at Covestro and the Pittsburgh Penguins is truly a rewarding experience for our students

Bill Sanders, Dean, College of Engineering
"What [the students] have accomplished, in terms of understanding the problems we face with our players, and coming up with four very different, but four very innovative products is pretty incredible," said Kevin Acklin, president of business operations for the Pittsburgh Penguins.
The winners this year included:
Best Overall: Shock Sock: The Shock-Blocking Sock - Beatriz Holzbach, Brian Check, Lewis Rockwell, Mei Tamaki
1st Runner Up: Scotty Skates - Autumn Franks, Nila Gao, Anna Paek, Tiara Rathi
Most Innovative: The Integrated Protection Boot - Norah Czajka, Samantha Der, Aimee Li, MJ Smith
Best Prototype: Hex Plates: Full Foot Protection - Luca Garlati, Chris Oh, Jimmy Ray, David Berndt
Another season of Rethink the Rink is in the books!

Last week's sixth annual Make-A-Thon was the next step on the quest to make hockey safer at all levels. pic.twitter.com/kjW9wQVxQj

— Pittsburgh Penguins (@penguins) March 13, 2023
"Working with the materials experts at Covestro and the Pittsburgh Penguins is truly a rewarding experience for our students," emphasized Bill Sanders, dean of the College of Engineering.
The first Rethink the Rink in 2018 focused on redesigning dasher boards. Segments of the students' designs have since been installed at the Pens practice facility. Other past projects include goalie helmets, glass and dasher board intersections, and protective padding.