New center to investigate quantum computing
A new NSF Industry-University Cooperative Research Center at CMU will create an ecosystem that advances quantum computing and information technologies.
A new National Science Foundation Industry-University Cooperative Research Center (IUCRC) at Carnegie Mellon University will create an ecosystem that advances quantum computing and information technologies. The Center for Quantum Computing and Information Technologies (QCiT) will bring together an industry consortium, government laboratories, faculty, and students to apply quantum computing and information technologies to solve practical problems that cannot be addressed with classical systems. The work of the center will be supported by the NSF and the consortium.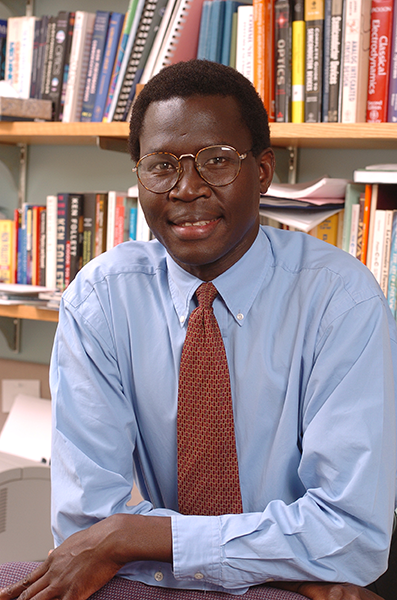 Quantum computing is estimated to generate $700 billion in value by 2035, with industries such as life sciences and finance to benefit first. The field is growing, as major companies, including Amazon and IBM, are expanding their quantum efforts, and quantum start-up funding in 2021 reached $1.4 billion. While quantum mechanics has been long established, quantum engineering is emerging, and expectations are high as it could revolutionize AI.
Efforts to form the center at CMU coalesced in 2022 when Elias Towe, professor of electrical and computer engineering and materials science and engineering, led a team that received an NSF planning grant. The support was used to host a workshop that laid the groundwork for the future center. Participants from industry and national laboratories, along with faculty from across the university attended. They recommended creating a center that would support projects whose efforts focused on constructing two testbeds: one in a quantum communication network and another for a quantum computing processor.
The computing testbed is envisioned to promote and unite research in algorithms used for materials simulations, drug discovery, industrial process optimization, and quantum machine learning. The quantum network would focus on secure communications, interconnecting networks for distributed quantum computing processors, and a quantum sensor network for high resolution and sensitivity measurements. The center will explore mathematical models and algorithms that bridge the gap between quantum hardware and practical industry applications.
The team's proposal was approved by the NSF in August 2023, and the IUCRC Center for Quantum Computing and Information Technologies was officially founded.
The role of IUCRCs is to connect early academic research to commercial readiness. By collaborating with industry and government stakeholders, the center will identify applications that advance quantum computing while seeking solutions for difficult real-world problems. As the quantum ecosystem develops, the need for a trained workforce is expected to rise, and the center will prepare students to move into the evolving field.
The field of quantum mechanics is mature, as its roots took hold more than a hundred years ago and led to the First Quantum Revolution. During this time, fundamental knowledge of small-scale physics, including the atom, the photon, and electron behavior, escalated, and technologies like the laser, semiconductor, and MRI systems were born. During this time, researchers were able to observe and characterize quantum effects. Moving past this phase, we have entered the Second Quantum Revolution. Today, researchers who understand the foundations of quantum behavior want to manipulate and engineer it to build new technologies for practical problem solving. Engineers will be required to define tangible use cases and then develop algorithms and models that can operate on future quantum hardware.
We want people from different backgrounds to understand the layers of the quantum ecosystem.

Elias Towe, Professor, Electrical and Computer Engineering and Materials Science and Engineering
Prior to the formation of the center, a grassroots group of faculty across Carnegie Mellon were working on various quantum topics. The new center will now unite these researchers who represent different areas of expertise and reorient their focus toward goals relevant to industry.
"We want people from different backgrounds to understand the layers of the quantum ecosystem," said Towe. "We want people who build the software to understand what the hardware people do and vice-versa. They may not deeply understand everything, but they can appreciate what others have to do." He added, "We want to generate excitement in students, too, and influence their career choices in the future."