Biden calls for investment in American innovation
President Biden touted the importance of advanced manufacturing innovation, robotics, 3D printing, and artificial intelligence during his recent visit to Mill 19.
U.S. President Joseph R. Biden visited Carnegie Mellon University's advanced manufacturing research facilities at Mill 19 in Pittsburgh on Friday, where he engaged with faculty and students to learn about projects that will revolutionize industry, and delivered remarks about his administration's efforts to strengthen the nation's supply chains, revitalize American manufacturing, and create good-paying union jobs.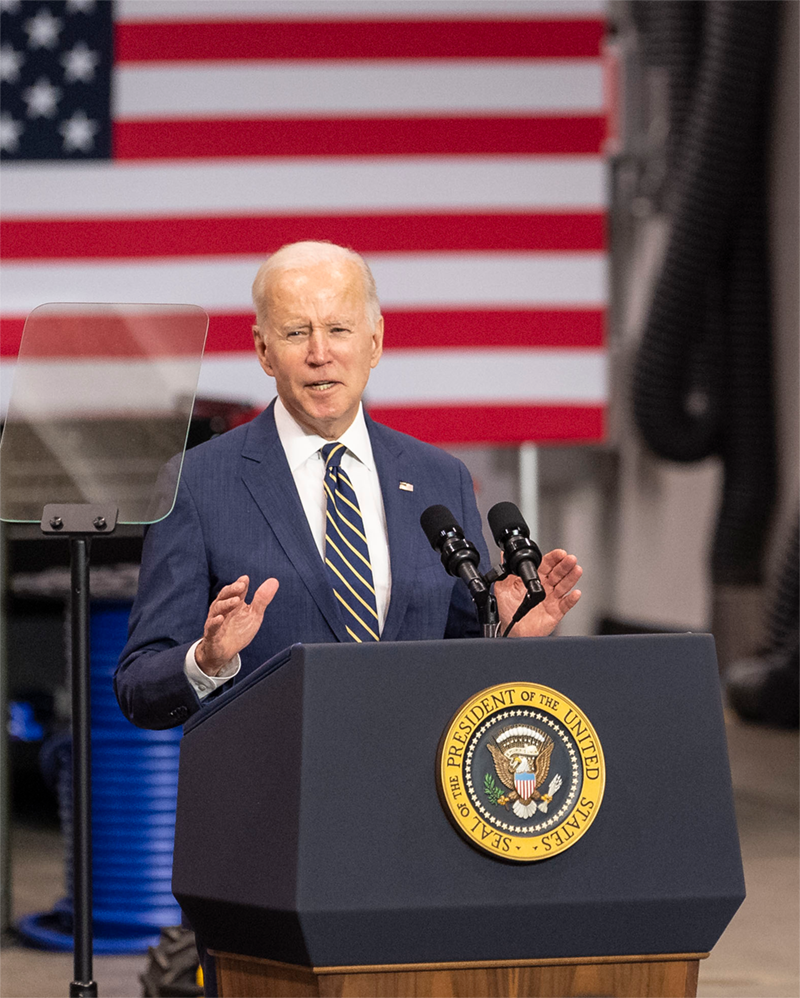 "Right here in Pittsburgh the future is being built on the foundation of this city's storied past. The manufacturing resurgence we're seeing today is no accident. It takes local leaders, federal leaders, foundations, businesses, unions, and universities all pulling together," President Biden said. "It requires a mindset like you have here at Mill 19. Here's what I mean by that. Generations ago, Mill 19 used to roll out 10-inch steel bars. Today, it rolls out the latest innovation in advanced manufacturing, robotics, 3D printing, and artificial intelligence."
CMU President Farnam Jahanian and student leaders greeted Biden upon his arrival, and Jahanian highlighted the university's boundary-pushing initiatives in science and technology. Later, Jahanian welcomed dignitaries and national media as part of the program ahead of the president's speech.
"Mill 19 is a fitting location for President Biden's address on strengthening the national supply chain and revitalizing U.S. manufacturing," Jahanian said during his remarks. "Today, Mill 19 is where CMU and its partners are catalyzing discoveries in the essential components of 21st century manufacturing."
In addition to President Biden, Secretary of Commerce Gina Raimondo, Senator Bob Casey, Pennsylvania Governor Tom Wolf, Allegheny County Executive Rich Fitzgerald, and Pittsburgh Mayor Ed Gainey, as well as United Steelworkers representative JoJo Burgess, gave remarks as part of the event.
"Let's really thank CMU for doing all they're doing to revamp manufacturing in this region [and] thank President Biden for coming here and investing in manufacturing in a way that is going to prepare us for victory in the 21st century," Gainey said. "For that we are honored. We definitely thank CMU and the president for that amazing, amazing feat."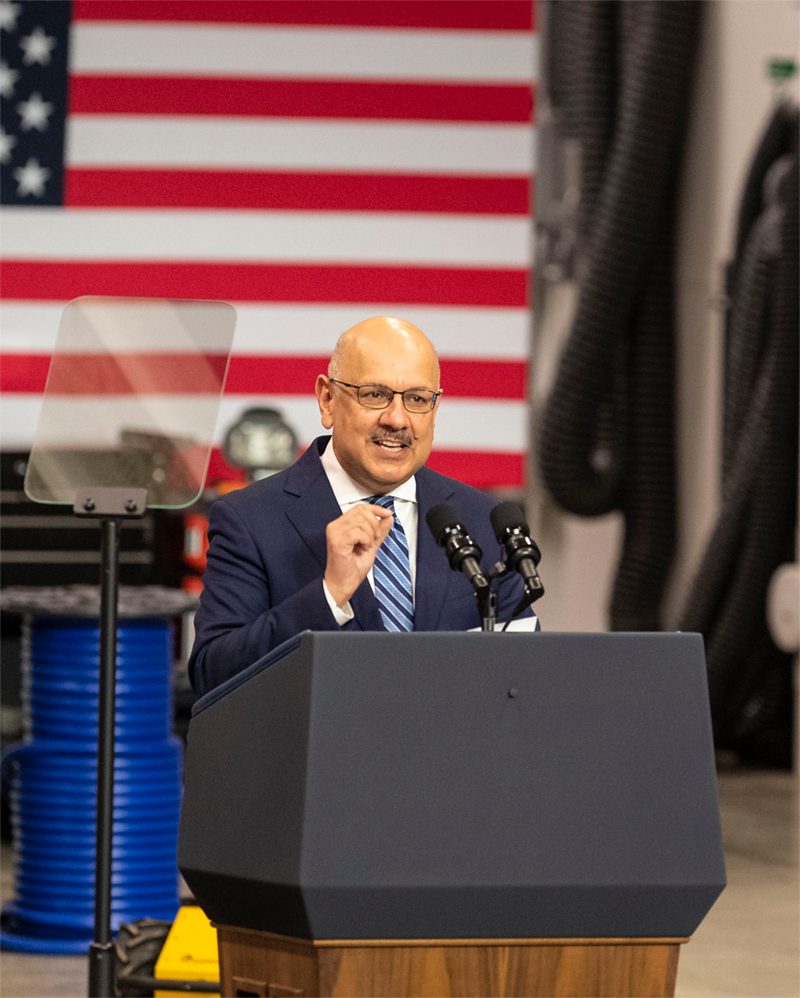 CMU faculty members and students showcased for President Biden the university's rich interdisciplinary research environment, which is accelerating innovations in advanced manufacturing. Changliu Liu, an assistant professor at CMU's Robotics Institute, and her doctoral students Rui Chen and Ruixuan Liu demonstrated a robotics, artificial intelligence (AI), and sensing system that will create safe working environments. The technology could revolutionize human-robot collaboration and has the potential to enable flexible and multipurpose assembly lines. 
Sneha Prabha Narra, an assistant professor in the Department of Mechanical Engineering, and her doctoral student William Frieden Templeton displayed the robotic wire arc additive manufacturing process (WAAM), a large-scale process in which tiny weld beads are deposited layer-by-layer to fabricate much larger parts. This cutting-edge technology has the potential to transform on-demand production by reducing waste and manufacturing lead time, with applications in the aerospace, energy and heavy machinery industries.
"It was exciting. He asked very thoughtful questions that reflected his interest in the technology," said Narra, who added that Biden affirmed the need to broaden the pool of talent necessary to keep the U.S. at the forefront of technology.
For Templeton, this was his first time providing a demonstration. He said it was inspiring to see that the president cared not only for reviving existing industry but transforming its future.
"He really seemed to understand that these additive manufacturing technologies are part of the future of manufacturing in America. I think he understood why we were doing our research and how it fits into the bigger picture," Templeton said. "He's the president. He could have been doing a million things today, but he values the work we're doing here enough to spend 20 minutes talking to us."
Sandra DeVincent Wolf, executive director of the Manufacturing Futures Institute and NextManufacturing Center, served as the faculty host for the demonstrations. In addition, Divyash Kaushik, president of the CMU Graduate Student Assembly, and Alexis Ozimok, student body president, were in attendance to welcome President Biden.
Mill 19 at Hazelwood Green is the former site of the Jones & Laughlin Steel Company, where workers once produced more than one million tons of steel annually. Today the site is being redeveloped by The Claude Worthington Benedum Foundation, The Heinz Endowments and the Richard King Mellon Foundation into a hub for technology and cutting-edge industry.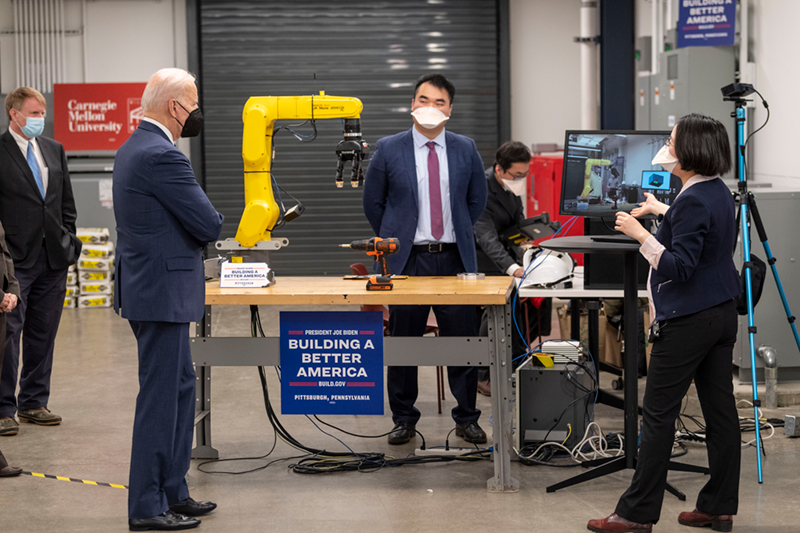 "At this inflection point for U.S. competitiveness, the nation is at the cusp of building an innovation-based economy through historic investment in our talent and workforce, in our research and development enterprise, and in our national infrastructure," President Jahanian said during today's welcome remarks.
The university maintains a significant presence at the site and was the first tenant in Mill 19, which includes CMU's Manufacturing Futures Institute and the Advanced Robotics for Manufacturing nonprofit.
In 2021, Carnegie Mellon and the Richard King Mellon Foundation announced a historic partnership to make a transformational investment in science and technology with a record $150 million grant, of which $75 million will support the construction of a new robotics innovation center, the Manufacturing Futures Institute at Hazelwood Green and the creation of technology jobs that are accessible to the entire community.
This was Biden's first visit to campus as president. Born in Scranton, Pennsylvania, Biden has returned to the state many times. This is his second visit to Pittsburgh as president, and he previously visited Mill 19 as a presidential candidate in 2020.
The last time a sitting president visited Carnegie Mellon was 2016 when former President Barack Obama hosted the White House Frontiers Conference, a national event that focused on building U.S. capacity in science, technology, and innovation. In 2021, Secretary of State Anthony Blinken and Secretary of Commerce Gina Raimondo visited CMU when it hosted the inaugural United States-European Union Trade and Technology Council meeting.
Pittsburgh's innovation economy is strong and growing thanks in large part to world-class research institutions such as CMU. A recent study by CMU's National Robotics Engineering Center highlights how the institution has created a dramatic transformation of Pittsburgh's regional economy and the robotics industry at large.
Last Friday, I visited Mill 19 in Pittsburgh to meet with the workers producing the latest innovations in manufacturing. Here are some highlights from my visit: pic.twitter.com/QmEjV89HBL

— President Biden (@POTUS) January 31, 2022
Above: President Biden's tweet and recap video of the event.
CMU is a leader in federal, state, and local policy conversations, and faculty and administration officials have provided key testimony for congressional committees. In 2021, President Jahanian testified before the U.S. House of Representatives Science, Space and Technology Committee to call for increasing federal support for research.
"The bottom line is this. It takes all of us working together—all of us working together—to get this done, and that's finally beginning to happen," Biden said at the Mill 19 event. "When the federal government invests in innovation, it powers up the private sector to do what it does best. Creating new technologies and most importantly, new jobs."
Header image: Sneha Prabha Narra, an assistant professor in the Department of Mechanical Engineering, and her doctoral student William Frieden Templeton discuss with President Joe Biden a process in which tiny weld beads are deposited layer-by-layer to fabricate much larger parts. This demonstration was in collaboration with Lincoln Electric Additive Solutions.