Hands-on learning in Tech Spark's Manual Machining course
Students in 24-200 have the chance to work directly with a wide variety of machining equipment and learn to become better engineers while they're doing it.
During the digital revolution we find ourselves in, it seems as if practically anything can be accomplished with modern technology. Especially in the world of engineering, tools such as computer-aided design (CAD) software, 3D printers, laser cutters, and CNC routers help accelerate discovery and manufacturing faster than ever before.
But no matter how advanced those tools become, there are certain things that just can't be replaced with a computer. Nobody understands this better than the team of machinists in Carnegie Mellon University's largest makerspace, Tech Spark.
"The students are being exposed to techniques that are being lost," says Tom Rusu, one of the shop's long-time instructors. "Slowly, the computer is taking over, but in a lot of cases, doing it manually will get it done faster. Also, it's a lot of fun to feel like you made it."
At Tech Spark, students have the chance to use an incredible variety of tools, take a number of courses, and work with a team of experts with decades' worth of combined experience to help them along the way. One of those courses is 24-200: Introduction to Manual Machining. Its aim is to introduce students to many of the tools and techniques required to manufacture a complete set of parts from raw materials.
Though mechanical engineers are required to take the course as part of their studies, students from across the university have enjoyed it as well. Some of them, like senior mechanical engineering and biomedical engineering student Nicole Segale, liked it so much that she got involved as a student employee in Tech Spark afterward.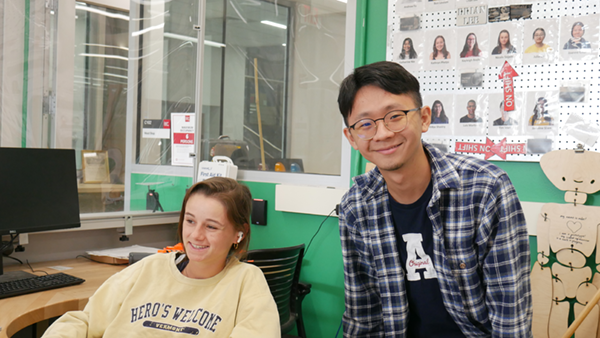 "I always thought this space was so awesome," she said, pointing out the array of machines filling the room. "I came here a lot my first year for classes, got more familiar with this space, and I ended up applying for the job. And I'm glad!"
Segale─like many mechanical engineers─learned in previous classes how forces and stresses act on a particular part, but that learning usually occurred on paper or on the computer. Now, she's seen those processes in action, right in front of her, which has helped her in the years since.
"Before, I wouldn't have had a clue as to how something I designed came to be what it is. But after learning in this class, hands-on, when I go on and design parts now I'll know, 'I can't do that.' Or, 'That won't work,'" she explained.
This is why courses like 24-200 are so important for engineers to take, especially early on in their engineering careers. Carnegie Mellon is one of the few engineering schools to offer a dedicated course to hands-on learning. The course is also a "mini," meaning it takes place over only half of a semester, giving students the chance to take another, similar course afterwards if they'd like.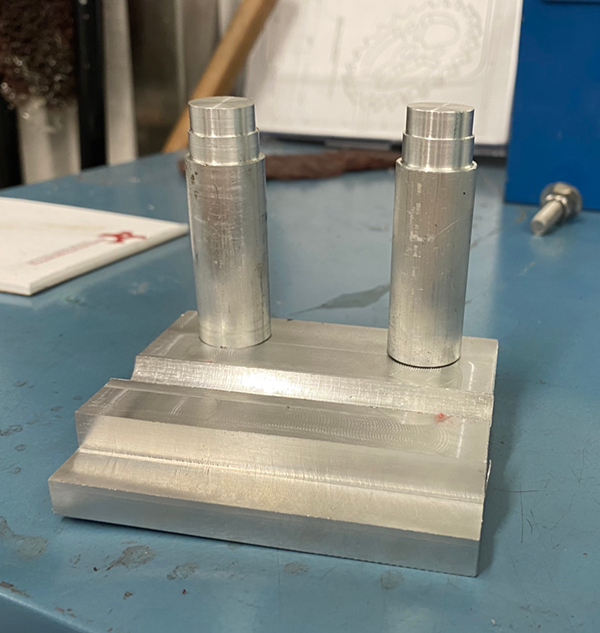 In its current iteration, students start with a chunk of metal and machine it into a phone stand using a sequence of tools, including mills and lathes. This includes cutting and shaping the raw block of metal, adding threads to attach parts to one another, and finishing its surface to give it a nice shine. Students learn how to use the various machinery safely and interpret schematic specifications very similar to ones they've likely generated themselves for previous coursework.
Once they've learned how to use these tools, students then have the ability to come back and use them again, either for another course in Tech Spark or for various projects of their own. Have a final project that you need to machine a new part for? Maybe your Buggy team needs a very specific piece of machinery that they just can't find elsewhere? Tech Spark has you covered.
That's what drew master's student Brian Lee into Tech Spark. As a civil and environmental engineer, he doesn't get as many course-specific opportunities to machine items or work with the tools in makerspaces like Tech Spark. But, for him, the amount of interesting equipment was just too good to ignore. After going through the proper training, he too could access everything they had to offer.
"In my middle and high school, I didn't have woodshop or shop classes. But I really like making stuff," he laughed. "Tech Spark just has so many tools here. You have an idea, and you have almost every tool here that you need to make it. With the CAD, machining, laser cutting, 3D printing, woodshop, casting, you could make anything you could ever want."
Though it might not seem as important to take the time to learn these hands-on skills anymore, Segale and Lee strongly believe that experiences like that offered in 24-200 are invaluable. "We're not able to be as successful as engineers if we don't have practical experience and understand the entire work process," says Lee. Rusu agrees, adding that, "The best engineers were machinists at one time, and they understand the dos and don'ts."
Courses like 24-200 prove that there are tons of learning opportunities outside of the confines of the traditional classroom, and Carnegie Mellon is already working to provide students with them. You may be an engineer, or just a student with an interest in hands-on learning yourself. No matter the situation, Tech Spark, their impressive list of course offerings, suite of equipment, and team of experts are ready to get you the skills you need for success.