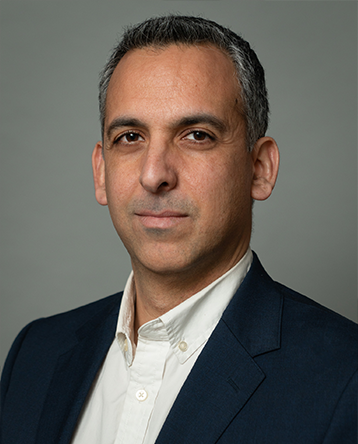 Carmel Majidi's career mission is to discover materials, hardware architectures, and fabrication methods that allow robots and machines to behave like soft biological organisms, and be safe for contact with humans. The aim is to replace the bulky and rigid hardware in existing robots with soft, lightweight, and deformable technologies that match the functionality of natural biological tissue. Currently, his group is focused on filled-elastomer composites and soft microfluidic systems that exhibit unique combinations of mechanical, electrical, and thermal properties and can function as "artificial" skin, nervous tissue, and muscle for soft robotics and wearables. He's particularly interested in approaches that are practical from a rapid prototyping and robotics implementation perspective. This includes efforts to enable robust mechanical and electrical interfacing between soft-matter systems and conventional microelectronics and hardware.
Soft & Stretchable Computing Materials
Electronic Tattoos for Wearable Computing: Stretchable, Robust, and Inexpensive
Self-Healing Electrical Material
Engineering new materials for wearable computing
Soft Machines: New Classes of Materials for Next-Generation Wearable Devices
Education
2007 Ph.D., EECS, University of California, Berkeley
2001 BS, CEE, Cornell University
Media mentions
SpaceRef.com
Majidi mentioned on satellite robots
MechE's Carmel Majidi was mentioned by SpaceRef.com about a CMU-headed consortium selected by the Air Force to pioneer research into robotic inspection, maintenance, and manufacturing of satellites and other structures while in orbit.
NIH
New grant to fund cardiac electrophysiology research
BME/MSE's Tzahi Cohen-Karni was recently awarded a $3.1 NIH/NHLBI grant to further cardiac electrophysiology research. Over the next five years, Cohen-Karni will partner with Pitt's Aditi Gurkar (co-PI), BME/MSE's Adam Feinberg, MechE's Carmel Majidi, and ECE's Pulkit Grover to study the role of DNA damage in the cardiac unit using induced pluripotent stem cells.