Gwen's Girls partnership fosters children's interest in robomechanics
A student-driven partnership between Aaron Johnson's RoboMechanics lab and Gwen's Girls has introduced nearly 100 grade school girls to engineering design and robotics.
When James Zhu began studying with the Department of Mechanical Engineering at CMU, he made it a personal goal to engage the broader Pittsburgh community with his research. Driven by his passion, Zhu, a Ph.D. student in Aaron Johnson's Robomechanics Lab, has introduced approximately 100 grade school girls and counting to engineering design and robotics through the STEM Initiative at Gwen's Girls, a non-profit organization committed to empowering girls and young women to have productive lives through holistic, gender-specific programs, education and experiences.
In the spring of 2021, Zhu and roughly 10 other students in Johnson's lab kickstarted their outreach program with a virtual-friendly curriculum. For 90 minutes every week for four weeks, Gwen's Girls participants aged 8-12 learned how to bring their imagination to life through Computer-Aided Design (CAD) software.
After learning how to model complicated shapes in TinkerCAD, a free web app for 3D design, the girls were posed with a design challenge. How can they use the engineering design process to craft vehicles of the future? Each participant modeled their own design ideas, everything from a rocket ship to a flying car, that were then 3D printed on CMU's campus and mailed to each girls' home.
The program was so well-received by the students that Gwen's Girls invested in 3D printers for their Northside location.
CMU has helped us to sustain a STEM experience for our girls.

Meredith Murray, Tailing new ideas, Gwen's Girls
"We loved that with this partnership, the CMU students were willing to not just enhance what the girls were doing and their STEM experience, but they helped us to build our internal capacity to continue to provide that programming," explained Merridith Murray who oversees academic programming at Gwen's Girls. She shared that Zhu's team trained Gwen's Girls facilitators on how to use the CAD software and 3D printers. "Oftentimes outside providers come in with a one-time experience, and students aren't becoming engineers from one enrichment activity. We need ongoing programming to foster that, and CMU has helped us to sustain a STEM experience for our girls."
Come spring 2022, Zhu hoped to bring a more hands-on experience to the participants, so they retooled the program and introduced MiniRHex, a low-cost hexapod robot. MiniRHex is a smaller version of the types of legged robots Zhu and his colleagues in the Robomechanics Lab use in their research.
"As engineers, we often seek inspiration from nature, like how a mountain goat scales cliffs or humans navigate city sidewalks," said Zhu. "This robot was bioinspired by cockroaches and mimics one with its alternating tripod legs."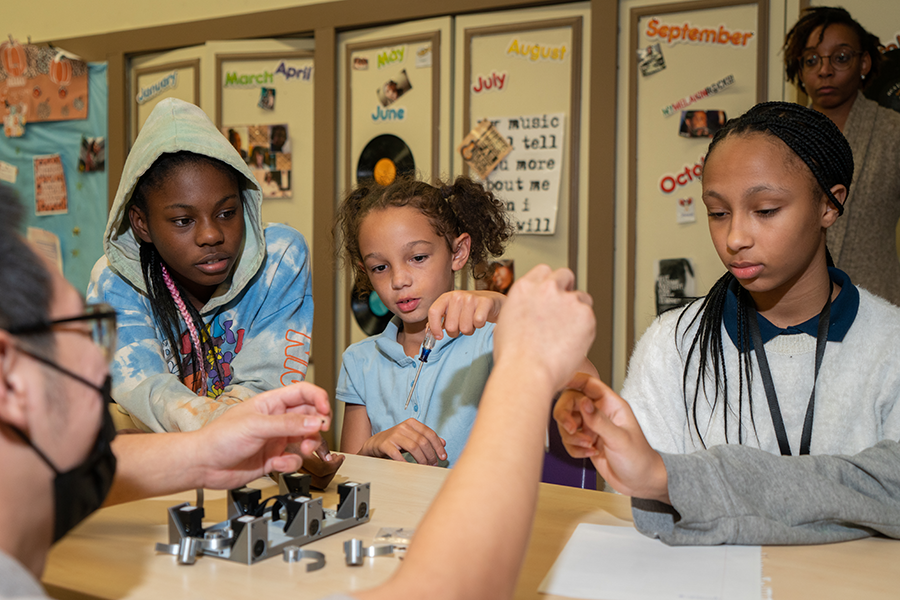 In this new program, students are introduced to the scientific method as they try to adjust the legs on the robot to make it run and jump effectively. They are given the choice between various leg-types and must figure out which ones work best to achieve desired movements.
"Since we have created a recurring program, we can foster our lessons to what the girls are most interested in and meet them at their level of understanding. Because of this we get to see the 'ah-ha' moment in so many kids when they understand the mechanics behind their robot."
Lundyn West, a fifth grade participant in the program, was able to build on what she was learning in school through the lab. "It's really cool seeing how the brains of the robot make it all actually work! We learned about how the legs have to be timed right with the electrical connection to make the robot move."
While the robots used in the Gwen's Girls program are designed specifically for teaching and outreach programs, RHex robots, on a larger scale, are used to explore different types of terrain. This development enables researchers to send robots into environments not necessarily safe for human exploration like contaminated waste areas or old mines.
We can connect the students to the research we are doing in the lab, letting them see a path towards becoming engineers and researchers.

Aaron Johnson, Associate Professor, Mechanical Engineering
"By using the MiniRHex platform, we can connect what the students are using in this program to the research we are doing in the lab. This lets them see a path towards becoming engineers and researchers," added Johnson.
Zhu plans to continue building this program and educating facilitators on how to share it with Gwen's Girls locations across Pittsburgh.