Recent Engineering graduate Maya Garg discusses her experience as a volunteer tutor for incarcerated people in Allegheny County.
As an undergraduate, Maya Garg found time to make human connections outside the classroom. As part of her study in materials science and engineering (MSE) and biomedical engineering (BME), she did research studying adipose tissue and how it functions in the human body with Rosalyn Abbott, assistant professor of biomedical engineering. But when she wasn't being active on campus, the recent graduate was out in the community of Pittsburgh giving back through volunteering. While she was a student, she volunteered with Alpha Phi Omega, UPMC Hospitals, and with the Petey Greene Program to provide services to the people of the region.
The Petey Greene Program invites university students to tutor people in multiple cities who are or have previously been incarcerated, both adults and youth. It is named for Ralph Waldo "Petey" Greene who, after his own incarceration, went on to become a successful media personality and activist. The program was introduced to Carnegie Mellon Engineering students when Vincent Sokalski, professor of materials science and engineering, invited the program's regional manager, Taliya Allen, to do a virtual information session in spring 2020.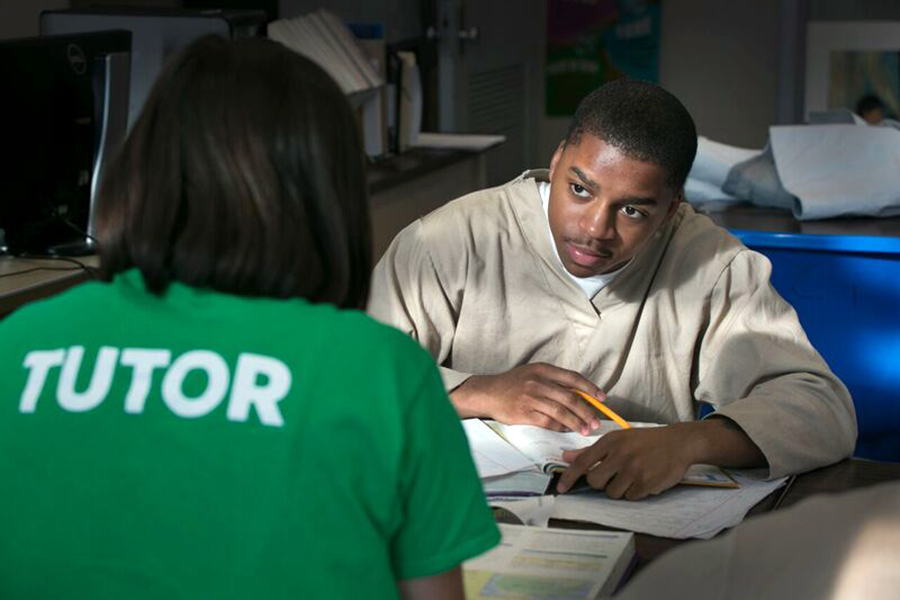 Sokalski chairs the MSE Diversity, Equity & Inclusion (DEI) Council and is also a part of the DEI Committee for the College of Engineering. In his role, he researched what kinds of work CMU could be involved with in Pittsburgh regarding re-entry programs for incarcerated individuals. "I was pleased to learn that the Petey Greene program was already operating here and, thankfully, Taliya was gracious enough to visit us (virtually at the time)," he said.
Garg attended that information session and went on to volunteer with Petey Greene until she graduated two years later. She went twice a week with Alex Tabor, a Ph.D. student in history, to tutor boys on juvenile probation in Allegheny County. Garg served as their main STEM tutor, focusing on topics like basic science and high school level math.
"I am thrilled that Maya was able to find a way to contribute to the program," said Sokalski. "I think it's emblematic of the passion students here have for supporting social justice."
The work could be challenging. When teaching topics such as algebra, Garg found that sometimes her students needed to learn more fundamental skills before they could continue at the level she intended to tutor. She found herself asking, "How do I make sure that we're covering all of the ground that we need to make sure that your Algebra 2 coursework is going to get done, but at the same time I'm filling in those gaps in your foundation?"
Identifying those gaps can be a challenge since students may not be aware that they lack a certain skill, or they may not feel comfortable sharing that they don't know something. The Petey Greene Program prepares tutors by teaching them about what it means to be incarcerated and what students' lives look like outside of their tutoring sessions. As the students and tutors get to know one another, a relationship of trust begins to form. "Learning from the whole community about what it means to be incarcerated, that sheds some light on how I need to approach certain situations," Garg said about overcoming tutoring knowledge gaps. 
As an undergraduate MSE/BME student, Garg was studying on a pre-med track. She hopes to one day be a medical practitioner in an urban or underserved environment. Her tutoring days helped her gain skills that she will take with her into her career, helping other communities in the field of medicine. "With work like this, you can't really separate your emotions from what's going on, because the whole point is you're trying to form really human connections with other people." 
With the Petey Greene Program, I see the direct impact of my work.

Maya J. Garg, Alum, MSE/BME
Despite the challenges and time commitment, Garg said that tutoring with the program was ultimately rewarding. "With the Petey Greene Program, I see the direct impact of my work. You see the direct positive effect of the work you're doing in real time as it's happening," she said. Since graduating, she has moved to New York where she continues to volunteer with the Petey Greene Program.
If you are a CMU student interested in getting involved with the Petey Greene Program, please contact Taliya Allen at tallen@peteygreene.org or apply online.