Alum-founded company, Audition Technology, offers over-the-counter hearing aids.
Approximately 15% of American adults (37.5 million) age 18 and over report some trouble hearing. While hearing aids have been the common solution to hearing loss, insurance coverage and cost prevent the majority of the population from wearing aids. If only there was a company that made hearing aids accessible—enter Audition Technology.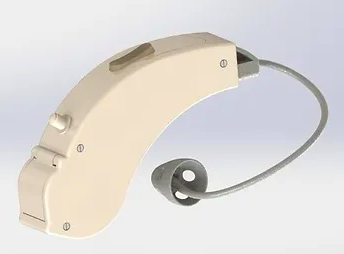 Located in Pittsburgh, Pennsylvania, Audition Technology creates ready-to-use hearing devices that do not require a prescription or fitting. One of the first companies to make over-the-counter (OTC) hearing aids, Audition Technology's mission is to integrate user voice and preferences with quality technology for self-managed hearing healthcare.
"The 2017 OTC hearing aid legislation was the driver to form the company," explains Shayan Gupta, chief advisor and investor of Audition Technology. "Our OTC hearing aids and education portals are designed for hearing-related quality of life."
Gupta earned his undergraduate degree in electrical and computer engineering and biomedical engineering at Carnegie Mellon University in 2021, and his master's degree in electrical and computer engineering at CMU in 2022. While focusing on machine learning, advanced signal processing techniques, and medical devices, Gupta was an innovation scholar in Carnegie Mellon's Swartz Center for Entrepreneurship.
"My degree in electrical and computer engineering, with a focus on signal processing, gave me the knowledge to understand the core technologies in hearing aids to develop aids of our own," says Gupta. "While attending Carnegie Mellon, I met Professor Shawn Kelly, who eventually joined Audition Technology as CTO and is now CEO. Additionally, Professor Rich Stern taught and mentored me. He guided me through conducting my own research in the space as part of my senior honors research."
My degree in electrical and computer engineering, with a focus on signal processing, gave me the knowledge to understand the core technologies in hearing aids to develop aids of our own.

Shayan Gupta, Founder, Chief Advisor, and Investor, Audition Technology
For the most part, hearing aids are not covered by medical insurance since they are not an essential medical device. Insurance companies often consider hearing aids elective, thus preventing many from hearing clearly. According to the National Institute on Deafness and Other Communication Disorders (NIDCD) Epidemiology and Statistics Program, about 28.8 million U.S. adults could benefit from using hearing aids.
The Food and Drug Administration recently proposed a rule to establish a new category for OTC hearing aids for people 18 and older with mild to moderate hearing loss. According to the FDA, the rule would allow hearing aids within this category to be sold directly to consumers in stores or online without a medical exam or a fitting by an audiologist. The proposed rule is designed to help increase competition in the market while also ensuring the safety and effectiveness of OTC and prescription hearing aids.  
"We have been waiting for this rule since our founding," says Gupta. "This ruling lays the groundwork on how OTC aids will be regulated and marketed, so without it, we cannot sell such products in the United States."
Audition Technology's hearing aid prototype, Atlas, is an innovative digital technology with a sophisticated microchip to amplify sounds for listening needs. Following FDA specified standards, Atlas boasts a friendly design to make it easy to use and maintain in everyday life.
"We have been vigilant on FDA actions for years now, even having met with the agency four times and commented on the draft rule released last year," says Gupta.
In addition to fabricating cost-friendly hearing aids, the company also provides education services, like learning about hearing essentials risks and hazards, a self-assessment for hearing loss, and advice on when to see a doctor.
"My goal for Audition Tech is to provide affordable, accessible, and quality hearing healthcare and wellness to millions of Americans and eventually millions more individuals worldwide," says Gupta. "From those who have mild to moderate hearing loss, for whom the OTC hearing aids would improve their quality of life, to individuals who are committed to conserving their hearing regardless of their hearing ability. The ability to hear is integral to one's life—that's why this access to quality devices and resources is so crucial."