K-12 outreach program gets kids excited about STEM
In the College of Engineering, faculty and students prepare and implement programs for K-12 students interested in first-hand—and hands-on—exposure to the field of engineering.
The Carnegie Mellon College of Engineering prepares students for fulfilling, exciting careers, but that doesn't just begin at the college level. The college's outreach program works with students K-12 to introduce engineering ideas and help them explore the endless opportunities that Science, Technology, Engineering, and Mathematics (STEM) has to offer.
This year's annual Summer Engineering Experience program invited middle and high school students to participate in a week-long virtual summer camp, where they learned about a variety of engineering fields and concepts.
"Our summer program provides students with background knowledge and hands-on projects to demonstrate what engineering is: the application of relevant math and science uniquely combined with teamwork to design a solution to solve a real problem," said Annette Jacobson, associate dean for undergraduate studies and professor of chemical engineering.
Each morning, participants met with the college's graduate students and world-class faculty to learn about different engineering disciplines, including chemical, civil and environmental, mechanical, electrical and computer, materials science, and biomedical engineering.
Carl Young, a Ph.D. student in mechanical engineering and biomedical engineering and one of the many presenters at this year's camp, explained that opportunities like this are what got him interested in pursuing a career in engineering.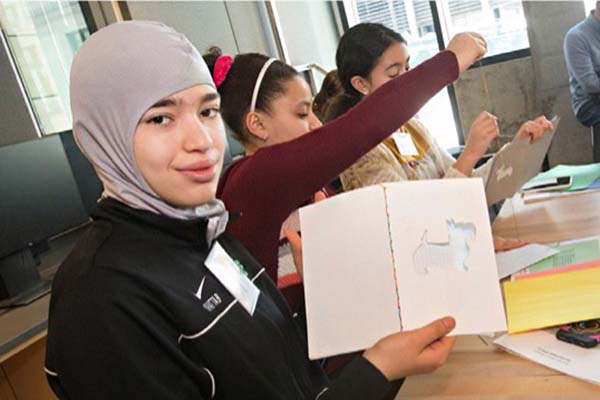 "I've seen the way these kids react to the things we're showing them," said Young. "They're asking questions and seem really engaged, so I couldn't be happier to give back."
Brook Wander, a Ph.D. student in chemical engineering, enjoys connecting with young women interested in STEM and aspires to be a relatable role model for them.
"There have been a lot of women participating in our programs, and I would hope that it helps for them to see someone of the same gender, someone they can identify with," said Wander. "I'm hopeful that someday we can get to a place where half of all engineers are women."
In the afternoon, participants received hands-on experience, working on simple engineering projects aimed at developing critical thinking skills. The week wrapped up with a show-and-tell of sorts, as camp-goers were given the opportunity to share their creations with the group and explain the thought process behind their work.
"We know that not all schools or families have access to the same kinds of resources, so we intentionally design the curriculum in a way that all participants are able to complete the camp activities using items they already have at home," said Megan Fahey, assistant director of strategic programs in the College of Engineering.
"Our goal is to emphasize that being an engineer isn't about having the fanciest lab or the most expensive tools; it's about the mindset."
The Summer Engineering Experience is just one of the many outreach programs the College of Engineering offers. For a complete list of programs and to learn how to get involved, please visit the college's K-12 STEM page.