CMU alumnus creates "Dynamic" COVID solution
Alumnus Jeff Mullen (ECE '00, Tepper '09) and his company, Dynamics Inc., have created an innovative way to inactivate coronavirus in the air.
In the midst of the COVID-19 pandemic, important research is seeking to fight the virus. We know that the novel coronavirus can spread through the air, but even with advanced filtering systems, coronavirus particles may still infect others in the room. Mitigating the virus once it's in the air poses a challenge for researchers.
CMU alumnus Jeff Mullen, founder and CEO of Dynamics Inc., has created a device that can inactivate coronavirus particles in the air using ultraviolet light. Mullen graduated in 2000 with a bachelor's of science in electrical and computer engineering, then returned for a master's degree from the Tepper School of Business. While pursuing his MBA, Mullen founded Dynamics Inc., a company that focuses on flexible electronic payment cards. Dynamics Inc. has since become a global leader in flexible electronic technology.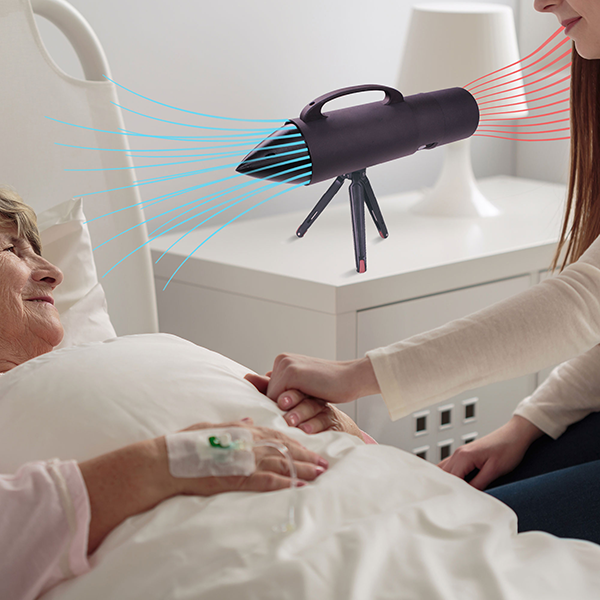 Their device, called Nanowave Air, has been featured in multiple outlets, including the Pittsburgh Post-Gazette, VentureBeat, AP News, and Pittsburgh local news. Even before the pandemic, Mullen and Dynamics Inc. were researching ultraviolet light to make electronics more flexible. They quickly realized their UV research could be used to fight the novel coronavirus.
"When the pandemic hit, back in March, we came together as a team, and we said, 'How can we help?'" Mullen said. "The original concept wasn't about anything other than do we have any technology capabilities that could really make an impact?"
Nanowave Air uses ultraviolet light to inactivate the virus—that is, it damages the virus until it can no longer replicate. In May, Dynamics was the first to demonstrate inactivation using UV light. Then, they performed a series of experiments to figure out the best way to fight the virus. These experiments involved surfaces, liquids, and the air we breathe. In general, UV light is relatively weak. A long exposure is required to inactivate the virus, so it is usually only used for surfaces.
We learned how to operate in different ways and we got to the point where we were inactivating COVID in fractions of a second, in thousands of a second.

Jeff Mullen, Founder and CEO, Dynamics Inc.
"People didn't think that that UV would have any impact on the COVID-19 virus, and if it did, it would be very small and minimal," Mullen said. "We learned how to operate in different ways and we got to the point where we were inactivating in fractions of a second, in thousands of a second."
The team was able to pull a structure from a product already in development as a starting point for Nanowave Air. The electronics are mechanically contorted in the device—an artifact of their flexible electronics research—to intensify the light. Though UV light can be dangerous, causing sunburns and eye damage, it is completely contained within the device. Nanowave Air can kill 99 percent of the virus in less than two thousandths of a second, and it can inactivate an entire room in only 75 minutes. Mullen said it can blast the inactivated air 11 feet across the room. This helps air circulate around the room, so infected air can better reach the Nanowave Air and become safe again.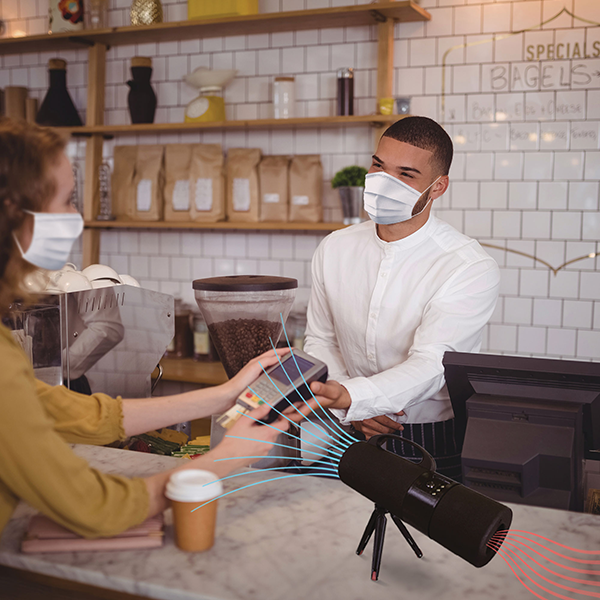 Nanowave Air went under meticulous tests to prove its effectiveness, Mullen said. Leading UV light researcher Elias Towe, a CMU professor of materials science and engineering and electrical and computer engineering, reviewed their work and gave it his seal of approval.
"We're looking for experts to really validate the designs and the size, and one of the people we asked was Elias Towe," Mullen said. "We wanted these products to go through the most rigorous testing that we could find in the United States."
The Nanowave Technology underwent over 120 experiments against the COVID-19 virus, a majority of which were at the National Institute of Allergies and Infectious Diseases' Biodefense Laboratory Network.
There are, of course, many ways to use the device. One can provide a person with a constant stream of inactivated air. This can be used in situations that require mask removal, like dentistry work. The device could also create a "shield" of inactivated air between people sitting across from each other at a meeting. In addition, the device has been used in homes where family members have tested positive.
The Nanowave Air is already in use to protect the public during the pandemic. Businesses using the device range from coffee shops and yoga studies to hospitals and assisted living facilities. Presbyterian SeniorCare Network has placed the device in employee break rooms to mitigate spread in an area where people take off their masks to eat, and St. Clair Hospital in Pittsburgh has devices in their emergency rooms.
Now, Mullen says the device is capable of also inactivating the common cold, the flu, staphylococcus, and other pathogens. This, however, is not the extent of Dynamics' plans. Mullen and his team plan to make it bigger—possibly even making it integrate with HVAC systems—so more air can be inactivated in less time.
"Dynamics is looking forward to constantly testing with pathogens in order to provide new types of devices now that we've unlocked some critical understandings and how to provide a disruptive technology solution," Mullen said. "Long-term, these devices are about wellness and safety, and protecting those around you is important to protecting your broader community."
For more information about Nanowave Air and the studies, or to purchase a device, you can visit www.nanowaveair.com