Virtual spaces for realistic learning
This year, the Civil & Environmental Engineering Department offered more summer research positions than ever before. The summer research poster session exemplifies the CEE department's dedication to providing novel and engaging educational experiences whether the classroom is in-person or virtual.
Each summer, the Civil & Environmental Engineering Department (CEE) offers a Summer Research Program where students complete paid work as full-time researchers alongside faculty advisors. The organizers this year were CEE Professors Susan Finger and Gerald Wang. Since the pandemic diminished opportunities for summer 2020 jobs and internships, the department ensured that the program could be completed digitally and would have enough research positions for a larger group of students. Over 30 master's and undergraduate students participated in the program, which culminated in a special online poster session.
Research for the posters ran the gamut across the three specialty areas in CEE:
Advanced Infrastructure Systems
Environmental Engineering, Sustainability, and Science
Mechanics, Materials, and Computing
Concern for the wellbeing of the environment was a common theme among students' projects, including work on modeling CO2 emissions caused by electricity use and work on using neural networks to visually detect oil in water samples based on surface sheen.
Community access to societal resources was another popular topic. Some students studied public school bus routes and neighborhood proximity to grocery stores. Others investigated how newer technologies, including autonomous vehicles and online grocery services, could help expand access. Many students chose Pittsburgh to be their case study, while some focused on other US metropolitan hubs like Seattle and Chicago. 
Several students researched novel materials and computational methods for civil and environmental engineering applications. Their posters shared results on a wide range of systems, including the behavior of liquid crystals, magnesium, and various plastics under certain influences, such as heat and stress. Such work can help civil engineers tackle problems like microplastics in drinking water and the need for lightweight structural materials.
The students could have presented their posters using tried-and-true screen-sharing over Zoom, but the CEE faculty decided to try something new to make the event as engaging as poster sessions of years past. That's where Gather came in. Gather is a digital event-hosting software developed by a team including CMU alumni, which simulates physical spaces in a delightful way. While attending the poster sessions, students navigated pixelated avatars of themselves across a bird's-eye map of Carnegie Mellon's campus.
It's important for students to engage socially since team-based solution of societally important problems is at the heart of civil and environmental engineering

Gerald J. Wang, Assistant Professor, Civil and Environmental Engineering
The opening remarks for the event were held on The Cut, the central grassy lawns in the middle of campus. Posters could be found in the digital version of Kirr Commons, colloquially called the "black chairs," a common meetup spot in the Cohon University Center. Students could even take a break from the technical chatter by retreating to the Schatz Dining Room. Wang pointed out that, "It's important for students to engage socially since team-based solution of societally important problems is at the heart of civil and environmental engineering."
The location of a user's avatar determines what they have access to at that moment. This is typical for visual elements in video games. An extra detail that simulates physical proximity in Gather is that the user's voice only reaches users whose avatars are near their own.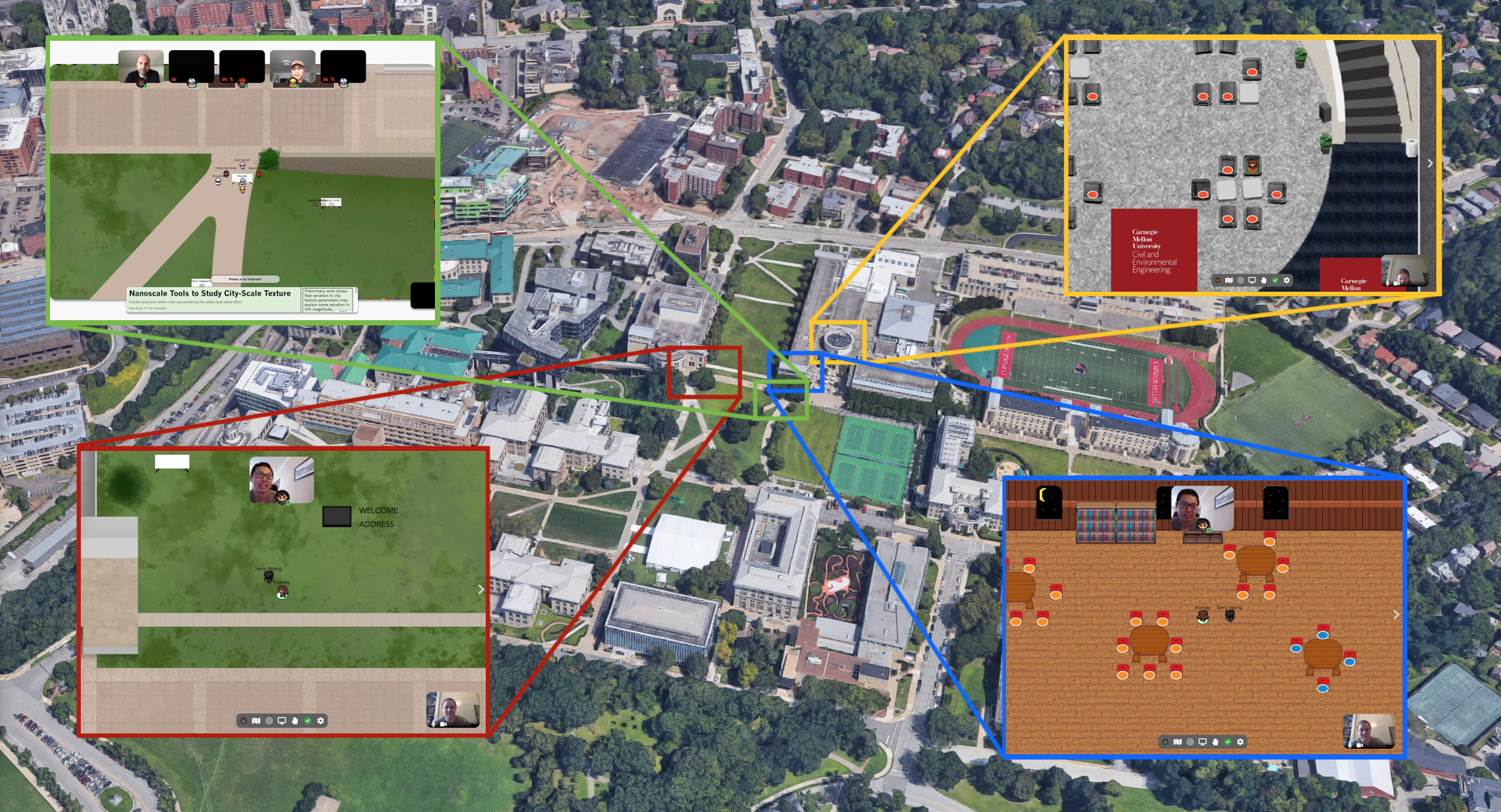 Using a tool like Gather was a great way to engage with students in a novel way and to provide them space to simply socialize. Some of the charms of an on-campus experience are the impromptu social encounters that happen organically and spontaneously in close-knit communities. Instead of grabbing a snack with a roommate after a tricky study session, students can now seek each other out in digital spaces.
This poster session was the highlight of a summer in which CEE organized numerous community-building and professional-development activities virtually. Between a summer seminar series, virtual student meetups, welcome events for incoming students, an "Ask Me Anything" series with faculty and staff, and games including bingo and trivia, CEE students had no shortage of opportunities for social and academic engagement throughout the summer.
The department's efforts in incorporating strong social engagement throughout its curricular and extracurricular offerings aligns well with the College's efforts to continue providing the best education possible during these difficult times. These students will go on to explore and solve problems in service of society. Opportunities to work and engage socially with others within their community, like the CEE Summer Research Program, will help students continue to develop as leaders in the next generation of civil and environmental engineers.