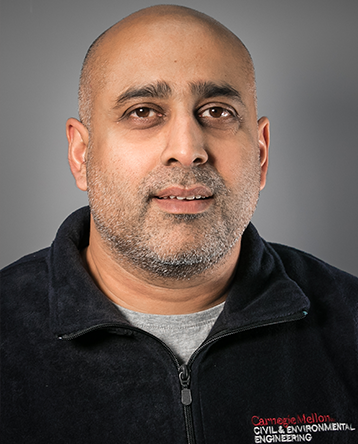 Kaushik Dayal is a professor in the Department of Civil and Environmental Engineering at Carnegie Mellon University. Dayal's research interests are in the area of theoretical and computational multiscale methods applied to problems in materials science, with particular focus on bridging from atomic to continuum scales in the context of functional behavior, non-equilibrium response, and electromagnetic effects.
Dayal received his B.Tech. degree from the Indian Institute of Technology Madras (Chennai) in 2000. He earned his M.S. and Ph.D. in Mechanical Engineering at the California Institute of Technology in 2007.
Education
2007 Ph.D., Mechanical Engineering, California Institute of Technology
2001 MS, Aeronautics, California Institute of Technology
2000 B.Tech., Naval Architecture, Indian Institute of Technology Madras
Media mentions
Three faculty to work on AFRL projects
The Data-driven Discovery of Optimized Multifunctional Material Systems has announced two new projects made possible with support from the Air Force Research Laboratory. Both will focus on how machine learning can contribute to the development of functional soft materials. CEE's Kaushik Dayal and MechE's Carmel Majidi will collaborate on one of the projects, while ChemE's Gabe Gomes will work on the other.
Pitt Engineering
Dayal, Babaei co-author paper on lipid receptor formation
CEE's Kaushik Dayal and MechE's Mahnoush Babaei co-authored a new study published in the Journal of Mechanics and Physics of Solids. The paper explores how pathogens use deceptive methods to invade cell membranes; understanding these processes could lead to new approaches to treat and prevent viruses, such as SARS-CoV-2, which causes COVID-19.