Along with producing globally impactful research, Carnegie Mellon University's goal is to educate our students so that they are ready to launch their careers with the knowledge to excel and contribute to the success of their employers. As such, the Corporate Relations office in the College of Engineering connects corporate entities and their representatives with faculty and students on campus to encourage collaborations on productive research. Our corporate relations directors can guide you and facilitate faculty interactions, and can help you navigate the partnership process and potential recruiting opportunities.
To find out about individually tailored recruiting opportunities, visit the CMU Career Center website or download their recruiting guide.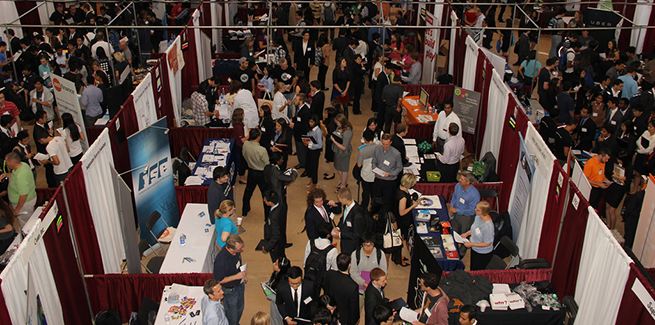 The College of Engineering also hosts the Technical Opportunities Conference (TOC) every year in late September. This conference attracts Carnegie Mellon's engineering, computer science, and science students, and allows recruiters from more than 250 companies to personally meet talented students who are interested in full-time work or summer internship positions. Not only does participation in the TOC allow for your organization to directly recruit some of the nation's top engineers and scientists but, by attending the Technical Opportunities Conference, your company is also contributing to other events sponsored by the Carnegie Mellon Society of Women Engineers. Some of these events include Race for the Cure, a run for cancer research, and High School Day, an event held during the mid-semester break that enlists the help of faculty members and students for the planning of hands-on sessions that expose high school girls to the world of engineering.
Have questions about the TOC?