Curing cancer is not enough
Colette Bilynsky pursues both cancer research and health policy to ensure that potential cures are affordable and accessible to all.
When Colette Bilynsky's brother was diagnosed with childhood cancer, the impact it had on her family inspired her to begin a career in cancer research, hoping to make a difference by discovering a cure. After completing her undergraduate degree at George Washington University, she decided to pursue a Ph.D. in biomedical engineering at Carnegie Mellon University and has since begun to explore health policy in addition to her cancer-related interests. She believes that the cure for cancer alone is not enough—it must also be accessible and affordable for all.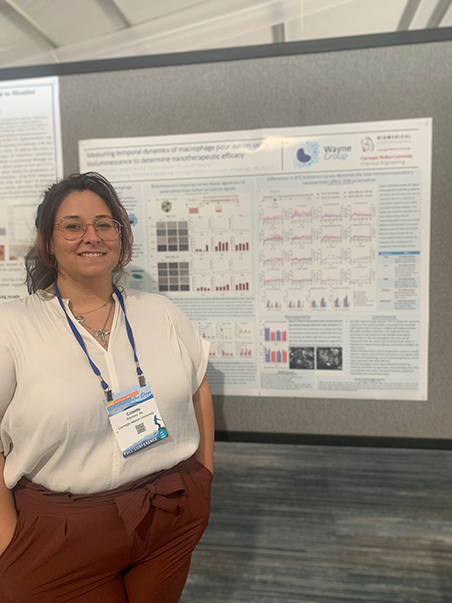 Bilynsky is conducting her Ph.D. thesis research with Elizabeth Wayne, an assistant professor of biomedical and chemical engineering, who studies a type of cell in the immune system called a macrophage. Wayne's lab seeks to understand how macrophages and monocytes can be used as therapeutic and diagnostic tools to treat cancer. Bilynsky joined the lab as it was being established, and she has had a lot of control over the direction of her research.
"I came in knowing I wanted to do cancer research, and it worked out well because Professor Wayne didn't have anybody doing that in her lab at the time," she says. "It gave me a lot of room to figure out exactly what I wanted to do and also gain a lot of problem-solving capabilities."
Bilynsky has taken her work one step further as she explores the realms of health policy and science communication. She has completed two fellowships with the Jewish Healthcare Foundation in Pittsburgh, which have allowed her to work with professionals from other fields such as law and occupational therapy. Her current project is focused on implementing a national patient safety board and proposes improvements to electronic health records for both physicians and patients.
Bilynsky is also involved in science writing. Not only does she write cancer articles for the blog "OncoBites," but she is also completing a scoping review of colorectal cancer nanoparticle literature. Through these initiatives, she aims to help people both with and without scientific backgrounds understand cancer research and health policy.
I came in knowing I wanted to do cancer research.

Colette Bilynsky, Ph.D. student, Biomedical Engineering
"I've gotten to a point in my research where I know a lot about the field and have seen incredible solutions for treating cancer, but it's all inaccessible to patients for a variety of reasons," said Bilynsky. "This very much pushed me towards the health policy side as a way to do a lot of good in the world."