Meitz first in 25 years to receive DOE graduate fellowship
Mechanical engineering student Ethan Meitz is working to create predictive nanoscale models for the thermophysical properties of liquids.
Writing essays for fellowships was one of the ways Ethan Meitz, a mechanical engineering Ph.D. student, fully fleshed out his research topic. 
Meitz aims to "create predictive nanoscale models for liquid thermophysical properties to enable the design of multi-functional liquids." He was recently awarded the selective Department of Energy Computational Science Graduate Fellowship (DOE CSGF).
Meitz is the first student from the College of Engineering at Carnegie Mellon University in 25 years to be awarded the fellowship; fewer than 40 people across the nation receive it each year.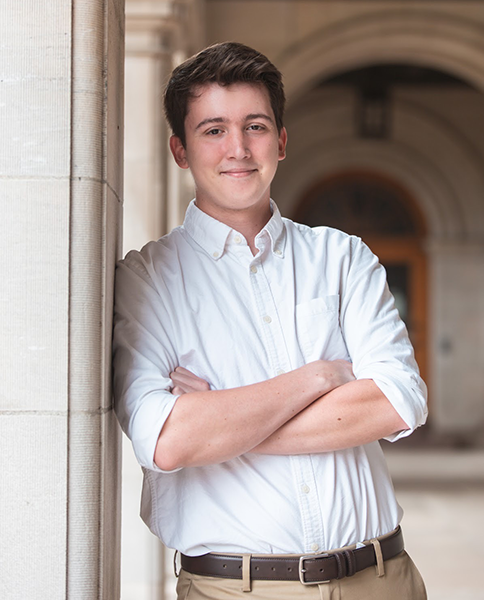 He said he was very excited to have received the award and is looking forward to how the fellowship will support his research, such as attending the ACM/IEEE Supercomputing Conference in the fall.
"I find it really interesting when you have to understand both the physics and the computer itself to solve your problem," Meitz said. 
Meitz spoke on his passion for computational science as a research field and said he discovered how much he enjoyed it during the COVID-19 pandemic after his summer research opportunity transitioned online. 
"I ended up basically writing software all summer," he said. "It was my first exposure outside the classroom of having to code and having this code be rigorous and up to research standards. I really liked that experience."
After coming to CMU, Meitz explained he took Jerry Wang's course on molecular dynamics his first semester.
"That gave me a good appreciation for the research that I was doing and gave me a better appreciation for the computational part of what we're doing," Meitz said.
Meitz explained that Wang, an assistant professor of civil and environmental engineering, also helped in the fellowship application process as he was a former DOE CSGF fellow himself.
"It means the world to me to get to participate in the advising of a current fellow," Wang said. "One of the core principles of the fellowship that really shaped my scientific philosophy and that I am delighted that Ethan has embraced, is that one must open their mind and heart to the entire 'tripod' of computational science: mathematics, computer science, and domain science."
Wang explained how the DOE CSGF requires substantially more courses than most Ph.D. students take and was excited to see Meitz embrace the interdisciplinary approach.
I find it really interesting when you have to understand both the physics and the computer itself to solve your problem.

Ethan Meitz, Ph.D. Student, DOE CSGF recipient, Mechanical Engineering
Wang and Alan McGaughey, Meitz's co-advisors, spoke highly of him as a recipient of the fellowship.
"Jerry and I have been talking about liquids research for a few years, and this seemed like a great opportunity for us to work together," said McGaughey, a professor of mechanical engineering. "We were really impressed with Ethan through his graduate school application process and felt very fortunate when he decided to join us."
McGaughey explained how Meitz's research revolves around the properties of liquids and their ability to retain and transport energy.
"We have a long-term vision of, 'Can we design new liquids for energy-related applications?'" he said.
McGaughey said fellowships are important to graduate level research as they offer resources and tuition benefits.
"This is going to take him through his whole Ph.D. and will give him the freedom to do the things that are important to him," McGaughey said.
Wang echoed McGaughey's sentiments and said fellowships are "absolutely critical" for graduate students.
"The single most important thing the DOE CSGF achieves, in my view, is truly creating a community of computational scientists—at once a tradition, a company of scholars, and a society of friends," Wang said. "The broader science and engineering community could use every bit of support for programs like this as possible. It's so much more than just the financial element."
McGaughey also spoke to Meitz's qualities as a member of the CMU community, and said he is currently mentoring an undergraduate student and routinely stays after class to help other students understand the work.
"Ethan is a terrific self-starter," Wang said. "There is always some high-level brainstorming and feedback when a student is charting out a vision for the next several years, but overall, Ethan approached this process with great independence and thoughtfulness."