Innovating the trading card industry
Alumni entrepreneurs take innovation in the trading card industry to the next level.
The trading card industry is thriving, and cards are selling for record-setting prices. In August 2022, a 1952 Mickey Mantle card sold for a whopping $12.6 million, while in 2021, a Pikachu Pokémon card reaped $5.275 million. Along with high sales prices for individual cards, as of 2019, the trading card industry was valued at $4.7 billion, and it's projected to reach a value of $62 billion by 2027. Despite the soaring projections, the technology serving the industry hasn't kept pace.
Trading cards are historically sold and traded at local, independently-owned stores. With small staffs and millions of cards to sort and catalogue, these businesses struggle to run efficiently and profitably. With ecommerce creating an increasingly competitive business environment, business owners are faced with a dilemma of how they can stay afloat with their limited capabilities.
Carnegie Mellon University alums, Kevin Lipkin (Mech E'08, Tepper '09) and Cornell Wright (ECE '07, CS '08), believe they have the answer with the Roca Sorter—a trading card sorting and cataloguing robot.
Serial entrepreneurs, Lipkin and Wright spent 15 years founding and growing companies within the healthcare, wastewater, education, and agricultural industries. While they had little background knowledge, they began their foray into the trading card industry in late 2019 after meeting with some early customers of the Roca Sorter.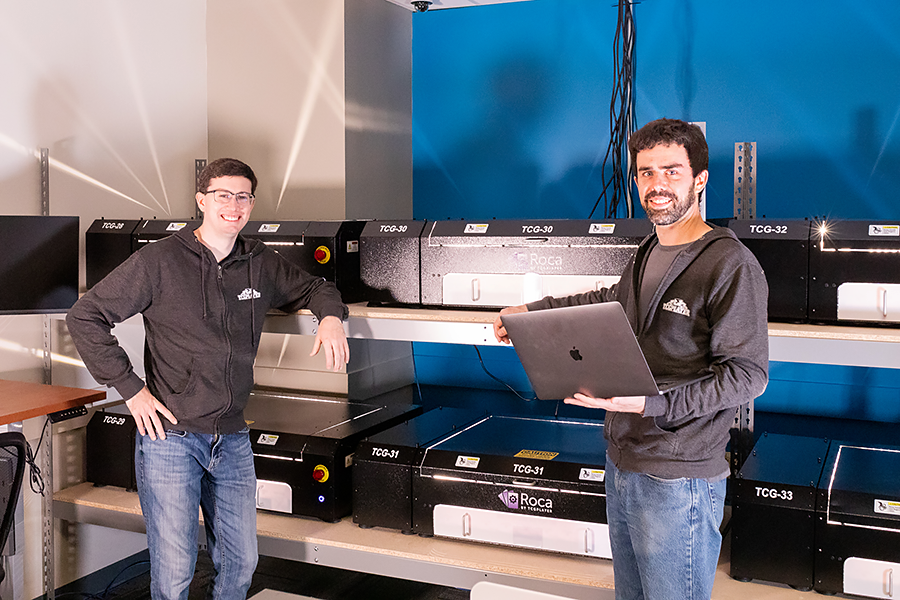 "We could just hear and see what a game changer the product was for them, helping these small businesses grow, be more efficient, and really do things that they otherwise wouldn't be able to," said Lipkin.
They recognized an opportunity with the product and moved forward with acquiring the Roca Sorter product line to further commercialize the technology.
The Roca Sorter works in a two-fold process by first identifying a card and then sorting it. The input tray of the machine is loaded with 1,000 cards at a time. Then, a camera takes an image of a card, which is analyzed via an image-hashing algorithm and compared to the cards of a known "universe," i.e., "Magic the Gathering" or "Pokemon." Once the card is identified and mapped with textual information, it's sorted using a mechanical process. The top card in the input tray is picked up with a vacuum pickup cylinder which moves along an X/Y gantry to lay the card in one of 45 bins in the machine. Then, the second card in the input tray is compared to the first card that was analyzed and placed in a bin. This process continues until the machine has placed all 1,000 cards into a bin. The machine then recompiles the cards and places them back into the input tray in the order that the customer wants. Typically, customers ask for the cards to be sorted alphabetically or by market price.
By having the cards cataloged and alphabetized, it's like the Dewey Decimal System.

Kevin Lipkin, Alumnus, Mechanical Engineering, Tepper
The customer is also sent a CSV file of all the cards that were sorted by the machine, thus allowing the customer to build a "library" of their inventory. This CSV file can easily be loaded into an ecommerce inventory account. Customers, who may sell thousands of cards per day, can list their cards for sale online without having to individually go through their bulk collections. Lipkin explains, "By having the cards cataloged and alphabetized, it's like the Dewey Decimal System. It becomes very easy and much faster to pull the exact cards that got ordered that day and get them shipped out."
Once Lipkin and Wright acquired the Roca Sorter, they had to support existing customers and set up new warehousing and manufacturing facilities for the robots. "The initial focus was 'How do we keep selling these and have a product that makes our customers happy and be able to support them?'" said Wright. Driven by this ideology, Wright and Lipkin worked on the Roca Sorter and its software to improve reliability and manufacturability. They've also implemented a support plan for their customers, which provides replacement parts and software updates.
Since 2019, Lipkin and Wright have sold upwards of 200 machines and grew to a nine-person team. They were acquired by TCGplayer in November 2021, which allowed them to continue making improvements on their product and grow. In 2022, their robots sorted more than 100,000,000 trading cards across their customers, many of whom run their machines 24/7. Late in 2022, eBay acquired TCGplayer, making Roca Sorter part of an 11,000-person company. Lipkin said of the acquisition, "I think this is a pretty unique opportunity to take everything we've done to the next level."
Pictured, top: Kevin Lipkin (left) and Cornell Wright (right) examining the Roca Sorter's camera and card pickup system. (Photo source: Kevin Lipkin and Cornell Wright)