Research in the off-season
Women's basketball player makes time in the off-season to take on research.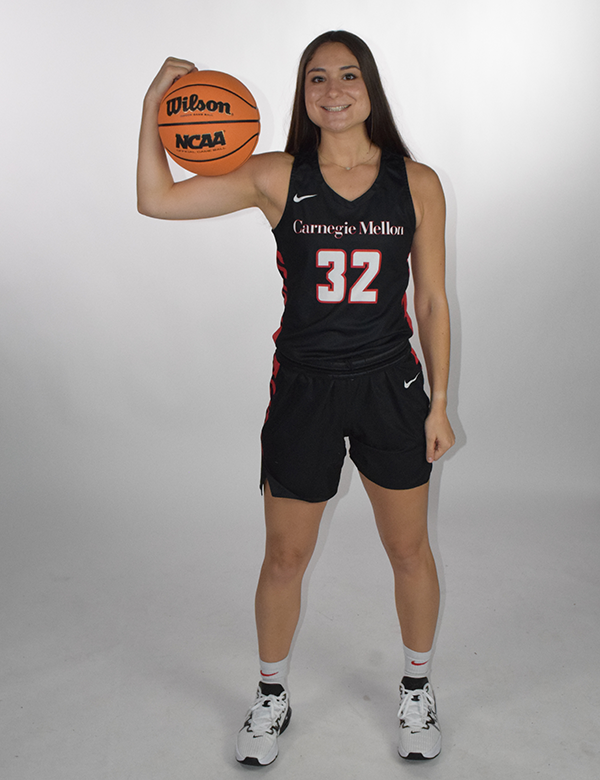 Jamie Joseph, who is majoring in chemical engineering and biomedical engineering, responded to a professor's suggestion to apply for opening in one of the chemical engineering labs. Anne Robinson was quick to accept the sophomore onto her team for the following summer.
Robinson, department head and professor of chemical engineering, is studying tau protein aggregation to find how it can be used to aid in the development of a treatment or cure for Alzheimer's disease. In Robinson's lab, Joseph worked on producing the tau protein, which is made by growing recombinant DNA in E. coli bacteria. A chemical aggregation that occurs when heparin is added to the tau protein was then observed in an effort to help understand how to contain the disease to a small area of the brain, slow its progression, and halt the cognitive degeneration associated with Alzheimer's.
Joseph, who is a forward on the Tartans women's basketball team, has a busy schedule during the school year, so she made time during the summer after her sophomore year to work in Robinson's lab.  She worked under the supervision of Sarah Sonbati, a Ph.D. student, to produce the tau proteins. She says Sonbati was understanding of the limited experience Joseph had when she began the work.
"I was a little intimated at first. It seemed like everyone in the lab already knew what they were doing," said Joseph. "But Sarah was super supportive and encouraging."
I was a little intimated at first. It seemed like everyone in the lab already knew what they were doing, but Sarah was super supportive and encouraging.

Jamie Joseph, Undergraduate student, Chemical Engineering and Biomedical Engineering
Working in such a safe and supportive environment helped her become more confident—eventually growing comfortable enough to work independently and troubleshoot problems on her own. She says the experience working with the E. coli bacteria was also helpful in her biology coursework. And when lab work the following semester called for pipetting, the use of a pipette tool to measure and transfer small amounts of liquid, she had already been trained in the technique.
Joseph has already accepted an internship with Merck for next summer and says she is glad to have had opportunities to work in both research and industry before she has to make any final decisions about what career path to take when she graduates in 2024.