Alumna to deliver keynote address at SWE Anniversary Celebration
Barbara Buck credits the Society of Women Engineers for helping her envision career possibilities at a time when fewer women pursued engineering.
In 1968, when Barbara Buck informed her high school counselor that she wanted to apply to Carnegie Mellon to study chemical engineering, she was told that women were not engineers and that she should be a chemistry teacher.
"I had no idea that being a woman would be a barrier," said Buck who excelled in math and science and had been inspired to become an engineer by a Penn State professor who visited her physics class.
Her father, who would later beam with pride over his daughter's accomplishments, was initially skeptical too, believing that an engineering education would be too costly. But thanks to her mother who secretly set aside money out of the family's food budget to help her daughter apply to college, Buck was able to go on to earn her chemical engineering degree at Carnegie Mellon in 1973.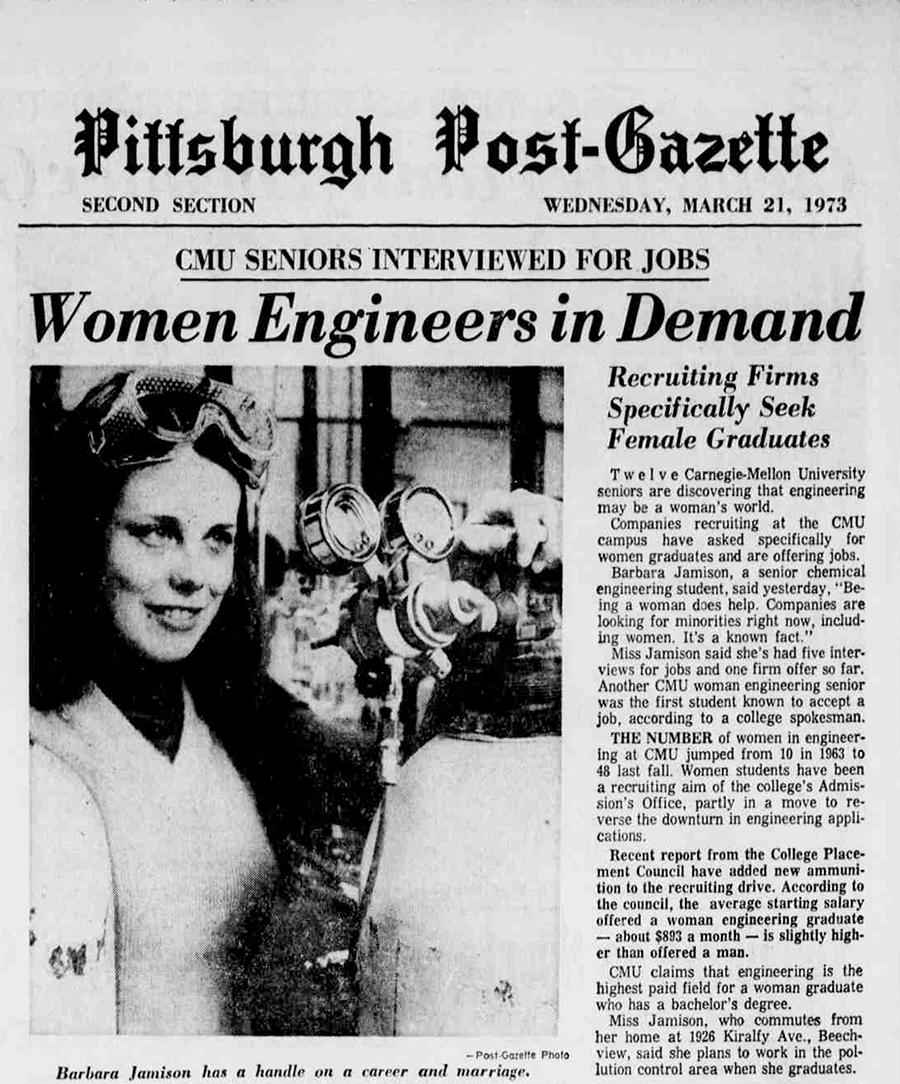 Fifty years later, she can recount other obstacles, as well as other unexpected forms of support, including the encouragement and help she got from the Society of Women Engineers (SWE), an organization that she has proudly listed among her credentials for half a century.
SWE, which was founded in 1950, enjoyed a loose foothold at Carnegie Mellon in the early 1970s. It was then briefly deactivated before being reinstated permanently in 1977, a few years too late for Buck and the 11 other women who earned their engineering degrees in 1973.
But thanks to Herbert Toor, who was the dean of the engineering college and a great proponent of women in engineering and science, Buck was able to participate in the SWE Professional Development Conference. Toor generously sponsored Buck's trip to the Henniker, New Hampshire conference with the single caveat that when she came back to campus Buck share what she had learned with her fellow students.
"Attending the SWE conference as a student was an amazing experience—a real turning point for me," said Buck who was awed by the professional women engineers she met there.
Attending the SWE Professional Development Conference as a student was an amazing experience—a real turning point for me.

Barbara Buck, 1973 Chemical Engineering alumna
Interacting with women engineers who were working at the Oakridge National Laboratory, employed as engineers and executives at major corporations, members of the Army Corps of Engineers, and owners of their own engineering firms, showed her the exciting career paths that were possible.
The following year, the Pittsburgh Post-Gazette featured Buck in an article titled, "Women Engineers in Demand," which reported that not only were employers seeking women engineers, but that the number of applicants was growing. Women enrolled in engineering programs at CMU had jumped from 10 in 1963 to 48 in 1973, according to the newspaper.
Carnegie Mellon enrolled 208 women and 234 men in the 2022 incoming class of engineering students.
Almost as soon as Buck landed her first job with Union Carbide as a product and process development engineer, she joined SWE as a professional member. She served in multiple leadership roles including chairwoman of the national convention in 1980.
She returns to campus on April 15 to deliver the keynote address at the CMU SWE 50th Anniversary Celebration.
In addition to her long held dedication to SWE, Buck has had an impressive career in the chemicals, plastics, and mining industries. After more than a decade with Union Carbide, she joined Amoco Chemical Company. Although there were few women in the field then, the president at that time was committed to supporting women engineers, which made her experience there fairly positive. Conditions became less favorable for women who were subjected to policies that limited their opportunities when the company was later acquired.
Undeterred, Buck went on to serve in leadership roles for industrial coatings companies that took her to locations around the world, where she would be the first woman to ever enter a chlor-alkali plant in Mexico and the first woman invited to serve on the board of a Tokyo-based joint venture formed to service the Japanese automotive industry.
Today, she is a highly sought-after expert in molybdenum, a metal additive used in steel and stainless-steel alloys and various refining and petrochemical applications with sales of $1 to 2 billion. She is a consultant and the executive committee president of the International Molybdenum Association who is leading the development of responsible production standards for molybdenum to establish a Moly Mark brand that will provide assurance of responsible mineral production and sourcing to various stakeholders.
But Buck is more than just an inspiration to women who aspire to engineering careers. She has a vision for the future success of women engineers and for SWE.
"Although women have made great strides over the years, SWE still has many important roles to play," says Buck.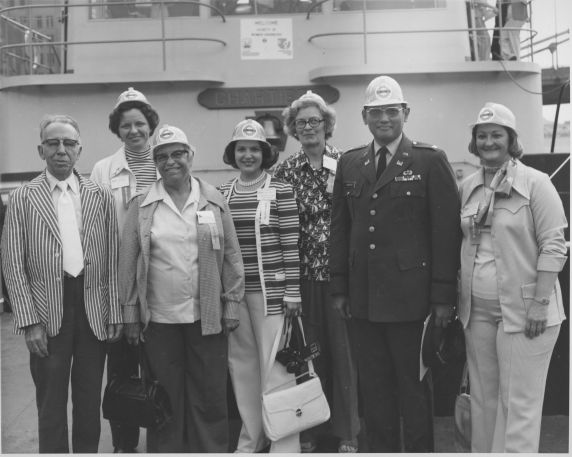 Outreach programs that encourage students to consider and pursue engineering and STEM careers have long been a standard for the organization at both the national and local level. There is a tremendous need for engineers in manufacturing, which Buck says is the foundation of the U.S. economy, so attracting both men and women to such jobs is critical.
Professional and leadership development programs offered by the organization are still excellent opportunities to encourage young engineers to excel in their studies and prepare for their professional lives adds Buck.
Even as women surrender their minority status in engineering, Buck believes there is still a need for advocacy. She warns that not all progress has been upward. Ground was lost during the economic turmoil of the 1990s and probably again during COVID. And she says there is still less representation in some fields and industries, such as mining. Given that SWE also supports those in other STEM fields, there remains a need to expand opportunities in areas such as computer science, which still tends to be heavily dominated by men.
Buck is genuinely grateful to Carnegie Mellon and to SWE, and she is confident that belonging to the Society of Women Engineers can be equally beneficial to those who are seeking their own engineering and STEM career success.