Improving air quality in Africa
CMU-Africa, CMU-Pittsburgh, and global collaborators create an air quality testing center in Ghana with new funding from the Clean Air Fund.
It's nearly impossible to solve a problem that you don't understand. And for a problem as big as air pollution on a continent as big as Africa, there is a lot that needs to be uncovered before conditions can improve. Currently, experts do not know how many Africans are suffering from poor health due to pollution because there is little to no data about air quality in most areas. However, estimates published in the Journal of Geophysical Research say that air quality-related deaths rank within the top leading cause of death across the continent.
Engineers from CMU-Africa and Carnegie Mellon University in Pittsburgh are hoping to fill this knowledge gap with the help of a new grant from the Clean Air Fund. The funding will create a center in Accra, Ghana to test and evaluate the accuracy of low-cost air quality sensors as well as train people to gather and analyze the data of the deployed technology.
The project will build on the previous work of AfriqAir, a CMU-Africa affiliated group focused on bringing together global researchers to improve knowledge about air quality in Africa. The group, made up of collaborators from across the world, includes many faces from Carnegie Mellon: Albert Presto, research professor of mechanical engineering, Paulina Jaramillo, professor of engineering and public policy, and Tim Brown, professor of electrical and computer engineering and engineering public policy, who is also director of research at CMU-Africa.
We hope to seed growth in the field of air quality by providing a place for groups to test their technology.

Albert Presto, Research Professor, Mechanical Engineering
Since 2020, AfriqAir has deployed 50 low-cost air sensors across 11 African countries. The deployment of these sensors has allowed the group and their partners to gather important data about air quality, but thousands more sensors are needed to create a robust picture of the air quality environment in Africa. So, it is clear that no one group can tackle this problem alone.
This new testing center will provide a place for anyone (companies, universities, government agencies, and non-government agencies) to test their air quality sensors against a reference instrument—the "gold standard" in evaluating the effectiveness of this sensing technology.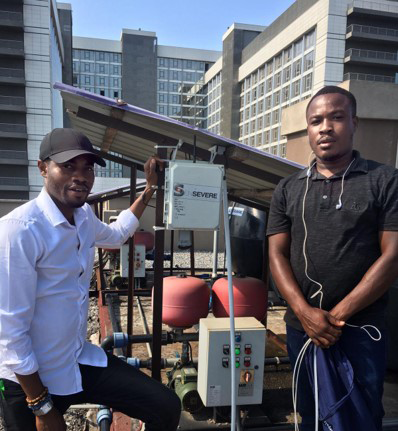 "We want to be technology agnostic so that we can build an infrastructure of air quality testing in Africa," says Presto. "We hope to seed growth in the field of air quality by providing a place for groups to test their technology."
The West Africa testing center will be up and running within the year with the help of Ghana-based collaborators Allison Hughes, senior lecturer at the University of Ghana, and Kofi Amegah, associate professor at the University of Cape Coast. AfriqAir chose to create the testing center in Accra because of the strong air quality research community in Ghana and the large amount of interest in air quality across the country.
"Working around low-cost sensors' limitations and ensuring they are giving accurate measurements is essential for everyone with a stake in air quality, from policy makers, to scientists, to lay people. I hope that this new testing center will allow air quality stakeholders to be able to use low-cost sensors with confidence," says Michael Giordano, executive director of AfriqAir. "Once confidence is established, then the real work of directly improving air quality through laws and policies can begin."
While AfriqAir researchers are first focused on opening the West Africa testing center, they hope to one day open more centers across the continent in order to make air quality testing more prevalent in East, South, and North Africa. The group recently held a conference at CMU-Africa to gather its collaborators and partners from across the world to talk about current and future projects of the group, including the newly-funding testing center in Ghana.
View more photos on Flickr
Hear from collaborators and partners of AfriqAir
Kofi Amegah
Associate Professor, University of Cape Coast
Project Lead, Ghana Urban Air Quality Project
Project Lead, Breathe Accra
"It is important to provide local evidence to convince governments to invest in air pollution control. Air pollution is worsening on the continent and its imperative we get governments to act. This, however, requires the generation of local evidence. Also, such evidence can inform the Global Burden of Disease estimations."
Tim Brown
Director of Research, CMU-Africa
Director, Kigali Collaborative Research Centre (KCRC)
"KCRC has been a platform for creating this collaborative initiative. As a center that is built on bringing together global researchers to address research opportunities in Africa, KCRC has played a key role in this initiative. This new project is a good example where KCRC is providing the base for testing and education centers for calibrating and validating low-cost sensors across Africa."
Matt Whitney
Head of Data, Clean Air Fund
"There are two things we are most excited about: one is the brilliant international team that has come together under the leadership of AfriqAir to make the centre a reality, and second is the opportunity of this initiative to provide a blueprint for other such centres to be created in other parts of the world, in doing so scaling the impact that this project will have."
Pictured above, left to right: Tim Brown, Albert Presto, and Michael Giordano at CMU-Africa in Kigali, Rwanda.