Area high school students learn about advanced manufacturing career opportunities at Mill 19.
In order to avoid the massive skills gap that threatens to leave two million U.S. manufacturing jobs unfilled within the next decade, young people need to see that manufacturing is an exciting and lucrative career opportunity. In Pittsburgh and around the country, there are many initiatives aimed at inspiring the next generation to pursue careers in manufacturing.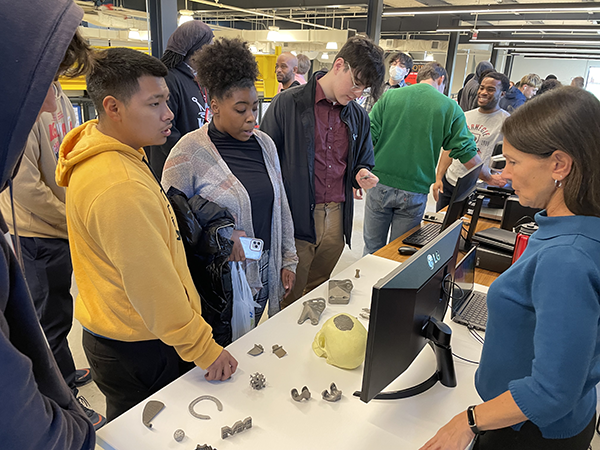 That's why students from 10 area high schools were at Mill 19 in Hazelwood Green on Thursday, October 6. Their visit was a part of the nation-wide Manufacturing Day event, which is sponsored by the Manufacturing Institute—the workforce development and education partner of the National Association of Manufacturers.
Carnegie Mellon's Manufacturing Futures Institute joined forces with its partners, the Advanced Robotics for Manufacturing Institute (ARM) and Catalyst Connection, as well as the University of Pittsburgh, to give students a first-hand look at modern manufacturing.
The students were given a tour of Mill 19, the former location of the Pittsburgh region's most productive steel mills. The sprawling facility at Hazelwood Green has been transformed into a discovery workspace where Carnegie Mellon researchers conduct some of the most advanced manufacturing research in the U.S. It's laboratories, workshops, and workspaces, where students saw demonstrations of manufacturing robots and industrial 3D printing equipment, look very like modern manufacturing facilities.
Joe Herzing, a counselor at Sto Rox High School brought eight students whose career exploration profiles indicated they had an interest in manufacturing-related careers.
This is absolutely what we need to do. Kids need to see these manufacturing career pathways.

Joe Herzing, Counselor, Sto Rox High School
"This is absolutely what we need to do. Kids need to see these manufacturing career pathways," said Herzing, who believes that these students will not only remember their experiences here, but they will talk about what they saw and share the photos they're taking on social media.
Studies have shown that positive exposure to manufacturing makes students twice as likely to pursue a career in the field. And the Manufacturing Day planners say that makes sense because students won't choose manufacturing careers if they've never been exposed to them. The goal of Manufacturing Day is to raise up a new generation that is passionate about manufacturing.
In addition to the Mill 19 tours, students met representatives from local schools and organizations who are all a part of the larger effort to promote manufacturing careers.
The ARM Institute, which was created in 2017 when Carnegie Mellon University won the bid to create a robotics-focused Manufacturing USA Institute, works to strengthen U.S. manufacturing through innovations in advanced manufacturing technology, particularly robotics and artificial intelligence. As a part of their effort to prepare the workforce to work alongside these technologies, ARM created roboticscareers.org, an online database that connects education seekers and manufacturers with thousands of vetted training programs.
Catalyst Connection, which shares space with ARM and MFI at Mill 19, is a private not-for-profit organization that provides consulting and training services to small manufacturers in southwestern Pennsylvania. They offer numerous workforce development programs, including the Making Your Future program, which provides career counseling and job development services in disadvantaged communities and the Industrial Manufacturing Technician Apprenticeship program, which provides production workers with training for advanced manufacturing jobs. 
Community College of Allegheny County was on hand to promote programs such as Mechatronics, which teaches the technical skills needed to work with industrial robots, programmable logic controllers and other automated equipment.
The most beautiful scenario would be for these young people to find their way into these rewarding careers.

Sarah Rose, Manager, Center for Innovation and Outreach, Robert Morris University
Sarah Rose, who manages the Center for Innovation and Outreach at Robert Morris University (RMU), was also there to share information and encouragement. She is enthusiastic about the potential of programs like Manufacturing Day to expose students to rewarding career opportunities and she says that RMUs programs designed to upskill workers have very high placement rates.
"The most beautiful scenario would be for these young people to find their way into these rewarding careers," said Rose.