CMU Racing learns tricks of the trade from Chip Ganassi
Chip Ganassi, a titan of the auto racing industry, has been offering his insight and expertise to CMU's racing team for more than two decades.
Pittsburgh native Chip Ganassi had a newborn daughter around the same time he started working with Carnegie Mellon University's then fledgling automotive racing team.
The former racecar driver and owner of Chip Ganassi Racing said he didn't know much at the time about CMU Racing nor the Society of Automotive Engineers, of which CMU Racing is a chapter. SAE holds competitions for collegiate teams like CMU's.
Encouraged by a CMU administrator, he became involved with the team, answering questions, offering tips, and serving as a mentor. Team members—to his surprise—named the car they built after his then newborn daughter, Tessa.
"I felt very honored that they wanted to do that," he said, adding that the powerful gesture had an impact on both him and the team. Ganassi compared it to his own experience at the age of 12 of meeting racing driver Mario Andretti, alongside whom Ganassi raced roughly a decade later in the Indianapolis 500.
"I don't know that meeting him that day when I was 12 years old was a positive in getting me to the Indianapolis 500, but I know one thing: it wasn't a negative," Ganassi said. "So, you never know what a little thing like naming a car could mean for a team or my daughter, but that was a very nice accolade that I'm very proud of."
Ganassi has also been involved in other CMU programs, including working with famed roboticist William "Red" Whittaker on autonomous vehicles for Defense Advanced Research Projects Agency contests in 2004. He stayed in touch with some of those students long-term.
About 25 years later, CMU Racing has several impressive wins under its belt and a strong relationship with Ganassi, who visited the team on campus earlier this year and flew six of its members to Indianapolis to tour Ganassi Racing headquarters in late 2021.
View this post on Instagram

A post shared by Carnegie Mellon Racing (@carnegiemellonracing)
The CMU Racing team, consisting largely of undergraduates from the College of Engineering, most recently won first place in the electric vehicle category at the 2022 Formula Hybrid competition hosted by Dartmouth, where it also netted awards for "excellence in project management" and "engineering the future." Each year, its members collaborate to design, manufacture, and race a brand-new Formula-style electric race car.
"To see how that team has grown to the performance level they're at today is very exciting for me," Ganassi said, "because I like to think I had a little something to do with that at the start that sparked them to have the performance they have today."
Mason Sanfilippo, one of the students Ganassi flew to Indianapolis, was a senior in mechanical engineering and president of CMU Racing during the 2021-22 academic year. He and his teammates gave Ganassi a tour of their workshop in late February, eagerly answering his questions and grabbing prototypes and parts to show him.
After Ganassi left, several of the students said they appreciate how "cool" and personable he is.
"I think one of the most powerful things about meeting Chip is understanding that he is just a normal guy that loves racing," Sanfilippo said. "And all the wisdom that comes along with that is a result of him basically starting out as a young kid, working his way all the way up to the top, and keeping that persona all the way through."
Benefits of CMU Racing
Participating in CMU Racing allows students to learn a process from beginning to end, Ganassi said, from conceiving an idea to designing and building a car to racing it and eventually racing well enough to win championships.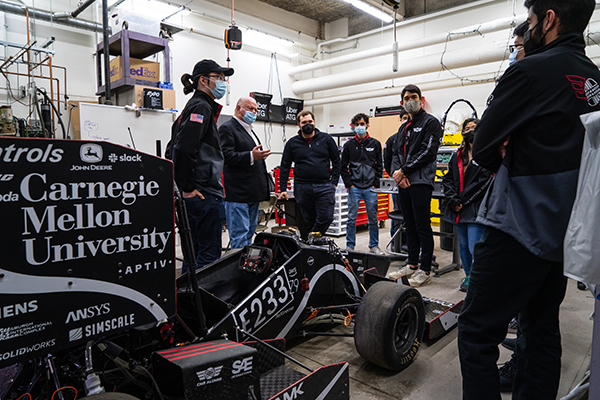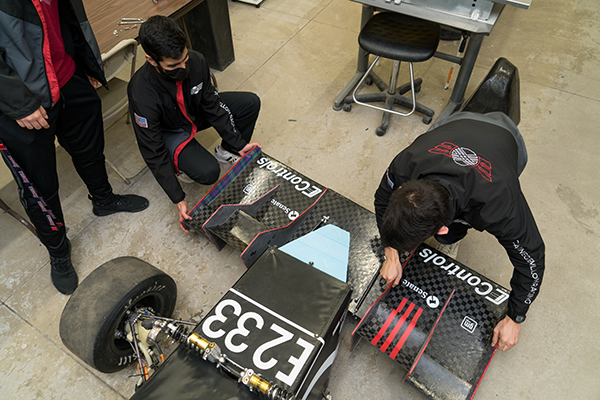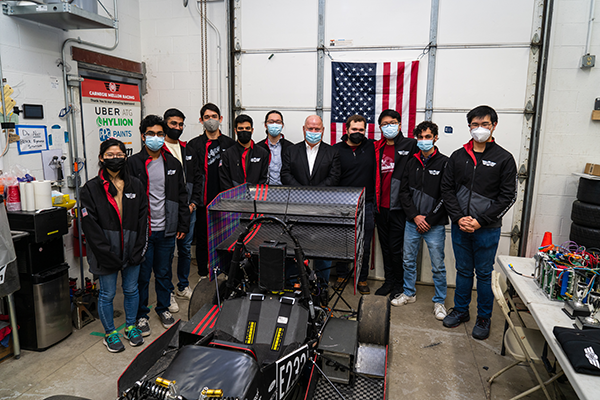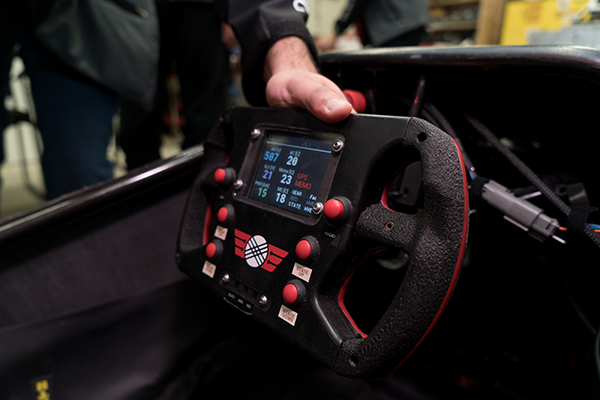 "For me, I found racing to be a microcosm of life, if you will. It has all the ups and downs of life, maybe compacted into a weekend, or compacted into a season, or compacted into a year," he said.
Racing teaches the value of every part, every job, and every team member, he said.
Ganassi said members of a racing team have as much to learn from their wins as their losses, a lesson Sanfilippo echoed after Ganassi's campus visit. Chip Ganassi Racing, which fields teams in IndyCar, the WeatherTech SportsCar Championship, and the Extreme E off-road series, has won 20 championships and more than 225 races.
"Chip's a big fan of winning and how to continue to push yourself even whenever you are the leader in your own division," Sanfilippo said.
But Ganassi didn't always know he'd be able to have a career in motorsports. The lifelong Pittsburgher said he's been racing "one thing or another"—from go-carts, snowmobiles, and dirt bikes to cars—since he was about five years old. He always dreamed of racing as a career but relegated the idea to wishful thinking until his early 20s, he said.
"It was mere happenstance and just being in the right place at the right time," Ganassi said of how he turned that dream into a reality. "I think if there's one thing I could say to young people today, it would be: 'Don't ever count yourself out, because you have to put yourself in a position for luck to strike you.'"
Though his racing career was cut short by a crash, he won his first auto race at age 18 and competed in the Indy 500 five times, with a best finish of eighth in 1983. That year, he was voted the Most Improved Driver and took ninth position in the Championship Auto Racing Teams standings.
He was inducted into the Motorsports Hall of Fame of America in 2016 and received an honorary Doctor of Science and Technology degree from CMU in 2011.
It's really important to the team to make these kinds of connections because it gives students the experience of being with an industry leader.

Mason Sanfilippo, 2021-22 student president of CMU Racing, Mechanical Engineering
"It's really important to the team to make these kinds of connections because it gives students the experience of being with an industry leader," Sanfilippo said.
Future of the industry
Ganassi has shared with CMU Racing his expectations for the future of the automotive industry and the field of racing, noting how things have changed since his generation was young. He grew up with mostly one option—the internal combustion engine—whereas young people today will have many options as they continue to develop, including electric, natural gas, and multiple types of hybrid engines.
With progress being made in propulsion technology and autonomous vehicles, Ganassi said it's "a very, very interesting time in the transportation business." In five or 10 years, "a lot's going to be the same, and a lot's going to be different," he added.
One thing Ganassi hopes CMU students learn from him is that many people still enjoy the simple act of driving a car, despite many in the auto industry shifting to focus on self-driving vehicles.
"There's so much more to the industry that doesn't get talked about, and I think there's a wide open area of opportunity outside of 'going from Point A to Point B' when it comes to vehicles. I think that's important to point out to students," he said.
There will always be more students eager to hear his insights. He said working with CMU over the years has been "wonderful."
"I've always looked forward to my relationship with Carnegie Mellon University," Ganassi said.