Mastercard scholar works to transform Africa
CMU-Africa student Fonyuy Boris Lami applied his information technology studies, research endeavors, and internship opportunities to fulfilling the Mastercard Foundation's mission to engineer the future of Africa.
Fonyuy Boris Lami enjoys applying his burgeoning machine learning skills to better understand how top websites in East Africa collect and process Personally Identifiable Information (PII). As a student working toward a Master of Science in Information Technology at Carnegie Mellon University Africa with a major in Applied Machine Learning, he wants to know how these practices affect the privacy and security of users.
Boris, who hails from Nso in Bui Division, Northwest Region of Cameroon, has been equally fascinated by his experience visiting a Rwandan village where farmers are so self-sufficient that they recycle dung to use as fuel and are able to produce everything they need, with the exception of cooking oil and salt, which they purchased in town.
These two experiences are not as unrelated as they may seem. Boris is a Mastercard Foundation Scholar who has received generous funding that includes full tuition, a stipend, and an expectation that recipients will use the educational opportunity to develop and implement projects that make a difference in the lives of others. And upon completion of the two-year program, the Mastercard Scholars are also called upon to contribute to meaningful transformation across the continent.
In addition to his classroom studies at CMU-Africa, he is fulfilling that obligation in numerous ways. He worked with three fellow students on a security research project to analyze the privacy policies and practices of more than 150 top websites in Africa.
"Few countries in Africa have adequate privacy policies for their citizens and many websites take advantage of that. So we worked to determine what information websites collected when people visited them."
Few countries in Africa have adequate privacy policies and many websites take advantage of that. So we worked to determine what information websites collected.

Boris Lami, Mastercard Scholar master's student, CMU-Africa
The ultimate goal of the research was to protect the privacy and security of internet users by providing an informative resource for policymakers to reference and encouragement for company officials to be more transparent in their data collection practices.
He also had the opportunity to contribute to the development of Africa through an internship last summer. He worked for Mvend Ltd., a financial technology company with offices in Kigali that helps businesses provide mobile banking services to Africans, many of whom neither live near banks nor have bank accounts.
Even without bank accounts, many Africans use mobile money to buy groceries with their phones and deposit and withdraw cash with the help of human agents who work in key locations throughout the country—including remote rural areas.
The African mobile money systems allow users to manage their cash savings with a smartphone instead of hiding it under a mattress; send money to a family member without needing to make a potentially long or dangerous trip; or borrow money to finance a business venture. His work with Mvend will help the company determine the likelihood of repayment for loans that can help entrepreneurs gain economic independence.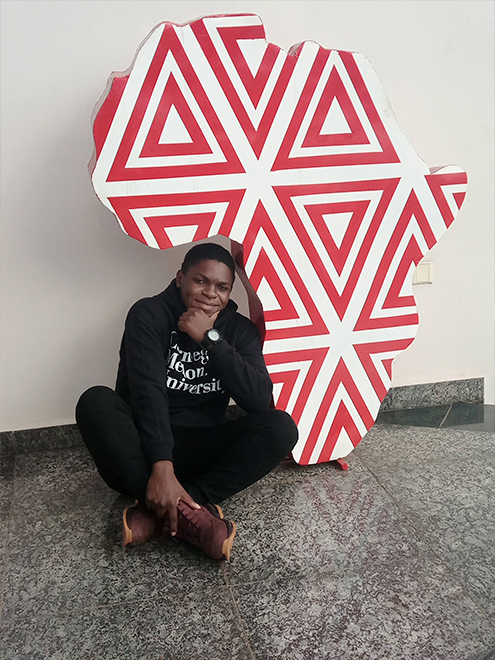 "Having the opportunity to apply my machine learning knowledge to this problem gave me a boost of confidence in applying what I've learned to similar future challenges," he says.
Zindi competitions were another confidence builder for Boris, as well as another example of an organization focused on the transformation of Africa. Zindi hosts the largest community of African data scientists who are working to solve pressing challenges using machine learning and artificial intelligence (AI). In addition to providing educational resources, job placement services, and career networking, Zindi holds competitions that allow participants to hone their AI skillsets.
Boris Lami has participated in more than 25 competitions on Zindi. The hackathons put what he learned to the test, and in five of the competitions, his team finished among the top seven competitors. He and a team of three other classmates participated in their first Zindi competition to predict burned areas in Zimbabwe, which can also extend into other countries. The inexperienced team was as thrilled to top the leaderboards as they were to build new friendships with one another.
"We called our 2020 team of two ladies and another gentleman who were from Kenya, Uganda, and Benin, GRIT, which stood for courage and determination despite difficulty."
He also participated in the AIMS Data Science Hackathon on Zindi in 2021 where he earned second place in the competition, which involved predicting sign language words using Kenyan sign language images.
Boris plans to return to Cameroon when he graduates this spring and find a remote job that will allow him to continue using his machine learning and deep learning skills to further advance Africa. He will miss the friends he made in Rwanda, but after two years commuting to school and work via bicycle, he says he will not miss the terrain of the "country of a thousand hills."