Serving as an orientation counselor gave Andrew Thompson many opportunities to encourage first-year students by telling them that "It isn't how you start; it's how you finish."
If you look at Andrew Thompson's record of accomplishment as a student in the College of Engineering, you might easily assume this buoyant wunderkind had an easy time from day one. When he graduates in May with a double major in civil and environmental engineering and engineering and public policy, he can tout a long list of activities and achievements.
But Thompson says he had a rocky start. Adjusting to college life forced him to learn better organization and time management skills. He even had to learn how to take final exams—something he had not been required to do in high school.
But the warm welcome he got from First-Year Orientation counselors helped to ease his anxiety, reassured him that he would find help when he needed it, and inspired him to become an orientation counselor himself. He went on to also work as both an orientation leader who mentored new counselors, and this year he served as a Head Orientation Counselor by helping to plan and coordinate orientation week programs.
Julie Schultz, associate dean for First-Year Orientation and Parent and Family Engagement, said Thompson was a fantastic Head Orientation Counselor.
"Andrew is the type of leader who inspires others by his example," said Schultz. "And others want to work with him because he makes work fun."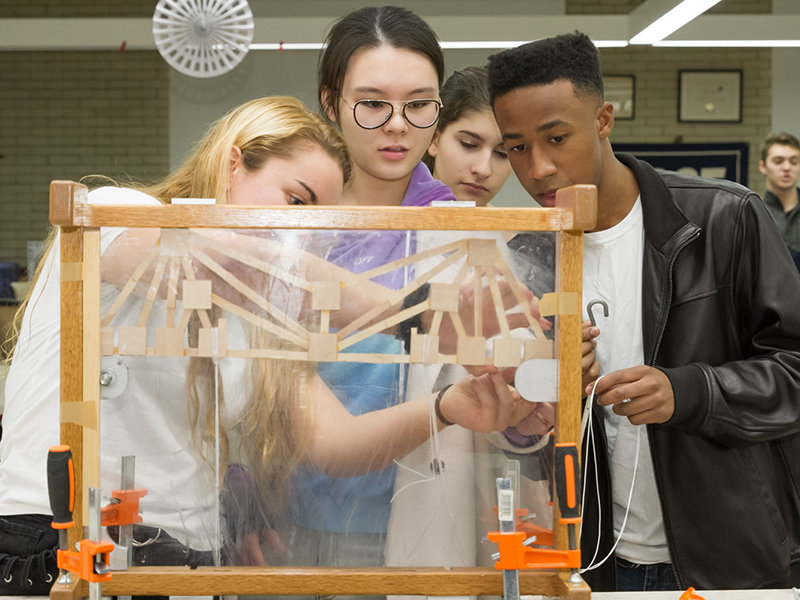 Because he was able to relate to the challenges that many first-year students have when they come to CMU, he was good at reassuring newcomers with his bright personality and quick smile—telling them, "It isn't how you start; it's how you finish."
His own strong finish includes impressive academic performance, professional internships, leadership roles, and he even made time to learn to swing dance. He recently accepted a job offer from Deloitte as a consultant in what he hopes will be in either the technology or life science field.
As a high school junior, the New Jersey native was accepted into CMU's Summer Academy for Math and Science (SAMS) program, which provides opportunities for students from underrepresented communities to explore STEM-related fields. From the moment he stepped on campus for the six-week summer program, Thompson said it was a done deal. He knew he wanted to attend Carnegie Mellon.
Thanks to professors, academic advisors, and fellow students, he says he has had a great experience and he was always able to find the tutors, mentors, help, and encouragement he needed. He says he took advantage of his professors' office hours, got valuable guidance from academic advisors, and enjoyed many opportunities to work on group projects with his classmates.
One of the things I liked best about my classes here is that there was always collaboration.

Andrew Thompson, Graduating Senior, Civil and Environmental Engineering and Engineering and Public Policy
"One of the things I liked best about my classes here is that there was always collaboration," said Thompson. "At some schools, students don't get to work in groups until their junior year. At CMU, we were working together in groups from the very beginning."
Thompson has received financial support too, including an award from the American Society of Civil Engineers (ASCE). He has been named an Andrew Carnegie scholar, an award that goes to select undergraduate seniors who are chosen by the deans and department heads in recognition of their academic excellence, volunteerism, leadership, and involvement in student organizations, athletics, or the arts.
He had internships with the U.S. Department of Energy and the information technology giant, Accenture. He is a Tartan Scholar Ambassador and provided support for high-achieving student leaders from limited-resource backgrounds who receive support from the multi-faceted scholarship program. He held various leadership roles with the ASCE, served on the Student Affairs Committee, and served on both the college and Civil and Environmental Engineering Department's Diversity, Equity, and Inclusion (DEI) boards.
He was instrumental in the development of first-year orientation programming to promote the university's DEI values and ensure that new students felt they were being welcomed into an inclusive community.
That work was especially meaningful to him because he says he got to see the commitment that the university and the college have made to advance diversity initiatives.
"There's still progress to be made, but the structure is now in place," said Thompson. "And so much of it has happened just in the short time I've been here."