CMU alumna works to transform health care in rural communities.
Each morning as she slips into her white coat, Dr. Tiffani Maycock also mentally prepares for the seemingly endless hats she must wear following her rounds to check on patients.
Family medicine and obstetrics physician, associate professor, program director, board member–she does them all, but the Carnegie Mellon University alumna's favorite role in her multihyphenate life has been community engagement.
"I love being able to get out into the community, make community health connections, and improve health literacy," says Maycock, who graduated from the College of Engineering in 1996 with a bachelor's degree in mechanical engineering.
From health fairs that educate attendees on blood sugar to elementary school visits to talk about fruits, veggies, and careers in medicine, Maycock strives to make a difference on a personal level and build healthy futures regardless of zip code.
And now with her new role on the American Board of Family Medicine, her impact can be magnified to a national scale.
"When I heard that I was nominated for the board, I asked how they even found me down here in middle of nowhere Selma, Alabama," she jokes. "But then I realized that my life and career experiences as a female, African-American, and a D.O. in the rural South were very unique. I know I can offer perspectives that can help others and change outcomes for the better."
A square envelope
Growing up in Daytona Beach, Florida, Maycock had never heard of Carnegie Mellon University until a square envelope arrived in her mailbox.
"Back in the day, they'd send these cute little square booklets, and they really stood out in the stack of booklets from other schools," Maycock says. "I soon learned that I could study engineering and specialize in robotics, too. I knew it was going to be a cool place."
She visited campus for the first time the summer before she started classes as part of the Carnegie Mellon Action Project program. Renamed the Carnegie Mellon Advising Resource Center in 2006 and now part of The Center for Student Diversity and Inclusion, the program supported CMU students of color in accessing community and resources to help them persist and thrive.
And thrive she did: helping fellow Tartans as an RA, playing French horn in the Kiltie Band, leading Voices United Gospel Choir, building engines in mechanical engineering courses, mastering the best layering techniques to survive a Pittsburgh winter, and learning lessons she still uses in her many roles.
At CMU, they teach you at one level, but then they test you at a much higher level. Somehow you have to figure out how to make that connection, that jump.

Tiffani Maycock , Alum, College of Engineering
"At CMU, they teach you at one level, but then they test you at a much higher level," Maycock says. "Somehow you have to figure out how to make that connection, that jump. You have to think, 'They taught me this, but how do I extrapolate this to make connections beyond the basics I was taught.'"
She decided to pursue medicine after taking a course in musculoskeletal biomechanics and learning her teaching assistant was headed to medical school, an option she hadn't considered.
"I knew I enjoyed the musculoskeletal system, yet from my research, I knew I didn't want to do orthopedic surgery, and I saw a poster with those tear-off postcards you'd mail in to get more information," Maycock says. "It was an osteopathic school, and I knew it was perfect. It's the musculoskeletal system, manipulation, and conventional medicine. It was the best of both worlds for me."
She received her doctor of osteopathic medicine and master's degree and completed a fellowship in manipulative medicine at Ohio University's Heritage College of Osteopathic Medicine. After three years of family medicine residency training, she started to think of the future and sought another way to combine her new dreams: delivering babies and mission work.
She found it in a one-year surgical obstetrics fellowship sponsored by the UAB Huntsville Family Medicine Residency Program and the Alabama Rural Health Board.
In the community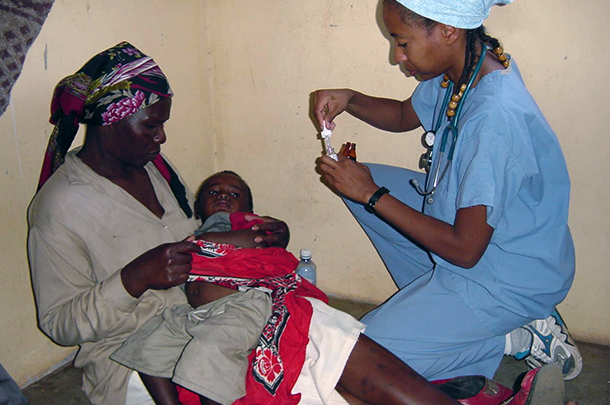 Maycock's mother grew up in rural Alabama, and her family still celebrates Thanksgiving together in Midway, each year. So her fellowship in Huntsville, which also required her to teach or work in an underserved area after her training, seemed to be a perfect match.
Maycock learned how to perform cesarean sections and manage high-risk obstetrics patients and fostered her love of community medicine and outreach by teaching in the University of Alabama (UAB) Huntsville Family Medicine Residency Program.
"I took over the community medicine rotation, and I grew it," Maycock says. "It became my niche."
She wrote and directed the community medicine curriculum and coordinated health fairs, lecture series, and screenings. She teamed up with community partners in Selma at an early literacy program, the YMCA, area schools and the public library system and expanded a free family medicine clinic called Doc On The Spot.
Soon though, she got married, had two children and moved to Virginia—only to find herself looking to head south. When a friend mentioned an open position for the UAB Selma Family Medicine Residency Program, she knew she'd found another fit.
A healthier future
In addition to her director role, she also serves as an associate professor in the Department of Family Medicine at UAB's School of Medicine and hospitalist director at Vaughn Regional Medical Center and instructs residents and medical students as part of the Rural Training Track Collaborative designed to sustain health professions education in rural places.
Those "hats" vary from day to day: shuffling between a hospital or clinic supervising residents; traveling to nursing homes and personal residences to treat patients; and serving on boards at the national level like her new role on the American Board of Family Medicine where she is the second D.O. in the board's 40-year history.
If we can get them engaged and help them to see there are healthier and better ways forward, that will be huge.

Tiffani Maycock, Alum, College of Engineering
But no matter which one she is wearing, she is always working to expand health literacy around nutrition, boost access to medical care and fresh foods, and break generational cycles reinforced by the realities of day-to-day life in underserved communities.
"That's why I really enjoy working with kids," Maycock says. "If we can get them engaged and help them to see there are healthier and better ways forward, that will be huge."
"Some of these barriers are difficult, but I'm really excited about the opportunities ahead."