Classmates and checkmates
Engineering first-year Katie Eisenman has fostered a passion for chess since she was five years old. That passion came with her to Carnegie Mellon and even earned her a scholarship from the US Chess Federation.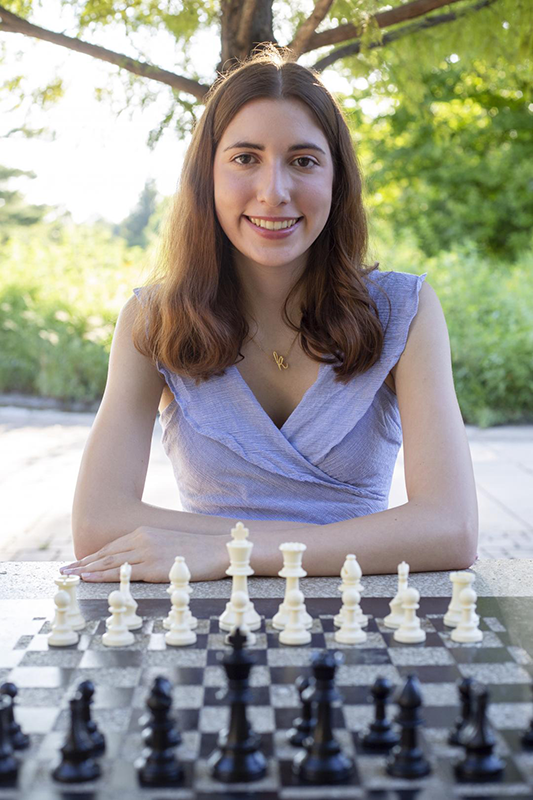 The Herbert B. Jacklyn Program Scholarship is aimed at a particular kind of student: someone between the ages of 18 and 21 who is attending college, has a sustained history of participating in UC chess events, and has been rated by the US Chess Federation (USCF) between 1500 and 2000. Chess players in this score range have a high level of ability but are not yet considered experts.
This perfectly describes engineering first-year Katie Eisenman from Saint Louis, Missouri, which is considered the epicenter of chess in the United States due to its thriving chess community. Eisenman learned to play chess from her father at the young age of five years old. She started going to tournaments at around ten years old and has been participating in them ever since.
Eisenman was one of four recipients of the Herbert B. Jacklyn Program Scholarship this past year and the only woman. She remarked that women are underrepresented in chess, "making up less than 14% of the US chess players." Eisenman also recounted, "When I have gone to tournaments, there are not many girls or women at all." As she grew older, it seemed like the number of interested girls dwindled each year, both in chess tournaments and in STEM activities. However, Eisenman is now in good company with fellow female engineers, as 51% of the most recent class of engineering students are women.
While Eisenman currently has a chess rating around 1623, she hopes to reach 2200 by the time she graduates from Carnegie Mellon in 2025. Despite taking a full course load, Eisenman thinks she can achieve her goal by practicing with the CMU Chess Club and by participating in tournaments. Conveniently, tournaments often take place online instead of in-person, meaning she does not need to travel. "Online chess has grown a lot, especially during the pandemic. These chess sites were there before the pandemic, but now there are even more people participating in online tournaments," explains Eisenman.
The CMU Chess Club offers weekly opportunities to practice with fellow members. Not only do students face off in traditional chess games against one another, but they can work through chess puzzles and tactics together, honing their skills in the same way that sports players would run a particular drill in between scrimmages.
While Chess Club may have been a factor in her decision to attend CMU, Eisenman was originally drawn here by the College of Engineering's reputation as an academic powerhouse. Eisenman applied without a particular major in mind, but after taking introductory courses, she is leaning toward materials science and engineering and considering a minor in engineering and public policy. "I applied as undecided and wasn't really sure what kind of engineering I wanted to pursue," Eisenman shared. "But I knew I liked chemistry and thought materials science sounded cool. I'm in the intro class, and it's really interesting."
I just fell in love with the vibe at CMU. I could just really picture myself here.

Katie Eisenman, First-year engineering student, Carnegie Mellon University
Eisenman said that she was lucky to be able to visit campus in person before attending. She visited multiple universities in 2019 as a junior in high school, before the pandemic made travel impossible. After two long years, she is happy to finally be able to study here. "I just fell in love with the vibe at CMU. I could just really picture myself here. There seemed to be a lot of opportunities that were interesting to me."
Eisenman is excited to learn more about materials science and engineering policy while keeping active in Chess Club and other student organizations like the Society for Women Engineers, CMU Solar Racing, the Tartan Wind Ensemble, and FEMME (Feminists Engaged in Multicultural Matters and Education). Having only been on campus a few months, she recognizes that she may find new interests and retire old ones as she grows as a student. But scholarship and chess will continue to be top priorities no matter what.