Materials Science and Engineering alumnus Dylan Lew serves as CEO of Ecotone Renewables, a Pittsburgh-based startup focused on repurposing food waste into something more useful.
In the fall of 2017, Dylan Lew, a first-year student at Carnegie Mellon University, joined a startup company that was shifting its focus from aquaponics to anaerobic digestion, a process where microorganisms break down biodegradable material in the absence of oxygen. The company, Ecotone Renewables, was looking for advice on the best way to store and utilize the biogas being emitted from their system. Lew was able to help.
Fast-forward to today and Lew, a graduate from CMU's Materials Science and Engineering master's degree program, is proudly serving as the company's CEO, dedicated to building the tools necessary to empower communities to redevelop and grow through sustainable food practices.
Globally, 30-40% of all food produced is wasted, but Ecotone Renewables is seeking to "close the food loop" by repurposing food waste in their exclusive system called the "Seahorse." Using rainwater, the system can "digest" food waste and turn it into renewable energy and nutrient-rich fertilizer.
The pilot system has been up and running for two years in the East Liberty and Swissvale areas of Pittsburgh, processing 10 tons of food waste each year. Most of the food they process comes from partnerships with 412 Food Rescue and the Greater Pittsburgh Community Food Bank, who jointly provide 300 pounds of food waste each week. Another 85 pounds of waste comes from a community program, where neighbors are encouraged to drop off their filled compost bins.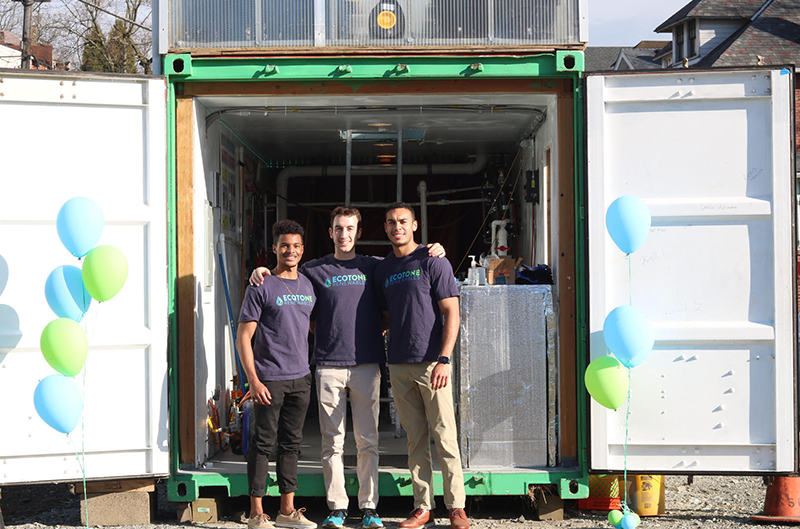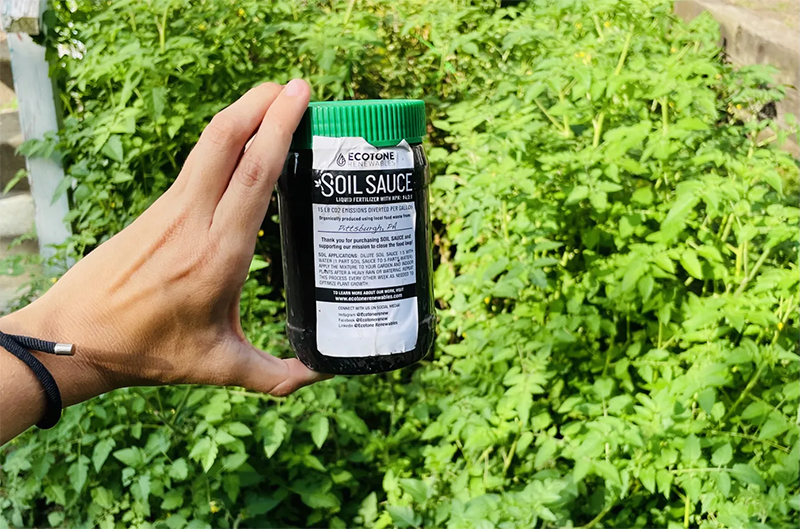 "It's nice to get the community involved because it gives us the chance to talk with local residents and really get them to understand and be involved in the process," shared Lew.
Fertilizer produced through the anaerobic digestion process is the company's main product. Last year, Ecotone Renewables donated 200 gallons of fertilizer to Sheridan Orchard, a Repair the World location in East Liberty. Their donation helped the orchard harvest their largest crop yet, enabling 600 pounds of fresh produce to be donated back to the community.
The renewable energy produced onsite sets Ecotone Renewables apart from other food-waste management processes. Landfilling and food waste degradation around the world produces over eight percent of greenhouse gas emissions—twice the amount of pollution produced by the airline industry. In contrast, the Seahorse captures the emitted biogas and runs it through a retrofitted generator. The energy produced can then run the Seahorse, as well as charge the team's phones, electric bikes, and even their vehicles. Soon, the team hopes to use the Seahorse's power to create a neighborhood energy hub with WiFi and charging stations open for the community.
We want to inform as many people as we can about the work we are doing to contribute to a sustainable world.

Dylan Lew (MSE' 21), CEO, Ecotone Renewables
Lew and the company's two other executives heavily rely on their team of 12 interns to keep the Seahorse running. The intern team, including two current CMU students, Emma Barake and Alexandra Reyes, is on the ground feeding the system two to six times each week. On top of that, students conduct independent research projects. When their internships are complete, the students are certified to operate anaerobic digestive systems for years to come. "The internship program has been working really well," said Lew. "Our students gain a lot of experience to really aide in their skill development."
Today, Ecotone Renewables is focused on building more Seahorse systems across the country and raising the funds to do so. Supermarkets and restaurants in Vermont, New York, Boston, and Philadelphia have expressed interest in installing a system. Lew explained, "We want to inform as many people as we can about the work we are doing to contribute to a sustainable world."