Jahanian accepts GEM Consortium Academic Leadership Award
Carnegie Mellon President Farnam Jahanian accepted the 2021 Academic Leadership Award at the National GEM Consortium's annual conference.
Since 1980, Carnegie Mellon University has enjoyed a strong partnership with the National GEM Consortium, an organization dedicated to increasing the participation of underrepresented groups at the master's and doctoral levels in engineering and science. On September 9, President Farnam Jahanian and Carnegie Mellon were honored with the 2021 Academic Leadership Award at the GEM Consortium's annual conference in Houston.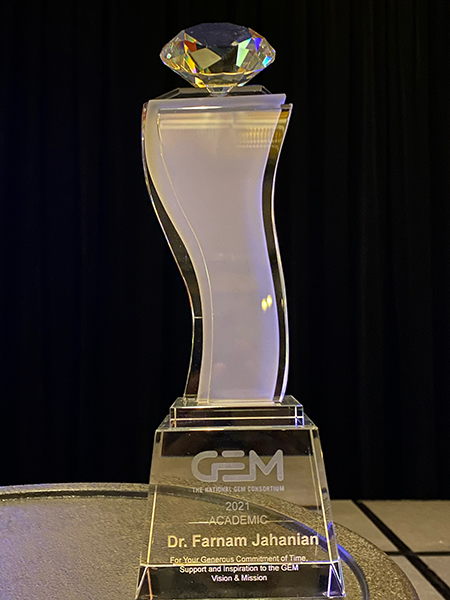 The three-day GEM: Advancing Scientific Impact Annual Conference commemorated the organization's 45th anniversary and featured a variety of workshops, presentations, and panel discussions. Carnegie Mellon leaders and faculty hosted an informational booth in the event's exhibition area and sponsored a lunch panel.
Key leaders from industry, academic, and alumni communities, including Jahanian, were highlighted as part of the conference's Leadership Gala for their inclusive leadership in the science, technology, engineering, and math (STEM) fields.
"Attracting and equipping a more diverse cohort of future STEM thought leaders has never been more important for our nation," shared Jahanian, as part of his award acceptance remarks. "A lack of diversity is a loss of opportunity for individuals and a loss of talent and creativity for society. I'd like to dedicate this award to all the GEM Fellows who have been a part of the Carnegie Mellon community. Your passion and commitment inspire me every day."
The GEM Fellowship program connects highly qualified students from underrepresented groups to STEM graduate programs with financial support that is often the deciding factor in pursuing graduate education. During the 2021-2022 academic year, Carnegie Mellon University is supporting more than 100 GEM Fellows, including 89 students in engineering and 12 students in other schools and colleges.