Engineering a career in medicine
Raja Chatterjee's career in medicine started in a place you likely wouldn't expect: the Carnegie Mellon electrical and computer engineering department. So how does an engineer become a doctor, professor, and a Naval captain?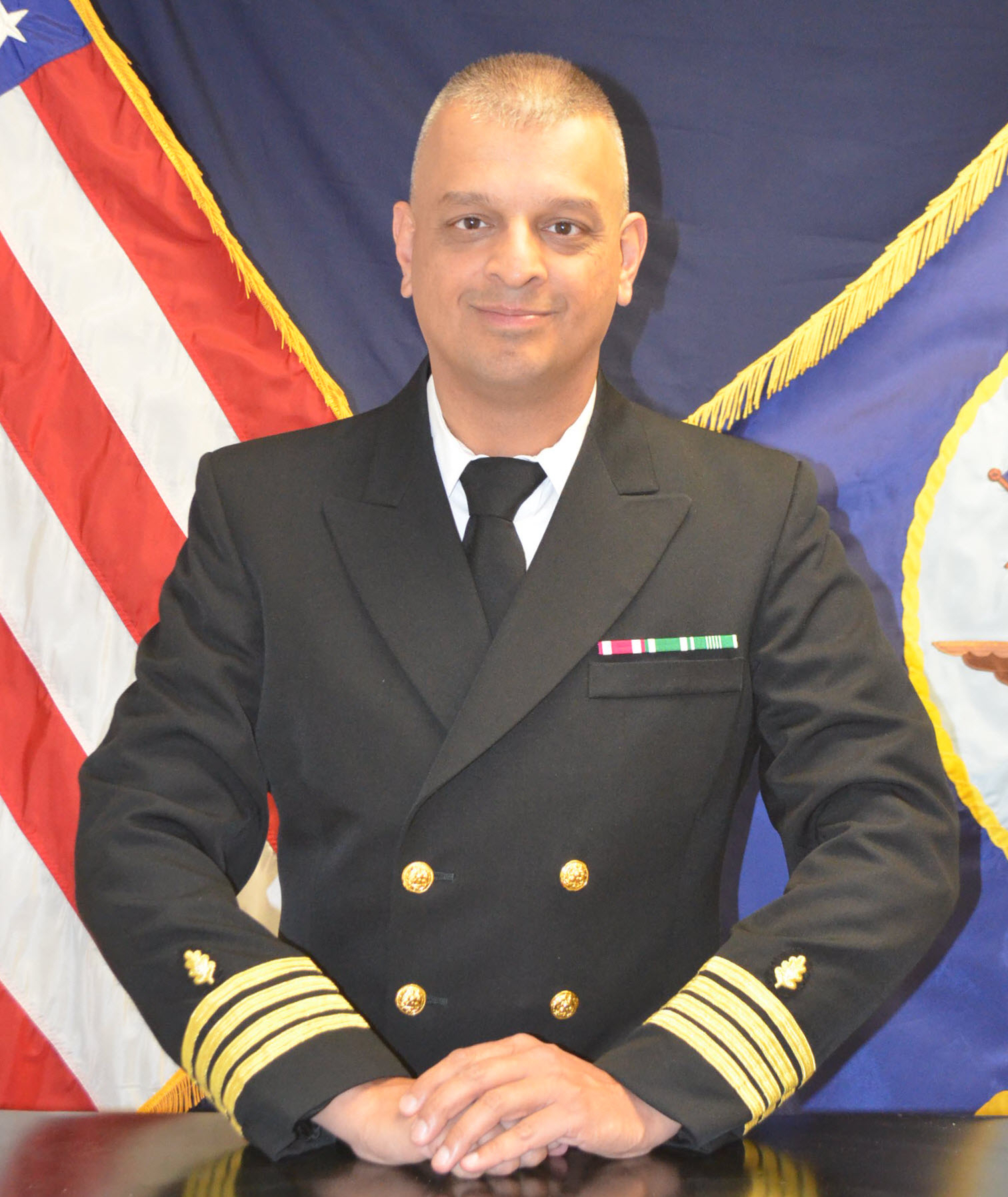 There are a lot of reasons why someone may want to study electrical and computer engineering (ECE) at Carnegie Mellon University: maybe they're interested in building better computers, becoming a software engineer, or learning how electronics work.
For ECE alumnus Arjun "Raja" Chatterjee, however, his motivations were a bit different. His father worked in electrical engineering, inspiring him to do the same. But in high school, he developed his own interest in public health, and found himself torn between these fields. 
"The challenge was, 'I still want to be an engineer. How do I balance that? Well, I'll do both! How hard can it be?'" he laughs.
Like many Carnegie Mellon students, Chatterjee worked to "find the link" between his interdisciplinary interests during his years here.
One "link" came in the form of extracurriculars. A self-described "ham radio nerd," Chatterjee was a member of the Carnegie Tech Radio Club (W3VC) who were responsible for monitoring the notorious "chute" of the Buggy track. He and others realized that CMU had no designated paramedic force on standby, and decided to start their own: CMU EMS, who are still active today. 
Just like that, an interest in amateur radio turned into a chance to serve the CMU community and offer countless students the chance to gain clinical experience before applying to medical school—something he took advantage of himself. 
That initial experience as part of CMU EMS helped Chatterjee develop interests in emergency medicine and critical care. Today, he now holds board certifications in Internal Medicine, Pulmonary Disease, Critical Care Medicine, Sleep Medicine, and Clinical Informatics. 
Growing up near a Naval airfield in Los Gatos, California, Chatterjee also gained a strong respect for the military and the desire to give back to the country that represented endless possibilities for both him and his family.
"I'm very much dedicated to the proposition that the American dream is something that was afforded to my father when he came off a steamship from Calcutta to San Francisco with nothing but 10 bucks in his pocket and a letter saying, 'Yeah, you can be a grad student if you can get here,'" he says.
In 2003, Chatterjee joined the Navy as a direct commission officer, a program aimed toward people with specialized training like his.
"I didn't go to Annapolis. They just signed me up," he explains. He completed tours in Kuwait, Landstuhl Army Medical Center in Germany, and Guantanamo Bay; spent time in Gabon, the Philippines, and Vietnam. He now serves as the Commanding Officer for Navy Reserve Navy Medicine Readiness & Training Command Bethesda: a team of roughly 400 people in 20 detachments across 9 states.
Even though a career in medicine—whether at a hospital or military base—is very different from ECE, Chatterjee maintains that his undergraduate experience was integral to his present career.
Fundamentally, a physician is an engineer. We take established science, apply it to a disturbed system to return that system to a normal state.

Raja Chatterjee, Alum, Electrical and Computer Engineering
"Fundamentally, a physician is an engineer," he affirms. "We take established science, apply it to a disturbed system to return that system to a normal state."
He jokes that his peers don't like to hear him say this, but he finds it true nonetheless. Learning all of this at CMU specifically was just as important as the degree itself. He's applied the coding skills he gained here to learning the R Statistics package for his work. CMU'S interdisciplinary and collaborative approach to projects maps directly to his research work, medical team leadership, and educational roles in his current career in academic medicine.
"If you want to be prepared for the unforeseeable future changes that are coming, you need to go to Carnegie Mellon."
Chatterjee is currently a professor of medicine and pediatrics at the Wake Forest School of Medicine and a staff physician at the Veteran's Administration Medical Center in Kernersville and at Wake Forest Baptist Health in Winston-Salem. He is also the Commanding Officer of NR Navy Medicine Readiness & Training Command, Bethesda. He graduated from Carnegie Mellon in 1990 with a degree in computer engineering with an option in biomedical engineering and a double major in Spanish.