Bringing students into the next industrial revolution
Students taking a new course combine rapidly expanding technologies to create innovative solutions for real societal problems.
When one thinks of the "Industrial Revolution," they might think of a time long ago, marked by steam trains and bustling factories. But that has changed. In fact, the Industrial Revolution of old is actually considered the first of four different industrial revolutions, each one separately marked by advancements such as manufacturing, the computer chip, and now the explosion of technologies across physical, digital, and biological areas. Each individual advancement in this fourth revolution—from blockchain, to additive manufacturing, to the Internet of Things (IoT)—has nearly limitless potential on its own. So, what could we make if we were to combine these different technologies together?
This is the question that Jonathan Cagan, professor of mechanical engineering (MechE) asked in his new course, Special topics: Design for the Fourth Industrial Revolution, first offered in Spring of 2021.
"Each of these technologies is bursting and accelerating innovation, but what I was very interested in is what happens if you combine them? So, what happens if you have blockchain and vision as an interface and 3D printing? What could happen if the three of them were merged together and exploding at the same rate?" asks Cagan.
His students would be the ones to investigate these questions throughout the semester. The course, which is open to both graduate students and upper-level undergraduates, is separated into two main sections. First, they learn what exactly the Fourth Industrial Revolution is and select one of 23 different "deep shifts" to study in detail. These are those aforementioned emerging technologies: things like IoT, vision as an interface, and even using robots for different services. MechE Ph.D. student Ethan Brownell agrees that these shifts truly represent emergent technologies we'll be seeing more of soon.
Finding out what is coming next is difficult, but that is the frontier that this course tried to tackle.

Ethan Brownell, Ph.D. student, Mechanical Engineering
"The 'new' things we learn are often not the newest method or technology anymore. Finding out what is coming next is difficult, but that is the frontier that this course tried to tackle," says Brownell.
Once they've researched a shift, students were then put into groups and tasked with combining their individual topics into one, fully-realized product. They'd need to follow Cagan's product development methodology, which involves aspects like identifying potential stakeholders and determining "value opportunities." These are areas where a new product can supplant an existing solution through ease of use, durability, or emotions. He outlines this process in one of the course's required texts: his book, Creating Breakthrough Products, co-authored by Craig Vogel, former CMU School of Design professor. Most importantly, an additional requirement asked students to ensure that their design innovation could impact a real societal problem.
One group worked to combine the deep shifts of IoT, blockchain, vision as an interface, and robots for services. They decided to focus on office ergonomics and how it could be used to improve employee health and wellbeing through their product. Their solution was an "ergonomic ecosystem" entitled "Let's [Er]go," a setup consisting of a smart lumbar support for a chair hooked into an application analyzing your office space. The support could detect whether or not you were sitting correctly, and adjust itself to ensure you were.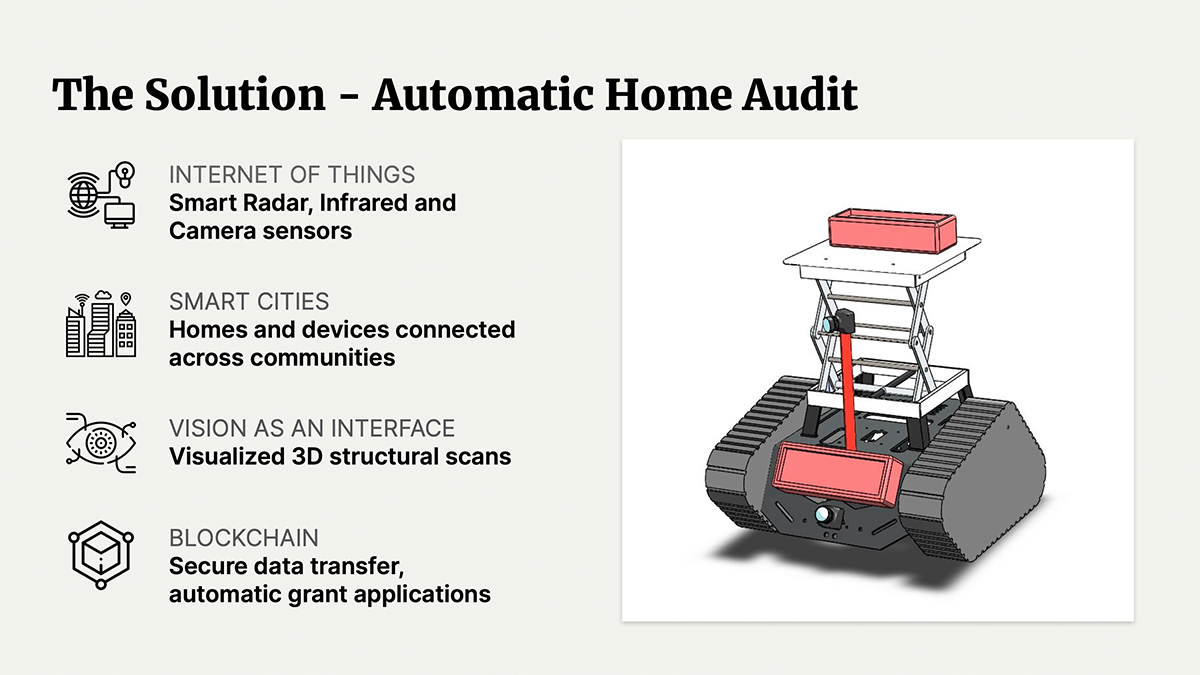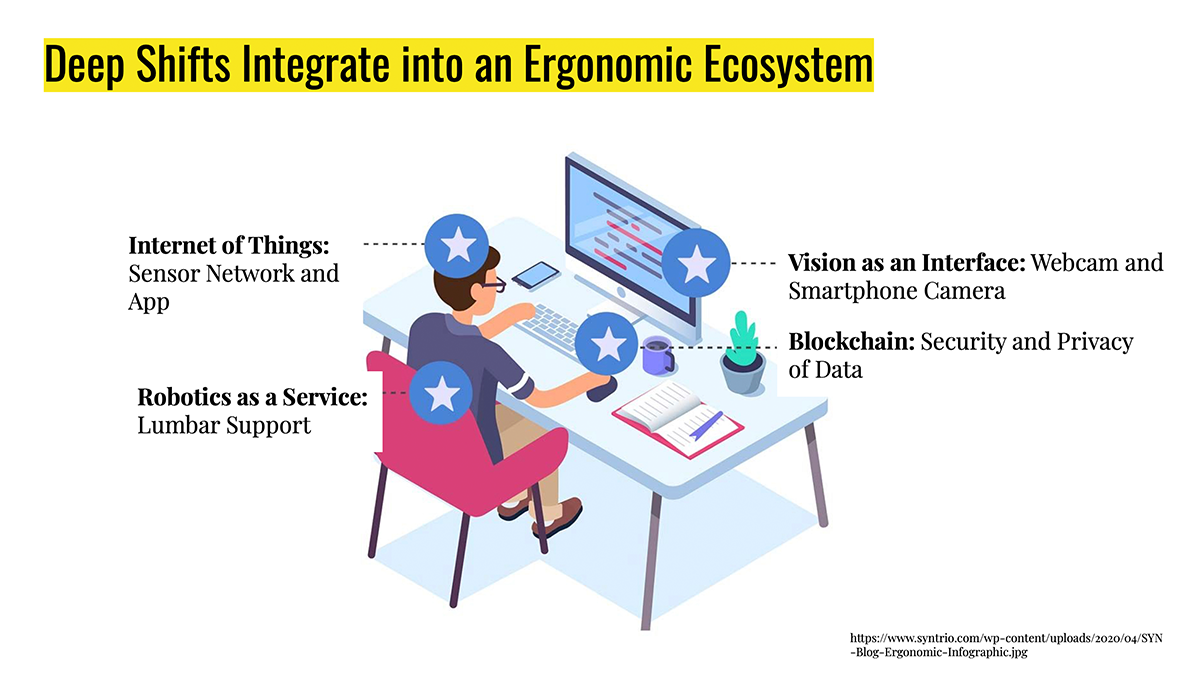 Another group chose a more macroscopic focus, instead looking at ways that underserved communities could be transformed into "self-sustainable smart villages." They needed to combine the shifts of smart cities, vision as an interface, blockchain, and IoT, and focused their efforts on the local Pittsburgh borough, Braddock. "Speaking with multiple people from Braddock, we identified housing infrastructure as a key challenge that the community faced. From there, the product design process took over to reach our final design solution of an autonomous home audit robot that used near-range radio waves to scan a home and identify issues," Brownell explained. The robot, nicknamed "AHA," could report those issues back to homeowners in the form of a secure webpage or app.
Another student in this group, Konomi Nakajima, found the process of learning a new product design methodology both challenging and rewarding. "I was uncomfortable at first in the beginning of this course because I was trained on a product development methodology that differs a bit. However, going through this new method helped me gain a new perspective in terms of how to approach a problem, which I hope to apply in my future career." Nakajima is pursuing her master's degree through Carnegie Mellon's Integrated Innovation Institute.
Throughout the semester, students heard from guest speakers about how they employed similar strategies in their work. Guests included Matt Rogers and Drew Perkins--both College of Engineering alumni. Rogers went on to found IoT group Nest and Perkins is currently working on a means of developing "smart contact lenses" at Mojo Vision, where he is CEO. In other words, both apply the skills Cagan's students are learning right now, meaning the students will enter the workforce with an advantage. Cagan feels that this is part of what makes this course so important.
"Part of the goal of this is that when our students graduate and go into industry, they're dealing with these technologies that are exploding around them and they need to be confident that they can use their skills to understand them enough to be able to think about how they could be used to solve hard problems, and how their combination can lead toward really new markets and new capabilities," Cagan said.