Mechanical Engineering senior Vinay Mitta is working with a four-legged Minitaur robot the size and shape of a briefcase with legs. He studies its movements and teaches it new skills and maneuvers so that the robot can be used to aid search and rescue operations or for large survey projects.
On a picturesque fall day on Flagstaff Hill next to Carnegie Mellon University, leaves carpet the ground and the sun shines bright in the sky. Up the hill, a group of friends throws a frisbee back and forth. And off a paved walking trail along the edge of the park, a four-legged Minitaur robot the size and shape of a briefcase with legs tries to surmount a series of rocks.
Vinay Mitta, a Carnegie Mellon senior majoring in mechanical engineering with a minor in robotics, controls the robot and studies its movements. Mitta spent last summer researching dynamic obstacle clearance behaviors for legged robotics for Aaron Johnson's Robomechanics Lab in the College of Engineering. Mitta received a $3,500 Summer Undergraduate Research Fellowship to pursue the topic.
The goal of the research is to teach the robot skills or maneuvers, whether they're jumps, tumbles, or leaps, that will help it overcome objects in its path. This is part of a larger hill climbing project that aims to deploy robots in unstructured terrain. A robot with this ability could aid search and rescue operations or large survey projects.
"It's a lot of work to get these behaviors fine-tuned," Mitta said. "I can really only use the accelerometers within the robot and the feedback from its feet. It's sort of like asking someone to do box jumps blindfolded. It's surprisingly hard when you can't see what you're doing."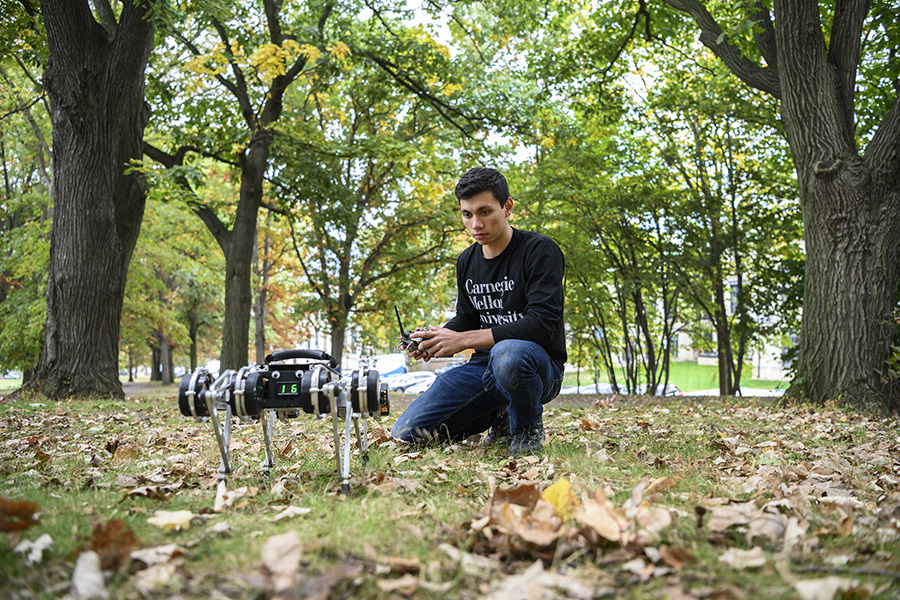 Mitta took a non-traditional route to CMU. He was born in Hong Kong to an Australian mother and an Indian father. When he was young, his family moved to Singapore, where he lived his entire life and has permanent residency.
Singapore requires national service of its citizens and permanent residents, and knowing he would have to fulfill that two-year commitment after high school, Mitta applied for schools that would permit a multi-year deferment. Carnegie Mellon was his reach school.
"When I got into CMU, I knew I was done. I didn't have to do any more applications," Mitta said.
Mitta served in the armed forces for two years, and then moved to Pittsburgh to begin his studies. His time in the military gave him confidence and teamwork skills that eased his transition into university life.
Carnegie Mellon exposed Mitta to robotics. He sought out a spot in the Robomechanics Lab in order to gain more hands-on experience with robots. He began working indoors with the Minitaur, using trial and error. He would film slow-motion videos of the robot to see exactly what went wrong during a failed attempt.
Upon moving the research outdoors, Mitta learned the hard way that surfaces outdoors are never perfect. The slopes and bumps initially caused the Minitaur to launch sideways during a jump. Correcting for these irregularities fixed the problem, but decreased the maximum capability of the robot.
In both his experience with robotics and in becoming president and men's varsity captain of CMU's Rowing Club, Mitta has capitalized on new experiences offered to him at Carnegie Mellon.
"This was a great opportunity to work on an important project," Mitta said. "Thanks to the lab, I know I want to work in robotics long-term.