2019 Dean's Early Career Fellows
Nicolas Christin, Tzahi Cohen-Karni, and Katie Whitehead have been awarded the 2019 Dean's Early Career Fellowship.
Three young faculty members have been granted the 2019 Dean's Early Career Fellowship to enable their continued contributions to their respective fields: Nicolas Christin (CyLab/EPP), Tzahi Cohen-Karni (BME/MSE), and Kathryn Whitehead (ChemE). The fellowship will provide funding for the faculty members to continue their innovative research.
Untenured faculty members are nominated for the fellowship by their department head and recipients are selected by the College of Engineering Review Committee. A ceremony to celebrate and congratulate the faculty will occur later in the year.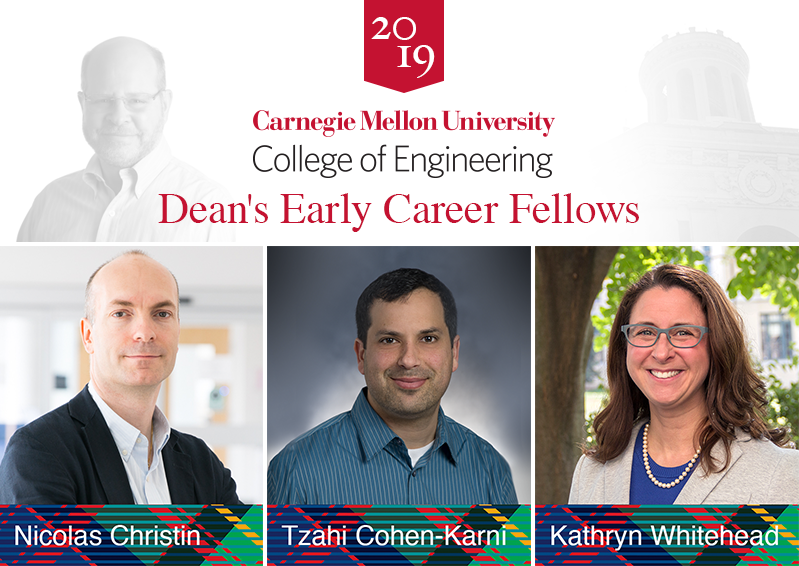 Nicolas Christin
Christin, associate research professor of CyLab and engineering and public policy, conducts interdisciplinary research on security defenses in areas including formalizing defender incentives, understanding behavioral biases and their impact on user security, secure and usable authentication, security analytics, and predictive analytics. He has published a number of papers in selective publications, winning five paper awards at top security and human-computer interaction conferences. Christin has been highly visible through seminars at universities and conferences, talks at government agencies, and his testimony at a Congressional hearing on the monetization and illicit use of stolen data.
Tzahi Cohen-Karni
Cohen-Karni, assistant professor of biomedical engineering and materials science and engineering, studies the synthesis and utilization of nanomaterials, and the creation of three-dimensional hybrid nanostructures from Si and Ge nanowires and two-dimensional graphene. His work is recognized through funding from various organizations and from awards including the NSF CAREER Award, ONR and Charles E. Kaufman Foundation Young Investigator Awards, and Cellular and Molecular Bioengineering Young Investigator and Rising Star Awards.
Kathryn Whitehead
Whitehead, associate professor of chemical engineering, researches drug delivery with a focus on ribonucleic acid (RNA) delivery and oral protein delivery. Her work could potentially lead to treatments for lymphoma, multiple sclerosis, Type I diabetes, and gum disease. Whitehead was recently awarded the Curtis W. McGraw Research Award.