Engineering meets history with Daina Ramey Berry
In honor of Black History Month, the Department of Civil and Environmental Engineering recently co-hosted the visit of distinguished historian and acclaimed author Professor Daina Ramey Berry to Carnegie Mellon University.
Engineering often involves interpretation of a problem, data, or methods to reach creative solutions. Similarly, history involves interpretation: understanding previous events that can teach us valuable lessons to help shape the future. Both engineers and historians are hard at work to solve some of the most challenging problems facing us today, though in different ways.
As part of Black History Month activites at Carnegie Mellon, the Department of Civil and Environmental Engineering (CEE) recently co-hosted the visit of distinguished historian and acclaimed author Professor Daina Ramey Berry. She is the Oliver H. Radkey Regents Professor of History at UT Austin, and speaks and writes about various dimensions of slavery, especially women and slavery. Her work seeks to humanize a group of people who are often treated as objects by bringing to light individuals and their personal stories.
Ramey Berry gave a powerful university-wide lecture titled "Soul Values and American Slavery," where she discussed how enslaved people were valued economically by slave owners and traders, and how they responded to maintain their humanity and dignity, with a focus on the value of their soul, which no other person could take away. The event was co-sponsored by the Center for Student Diversity and Inclusion, the Center for Africanamerican Urban Studies & the Economy, and CEE.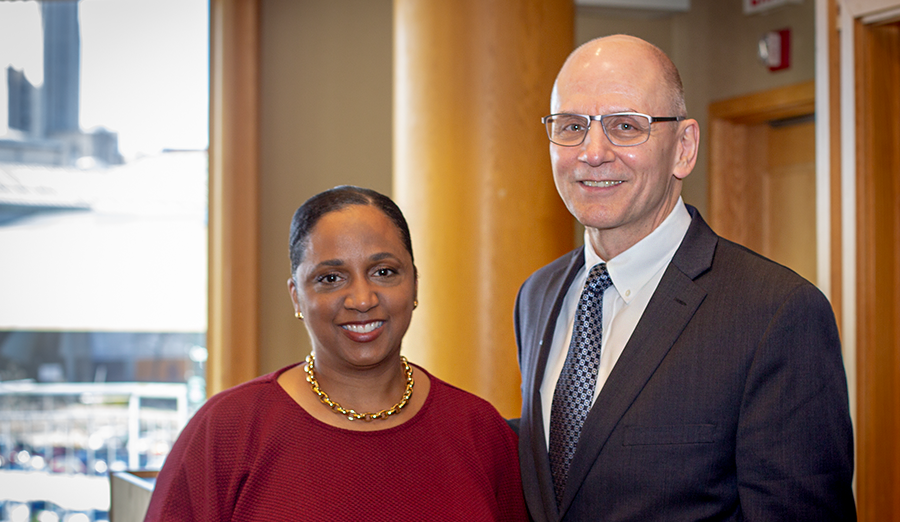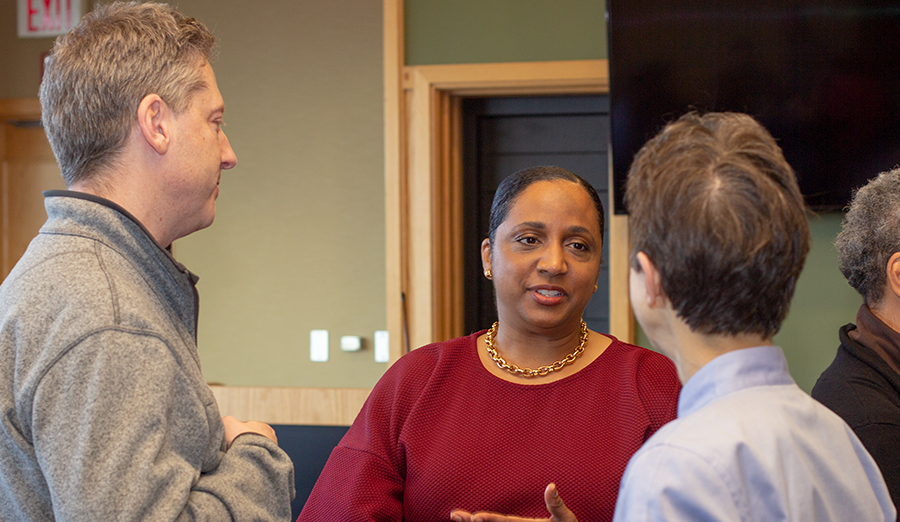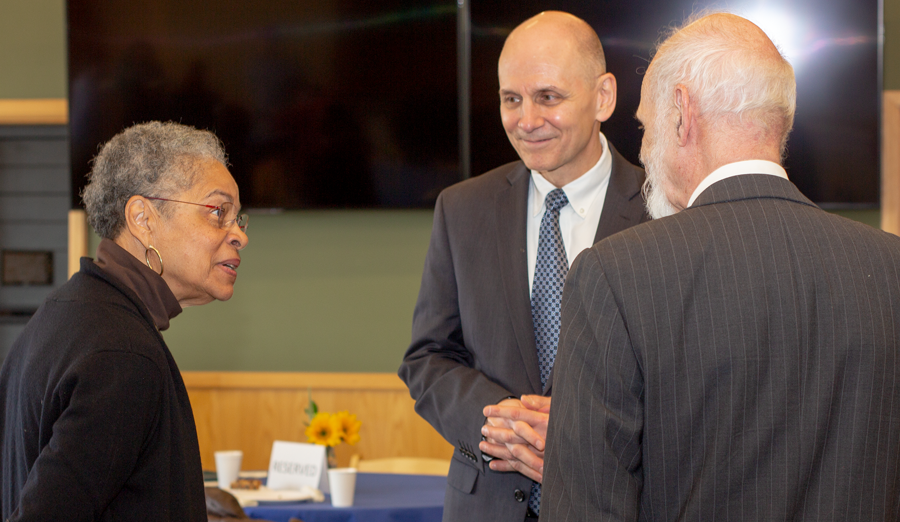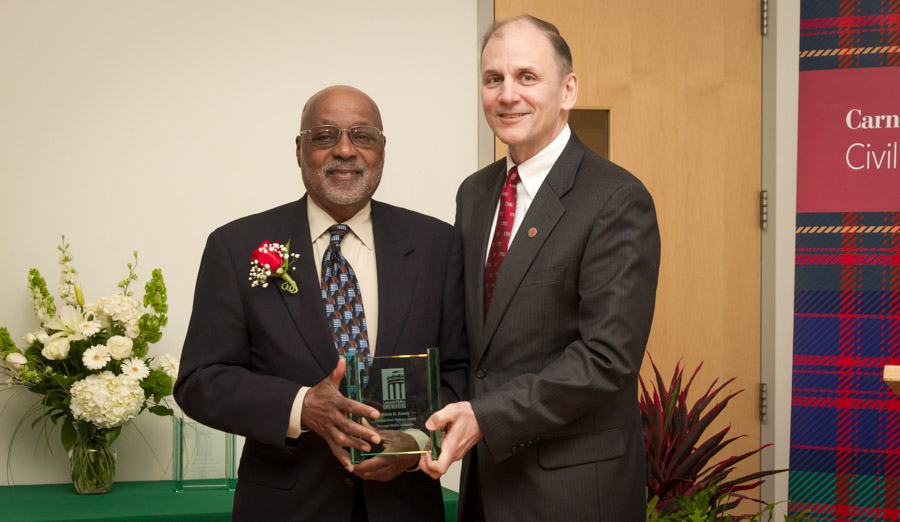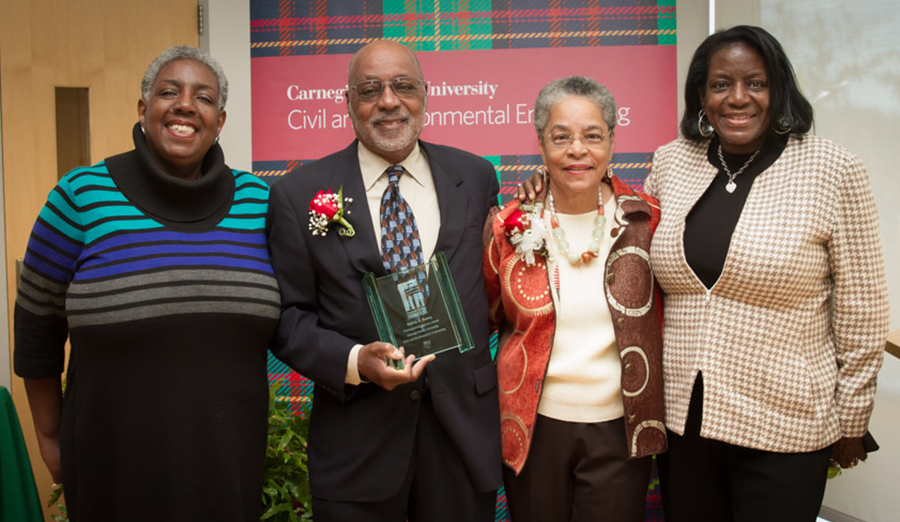 Prior to the event, CEE held a special lunch reception where Ramey Berry met with students, faculty, and staff, and spoke about her relationship to and perspectives on engineering. She brought together history and engineering by explaining how engineering influenced her life, even as a historian.
"Although I'm not an engineer, I've been exposed to engineering from my father's career, and I learned important teaching and mentoring techniques that he attributed to his experience at Carnegie Mellon," said Ramey Berry.
She is the daughter of distinguished Civil and Environmental Engineering alumnus Dr. Melvin Ramey, who was a long-time professor at UC Davis. He received a Distinguished Alumni Award from CEE in 2015, before passing away in 2017.
Ramey Berry noted how engineering was always present in her life, especially when growing up. As a kid, she attended engineering camp, and her family would often stop and look at bridges during road trips. She also never quite got used to the earthquakes in California. While at college at UCLA, she called home after a minor earthquake to let her parents know she was alright but was concerned about the stability of her residence hall. Her dad assured her that the buildings were built structurally to handle the earthquakes, so she didn't need to worry.
Engineers have the potential to be great leaders.

Daina Ramey Berry, Professor of African and African Diaspora Studies, University of Texas, Austin
In college, she majored in economics until her senior year, when she took a class on African American history. She found that she didn't like the way the professor was presenting the history of slavery. She engaged the professor, and they met weekly to discuss her concerns. It was through those discussions that she discovered her true passion in history. As a senior, she decided to switch her major and has now dedicated her work to studying gender and slavery, and uses what she has learned from her father's career to foster the success of her students.
"For me, engineers have become great leaders in my career path," said Ramey Berry. "For example, the president of UT Austin is Greg Fenves, an engineer whose father taught here at Carnegie Mellon. Engineers have the potential to be great leaders—and it doesn't mean historians can't. They can too—it's something I've witnessed in my career path."
Daina Ramey Berry is named after Daina Romauldi, whose husband Dr. James Romauldi supervised Melvin Ramey's Ph.D. research at Carnegie Mellon. Ramey Berry noted that her father had fond memories of Carnegie Mellon and believed it provided a supportive environment that allowed him to explore, grow, and expand his perspective of possible directions in his career.
"CEE was delighted to help sponsor the visit of Professor Daina Ramey Berry to Carnegie Mellon," said David Dzombak, CEE department head. "We are proud to have a connection to this distinguished scholar through her father, Professor Melvin Ramey, who earned his Ph.D. with us and went on to a distinguished career as a professor at the University of California at Davis."