Spring 2018 semester recap
Spring was a busy and productive semester for the College of Engineering. Catch up with what students from all departments have achieved in the past months.
Spring was a busy and productive semester for the College of Engineering. Catch up with what students from all departments have achieved in the past months.
Build18
Named for the Electrical & Computer Engineering (ECE) Department's course number, Build18 is an engineering festival where teams of two to five students can come together to develop any kind of engineering project. Students make use of materials and funding provided by ECE to collaborate on anything from playful projects to prototypes for ideas they will pursue for years to come.
The first week back from Winter Break, students from all sorts of majors kicked off Hack Week, the few days they have to put together their projects before Demo Day on Friday. More than110 projects by over 200 students were demoed throughout the day.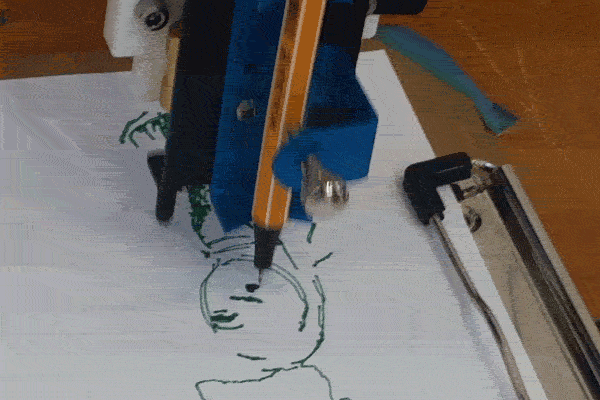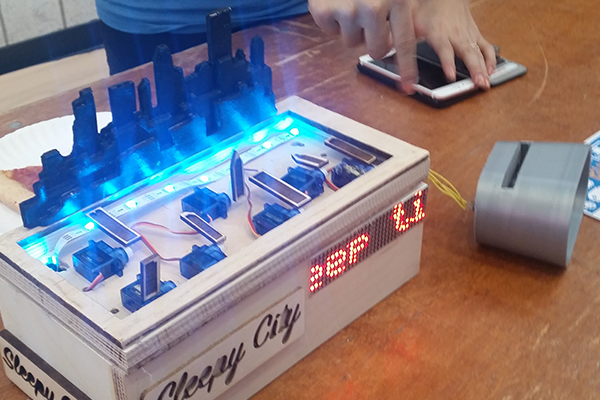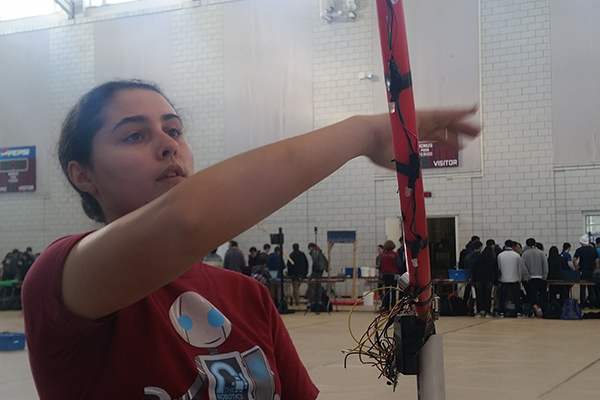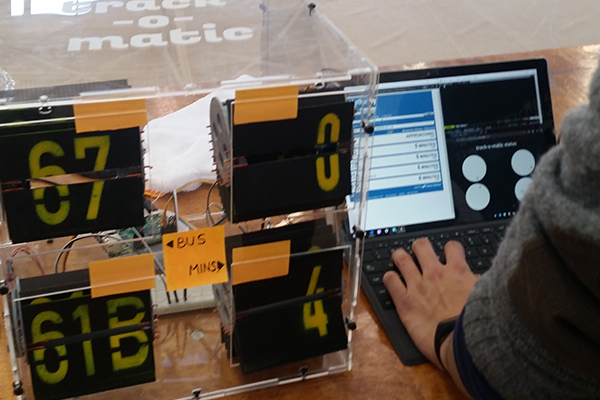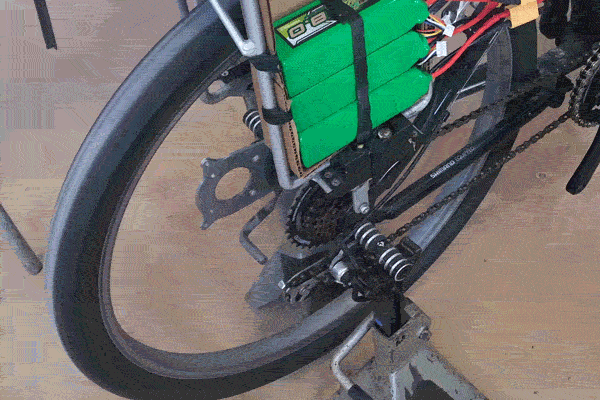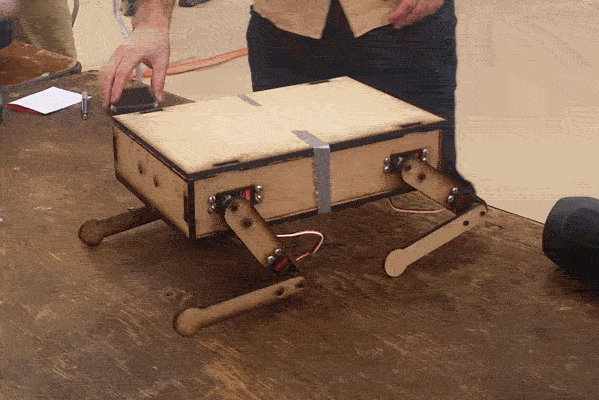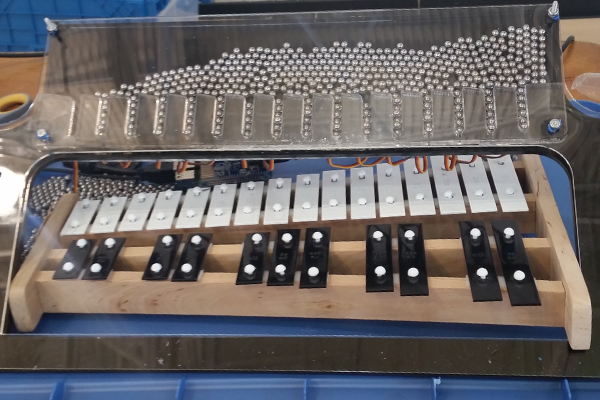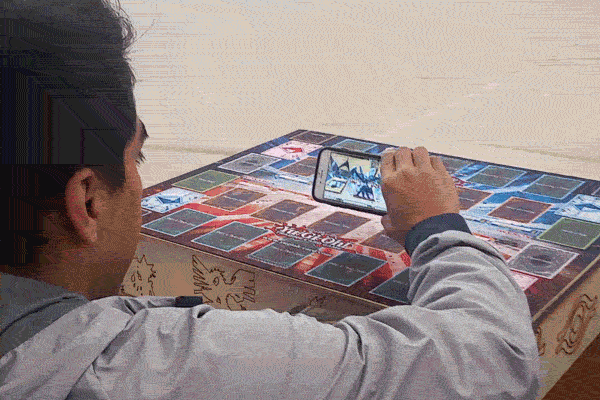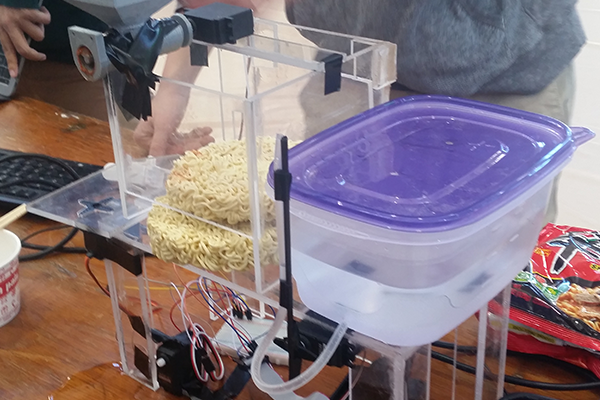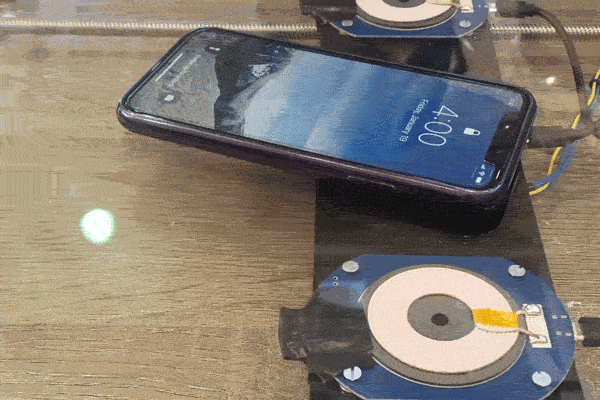 Innovation Palooza and Rothberg Catalyzer Impact-a-Thon
In February, the College of Engineering and the Integrated Innovation Institute took over Rangos Hall to put on the Innovation Palooza and Rothberg Catalyzer Impact-a-Thon for a third time. The Innovation Palooza features demos from faculty, students, and companies on the amazing technologies they use in their research and work, as well as speeches from engineers in the CMU community, such as the CMU Engineering Dean James H. Garrett, Jr.
Jonathan Rothberg (E 1985), founder and chairman of Butterfly Network, Inc., as well as an alumnus and University Trustee, recently committed to supporting the competition in which student teams compete to innovate a creative solution to a problem. Now under its new name, the Rothberg Catalyzer Impact-a-Thon was a huge success, as approximately 20 teams came out to try to solve issues surrounding disaster relief efforts.
The speakers included Gioel Molinari, president of Butterfly Networks, Inc. and Peter L. Votruba-Drzal, associate director Automotive OEM Coatings, Substrate Protection Systems and Adhesives & Sealants for PPG. The event also featured a performance by Attack Theatre.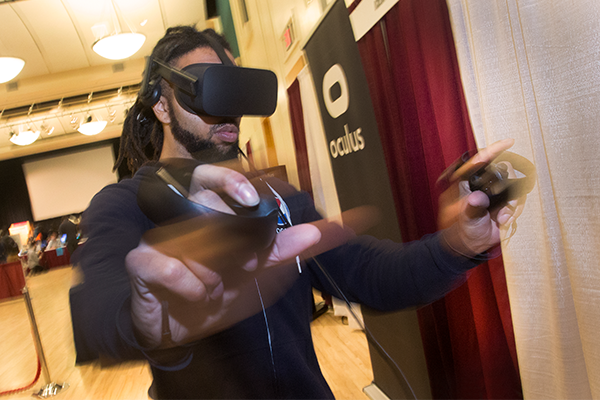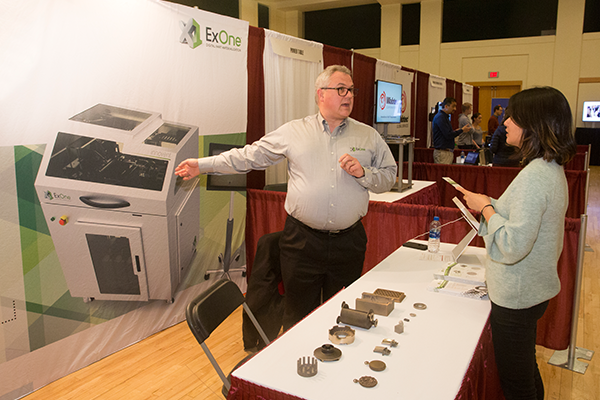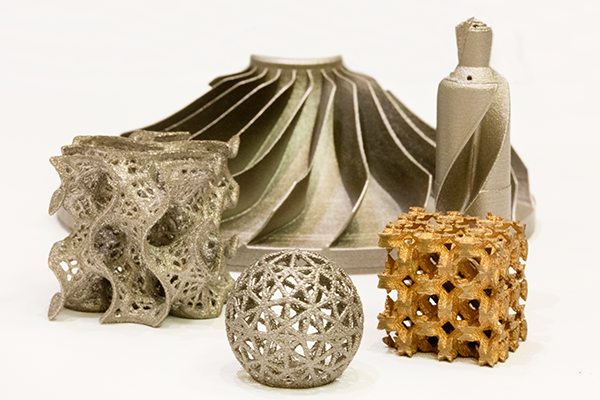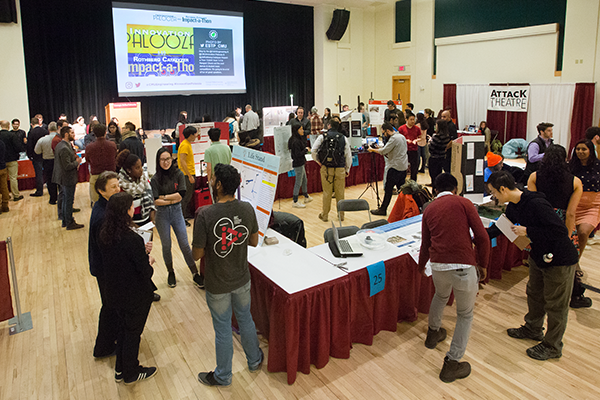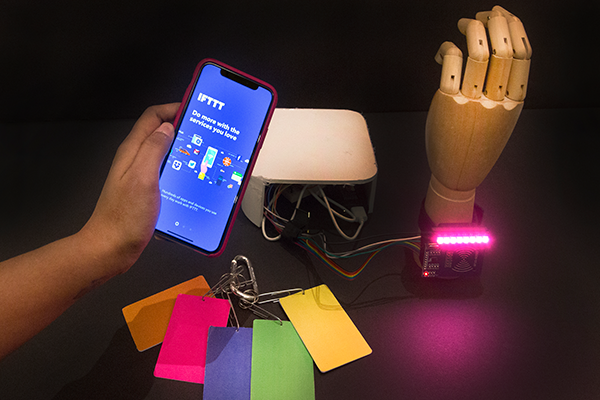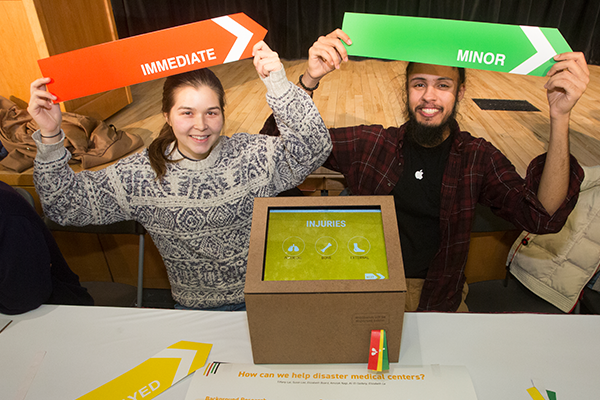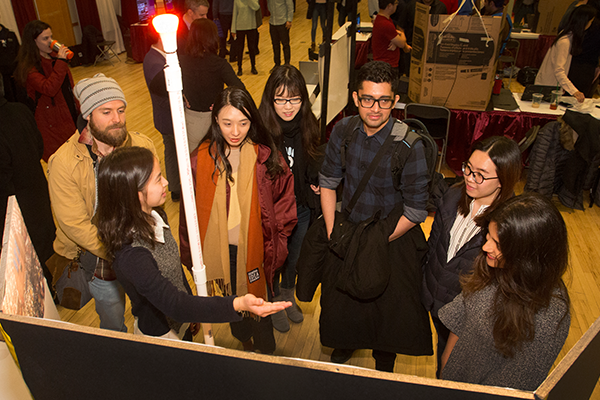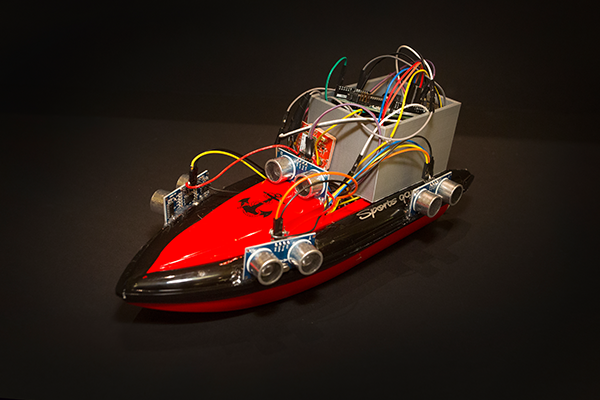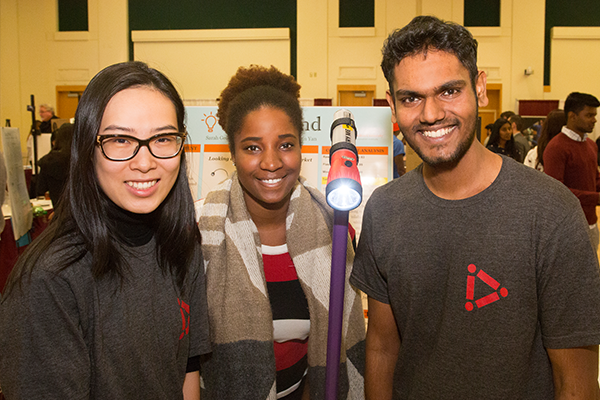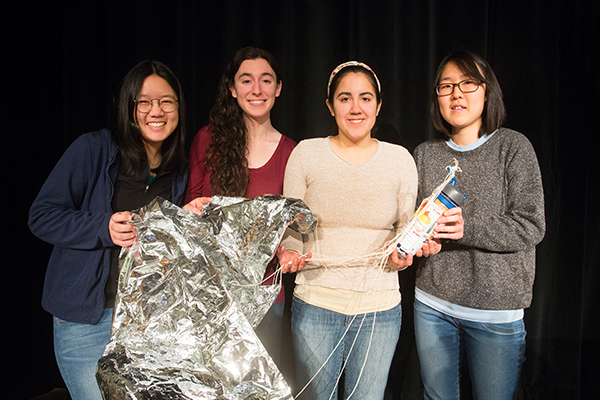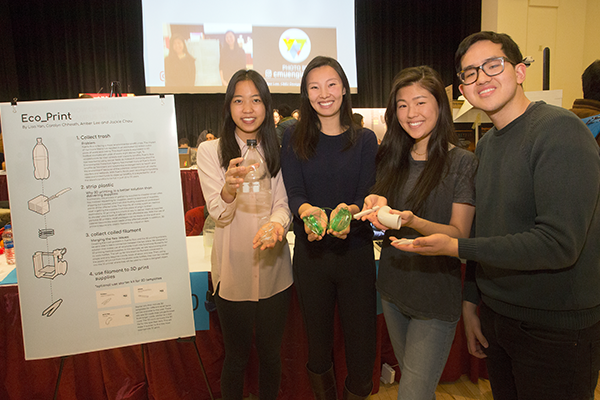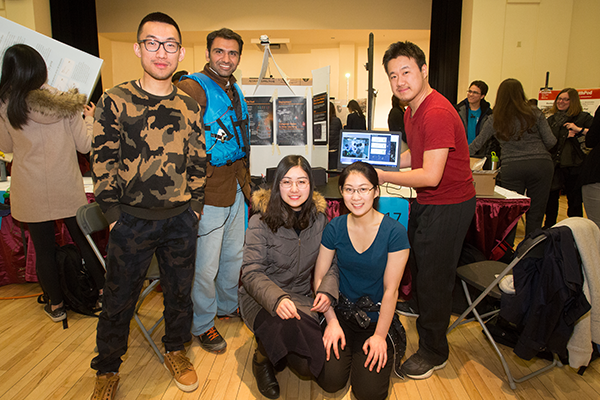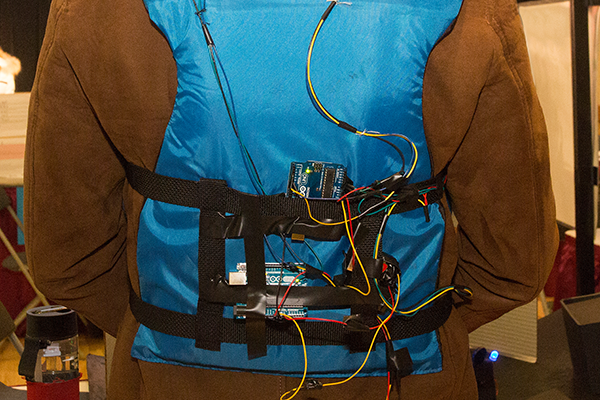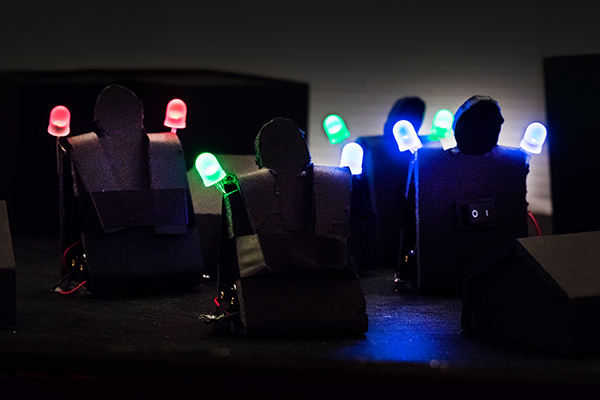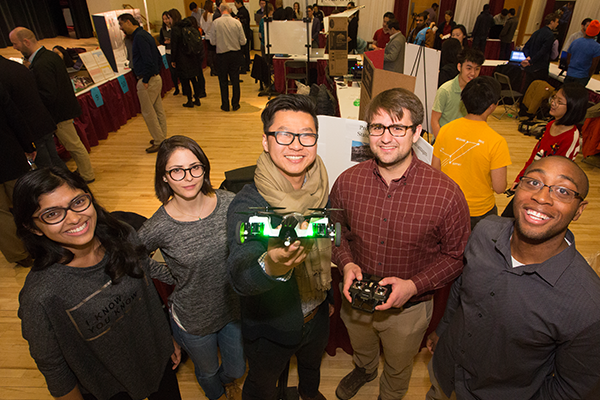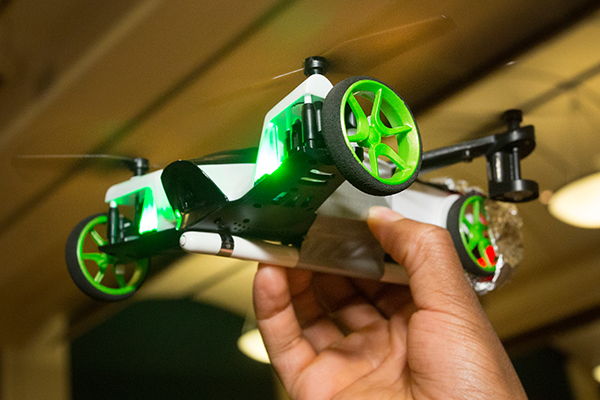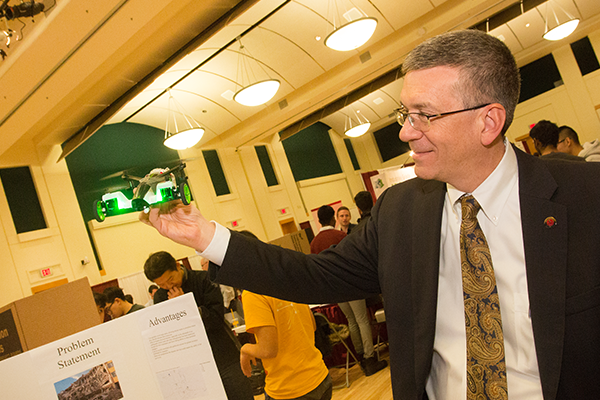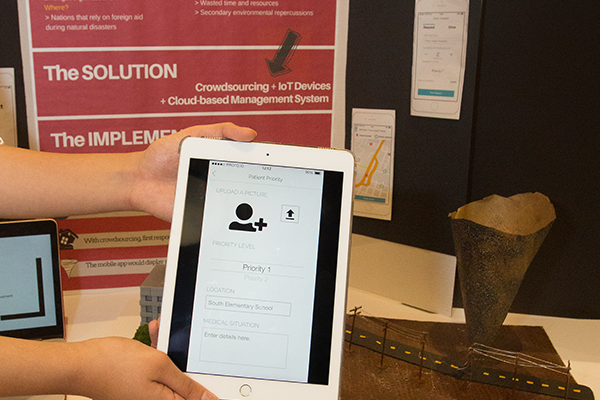 Lunar Gala Fashion Show
Each spring semester around the Chinese New Year, a student-run organization called Lunar Gala puts on a fashion show in which students from all kinds of disciplines design, produce, and model innovative clothing and accessories. It is one of the largest fashion events that happens in Pittsburgh, selling out 1,200 seats. Students often take advantage of the creative freedom to explore new ideas, aesthetics, and materials.
This year, a team from the Morphing Matter Lab created a four-piece collection called Homeostasis which demonstrated how silver-coated nylon fibers powered by embedded circuitry could be used to create dynamic tassels, hemlines, necklines, and cut-outs on clothing. Materials Science & Engineering (MSE) and Biomedical Engineering (BME) student Jack Forman led the team, undeclared engineering student Alan Guo served as the fabrication chief, and Drama master's student Meng-Han (Mohan) Yeh was the garment designer. They were advised by Prof. Lining Yao, the director of the Morphing Matter Lab who is a courtesy appointed professor with the Mechanical Engineering (MechE) and MSE departments.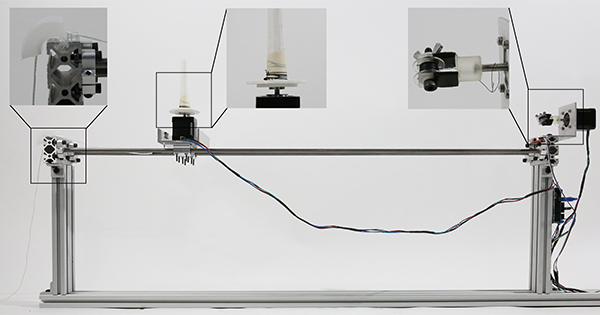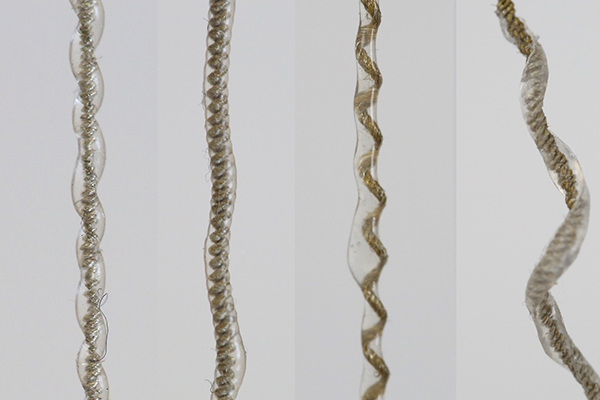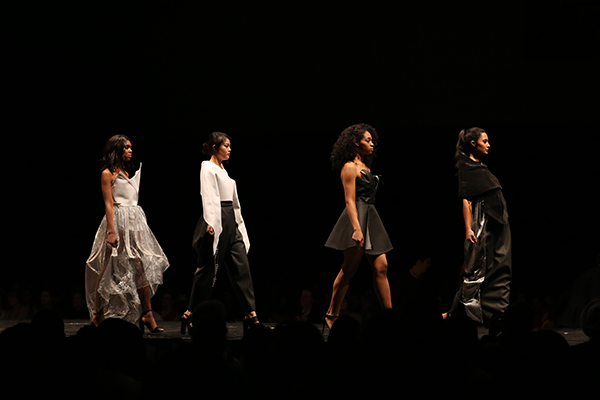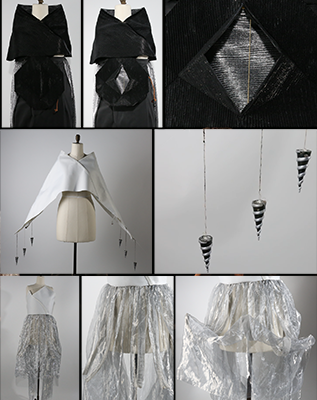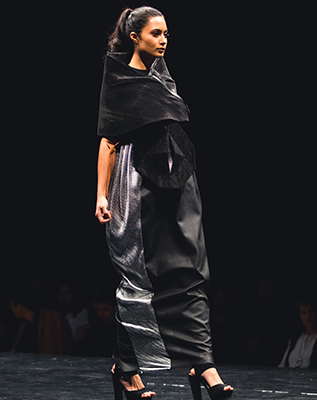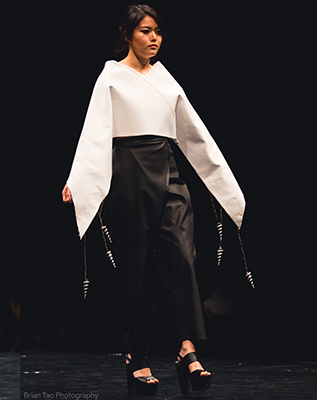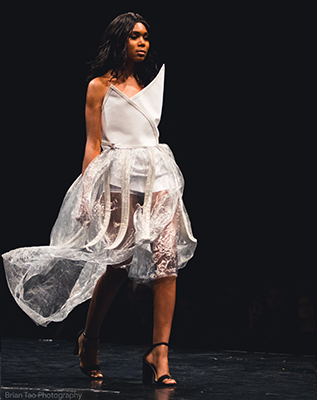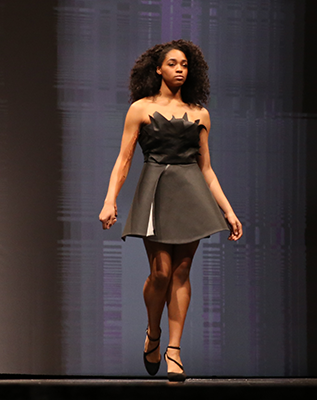 Alternative Break
During spring break, many engineering students opt to use their time and talent to travel to locations which could benefit from their service. Multiple Alternative Break groups went to a variety of sites this year to build, create, and engineer tools that locals can use to help their communities.
A group of 14 Engineering and Public Policy (EPP) students traveled to Puerto Rico this year. Their goals were to explore sustainable redevelopment and resiliency planning from three perspectives: farmers, urbanites, and government officials. They completed farming tasks, installed solar panels, rebuilt a community center, and met with citizens, doctors, professors, students, and policy makers in the Puerto Rican Energy Commission.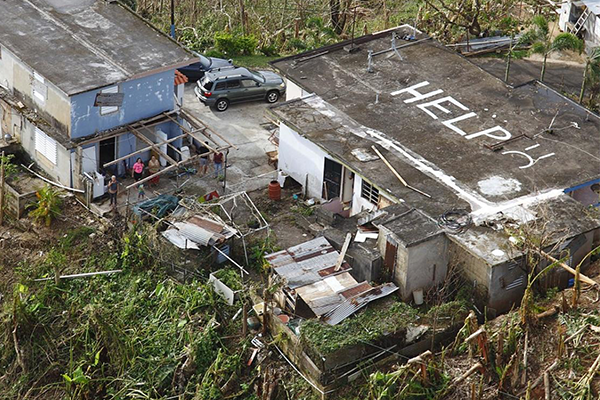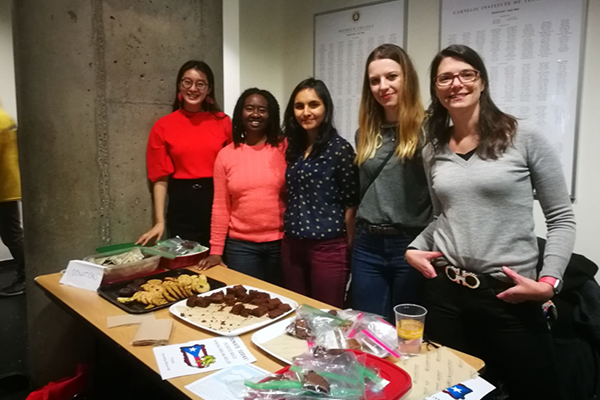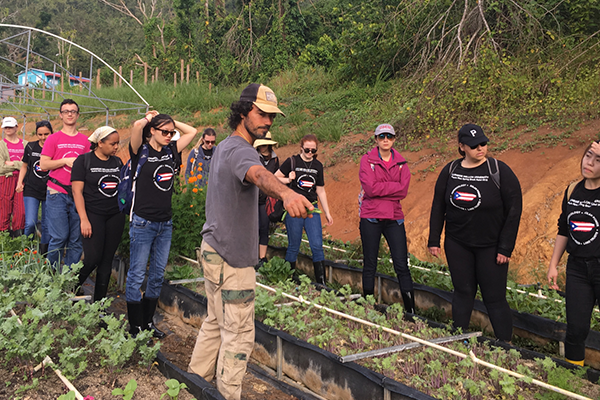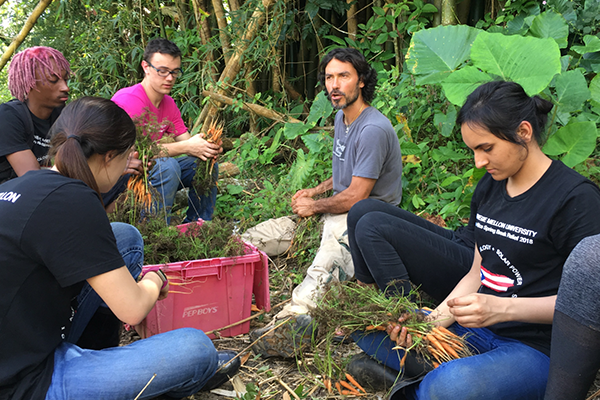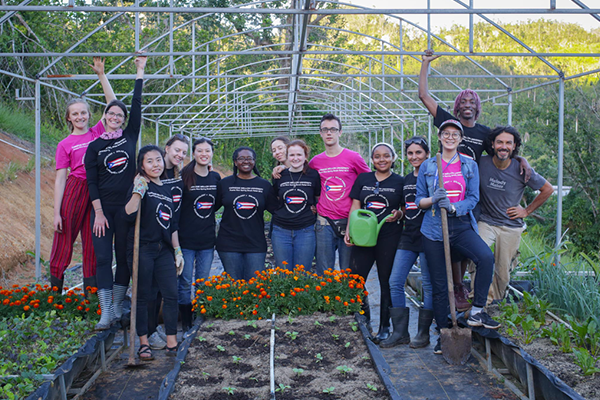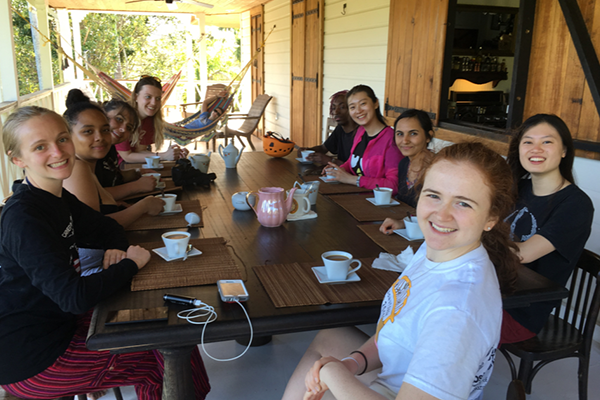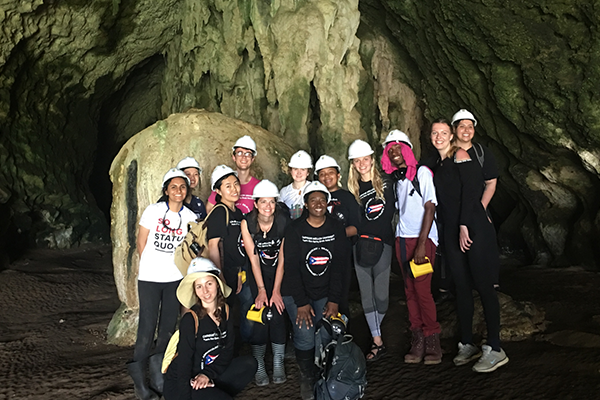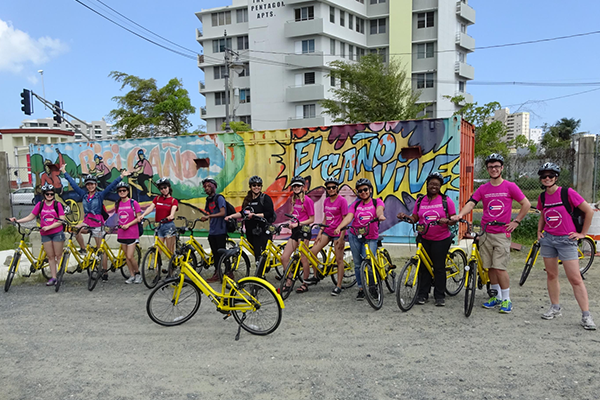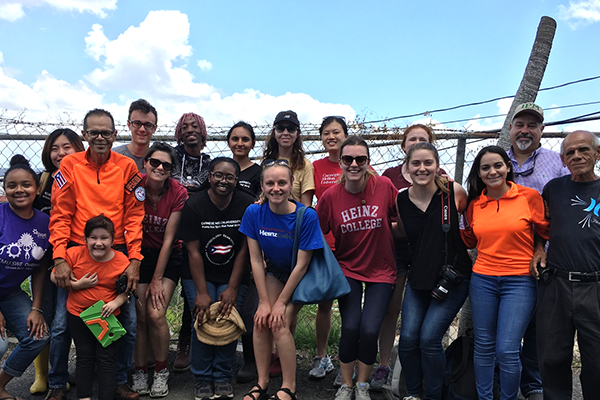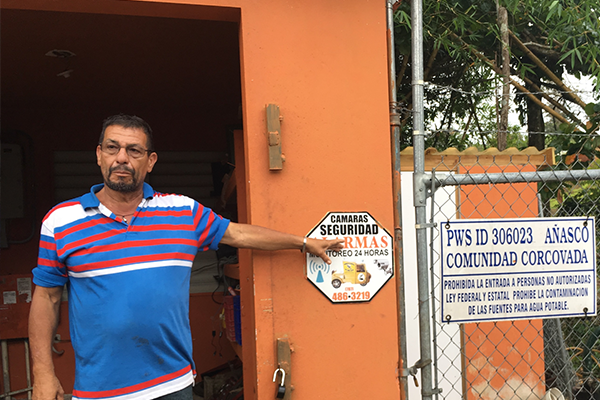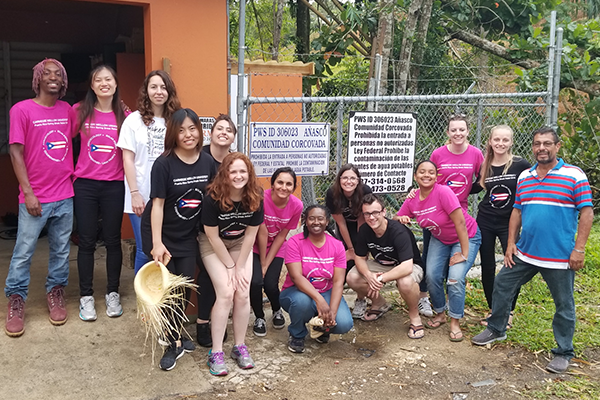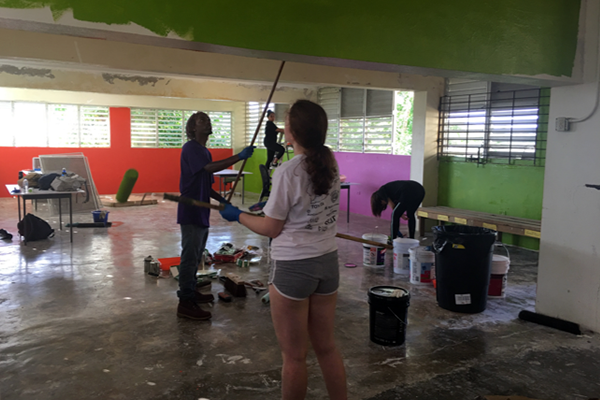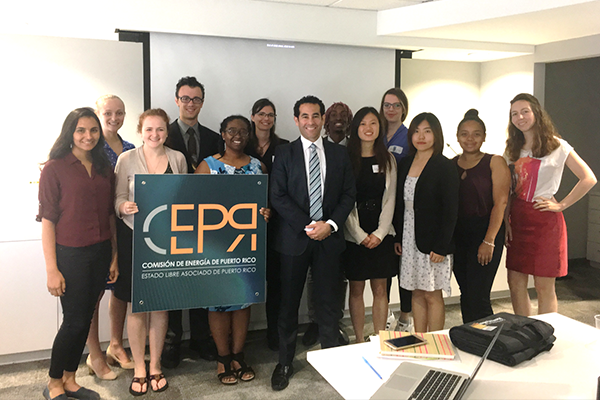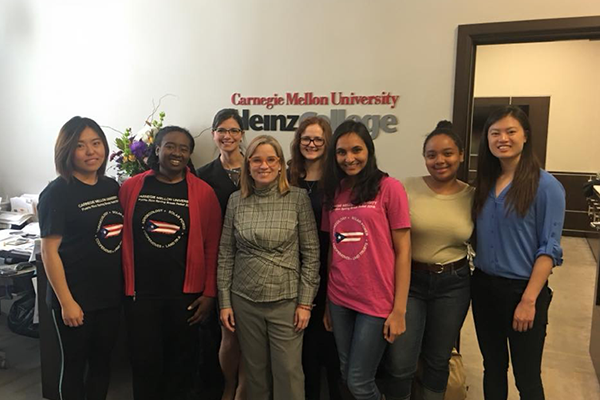 Booth
Every year during CMU's Spring Carnival, the College of Fine Arts parking lot and surrounding lawns transform into Midway, the main hub for rides, games, and student-constructed attractions called booths. These one- or two-story wooden structures involve impressive feats of engineering, architecture, design, and teamwork; they adhere to construction code, have functional electrical wiring, and tell a story through decorations and games. 
Student groups who have access to storage space on campus (such as a residence hall basement or Greek housing garage) usually build many of their pieces before transporting and assembling them during Build Week, the six days they have to construct and decorate. But for student organizations that do not have the storage space to pre-build wall sections and props, there is a competition category called Blitz Booth.
This was the perfect option for the American Society of Civil Engineers (ASCE) chapter at CMU because the Blitz rules require smaller booths (a maximum plot size of 8'x18' and only one story, as opposed to the 18'x18' plot and two-story option for sorority, fraternity, and independent categories) built almost entirely during Build Week.
This year, ASCE had three student leaders serve as Booth Chairs: Gaurav Chatterjee (CEE BS '18) was the Structural Chair, in charge of designing the layout, finalizing and submitting CAD drawings, leading build sessions, and overseeing electrical installation. James Crnkovich (CEE BS '18, MS '19) was the Design Chair, who coordinated with members to come up with the overall theme of the Booth (The Carnegie Intelligence Agency, a fictional secret-keeping organization at CMU that is a play on the US Central Intelligence Agency) and convey it through props, painting projects, and games. Rose Usnay (CEE BS '18, MS '19) was the Logistics Chair, in charge of scheduling and communicating with the students and staff who run all the booth competitions, as well as the ASCE members.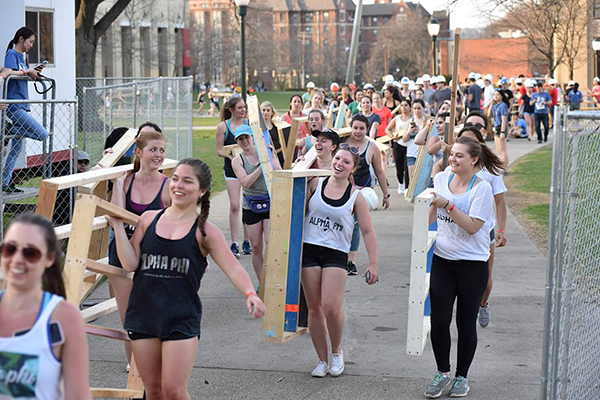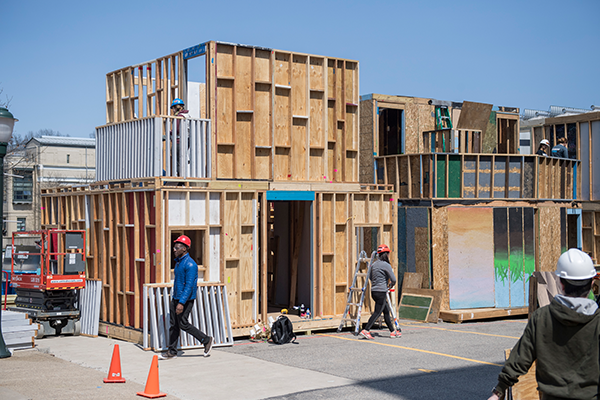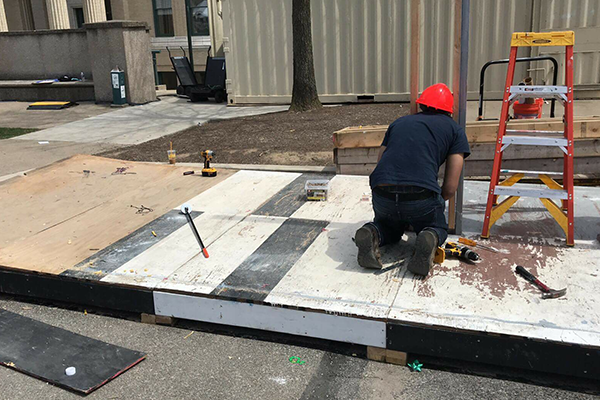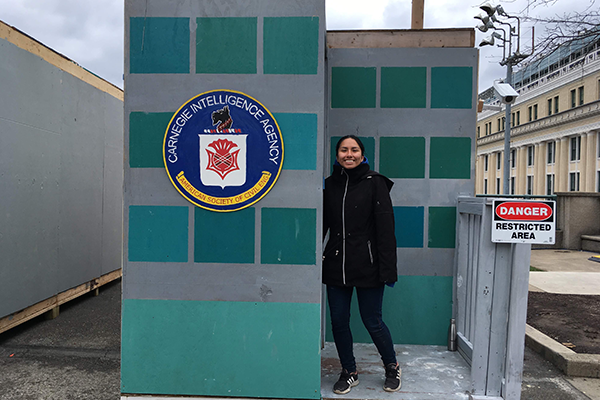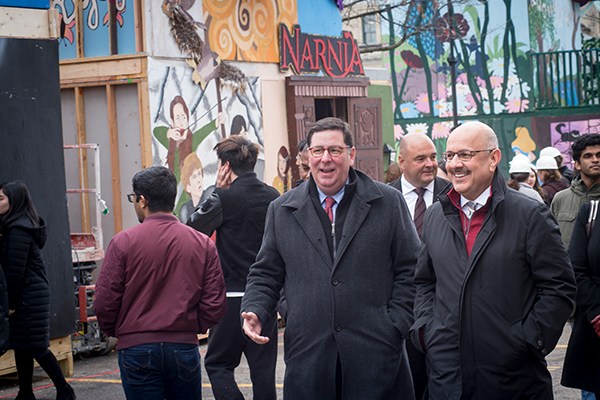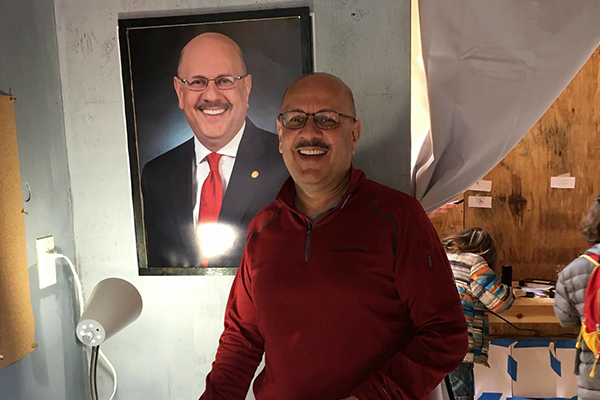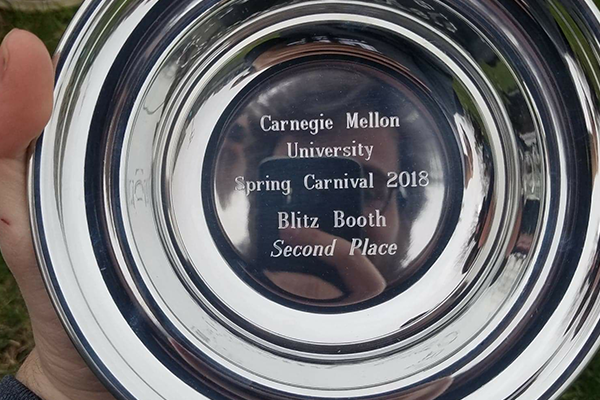 Buggy
The other large competition that students participate in during Spring Carnival is Buggy. Although no traditional records were broken this year, both autonomous buggy teams made great strides for robotic buggy racing. RoboBuggy and The Atlas Project both achieved driver-less rolls on the buggy course which surrounds Flagstaff Hill on the south side of campus. The Atlas Project's Baby Buggy completed the course entirely autonomously in 6:00.79, doing slightly better than the first, only, and record time that RoboBuggy's Transistor set last year (6:00.82).
This was The Atlas Project's first complete race after last year when their other buggy, RoboQuasar, was unable to complete the course. Since Baby Buggy took a few unconventional turns, there were around eight pushers throughout the course to supervise its progress. RoboBuggy had a similar setup when they first completed the course in 2017 with Transistor, who took a few bumps along curbs and needed the pushers to retrieve it when it went off the road. The Atlas Project was able to get Baby Buggy through the course with only clipping a curb slightly, an improvement for safety.
Also this year, RoboBuggy's newer buggy, NAND achieved a 3:09.67 with remote controlled driving and the typical number of pushers, meaning that it completed the free roll section without assistance except for the remote. (For reference, the fastest time with human drivers and only five pushers is 2:02.16 which was set last year by the Student Dormitory Council's top men's team).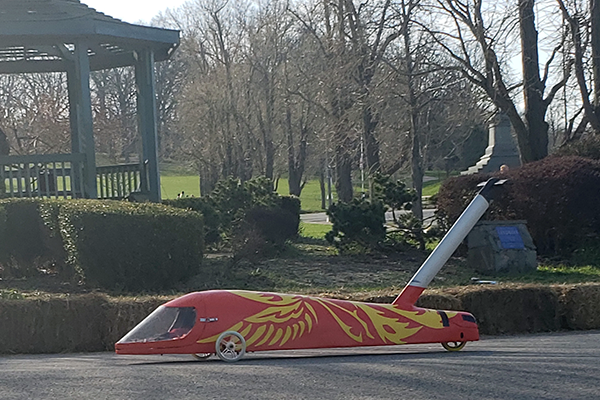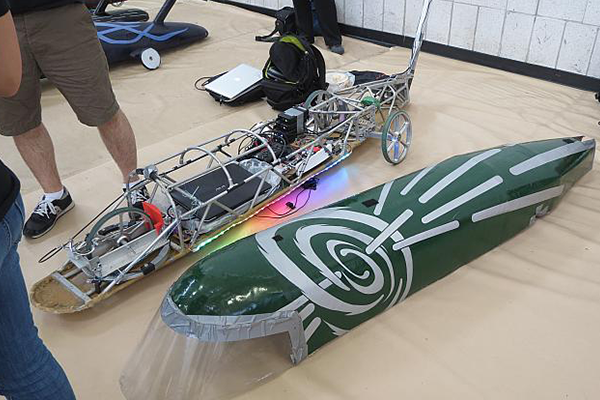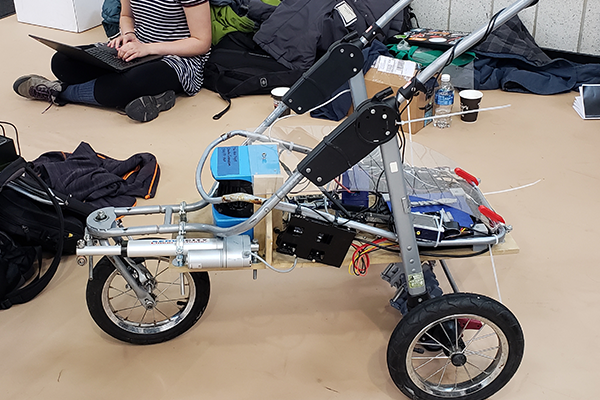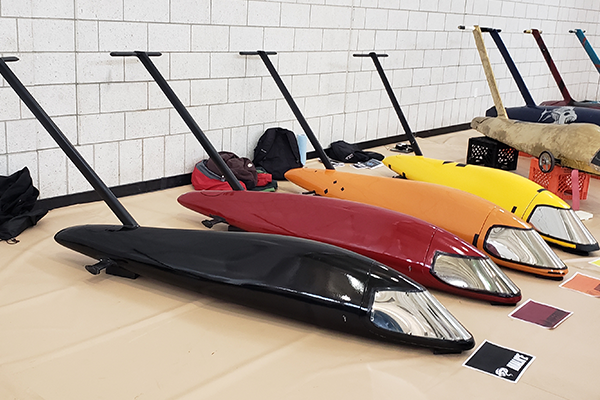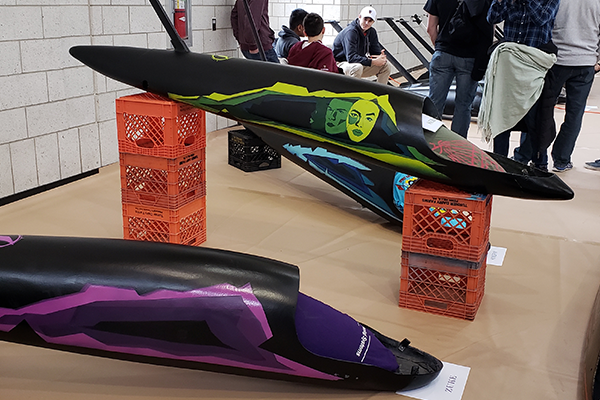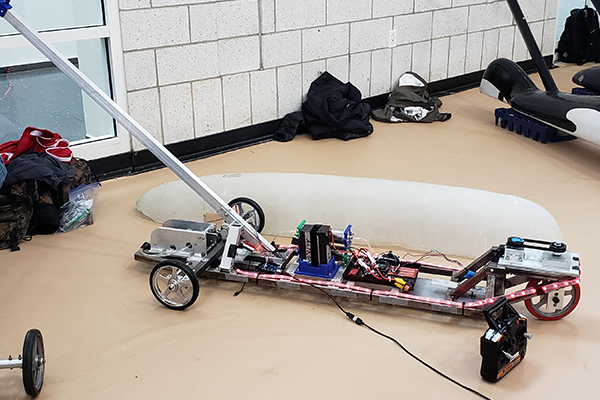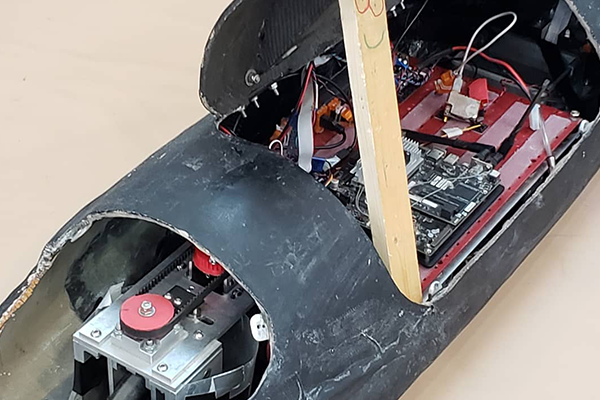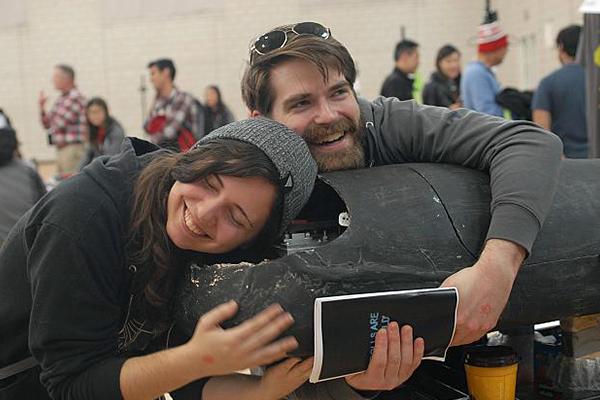 Meeting of the Minds
At the end of the school year, students across the university present their projects, portfolios, and research at Meeting of the Minds, CMU's academic symposium for undergraduates. Many engineering students present a poster of their research during poster sessions or in the Sigma Xi Competition, a STEM honors society competition. The College of Engineering also has presentations of honors theses—this year, 36 students across all seven departments presented brief slideshows to their advisors, a graduate student in their field, as well as a general audience. Students in BME take over a part of a gymnasium to create a corridor of biomedical demonstrations from their course projects.