From jet fighters to financial advisory
Miles Hinderliter worked at Lockheed Martin, moved into a career at Barclays, and fit perfectly in with both.
Miles Hinderliter (MSE 2002) has had a winding career path: he engineered stealth fighters, worked in food and agricultural investments, and now advises CEOs. At first seeming unconventional, Hinderliter's career path illustrates the similarities between engineering and finance that led him from aviation to lending and mergers.
Upon graduation, Hinderliter interviewed with Lockheed Martin. The company invited him to visit their production plant. "It was compelling to see their assembly line," Hinderliter said. "Flat out, it's enormous, technologically complex, and exciting. Seeing that made me decide to go with Lockheed Martin, and I started on their F-22 program." Quite the first job.
Lockheed Martin invests deeply in talent development. Hinderliter explained that, at the company, "You could expand, change, and modify your role, and as long as you're productive, the company would endorse your work." He worked first for a year with colleagues who solved production issues and specialized in stealth materials.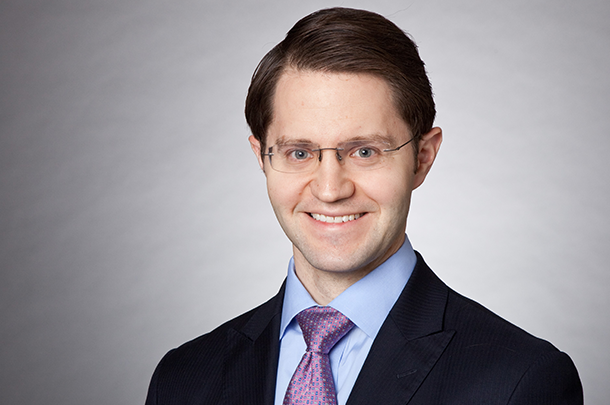 Hinderliter's managers helped him move around the company, meet with senior managers, and work and present on high-level projects. "Lockheed Martin is engineering-heavy," Hinderliter said, "but it's where I learned a lot on how to present my ideas." He honed his soft skills, pitching and managing projects and articulating how they fit into the company's objectives.
Lockheed Martin put Hinderliter into a leadership development program. Through it, he developed presentation and management skills. The program also required him to pursue a master's-level program, for which he chose an MBA at Emory University from 2006-07.
Fortuitously, his MBA introduced Hinderliter to a possible career in finance. Several factors attracted him to the industry: he excelled at the hard math behind finance, and Wall Street enjoyed incredible success during Hinderliter's studies.
Finance depends on technical and soft skills, both of which Hinderliter was nurturing at Lockheed Martin. Being an engineer with rigorous analytical background, Hinderliter could easily apply the math of a concept to a situation because of his training. And the economic climate and faster pace of Wall Street drew Hinderliter to finance.
He took a risk: he left Lockheed Martin to intern with Lehman Brothers in 2007. He returned to Lehman Brothers in 2008—on the day the company filed for bankruptcy. But despite the hullaballoo of Hinderliter's first day, Barclays absorbed the company.
Hinderliter started at Barclays in the technology group, because of his interest in computer chip design. In professional life, he emphasizes engaging with one's interests. Moreover, he finds it vital "to like the people you work with, since I would work 16, 18, or even 20-hour days."
Hinderliter later moved into the food and agriculture group, attracted by the chance to work with complex technology and forward Barclays' initiative to fund sustainable, clean technology. He fit in perfectly with advanced breeding or biofuel companies. He even likens the experience of touring food manufacturers to touring Lockheed Martin's production line.
With such similarities, Hinderliter notes that the perceived gap between engineering and financing is in truth quite narrow. "You know, at Lockheed I did spreadsheets and presentations, and at Barclays I did spreadsheets and presentations," he jokes.
Engineering is a profession that sticks out on Wall Street.

Miles Hinderliter, Alumnus, Materials Science and Engineering, Carnegie Mellon University
His time at Lockheed Martin gave him valuable perspective to view the challenges of finance. When pricing a bond once, others made the process needlessly difficult. "Look," Hinderliter quipped, "I worked with a group that made airplanes invisible. We can figure out how to price a bond."
In a recent career development, Hinderliter accepted a new position at the advisory firm Evercore. Because of the 2008 financial crash, successful bankers increasingly found more desirable jobs outside of traditional banks. Financial consultation attracted many of these people, including Hinderliter, in an industry shift toward firms that do not lend, hedge assets, or raise equity, but rather advise.
Advisory firms are free from the bureaucracy other banks comply with. His job remained the same—strategizing for CEOs and CFOs—only with a different firm.
Since finance is dominated by Harvard, Yale, and Princeton undergraduates, Hinderliter said that belonging to Carnegie Mellon raises eyebrows. "Engineering is a profession that sticks out on Wall Street," he said. "I get a lot of credibility from CMU and Lockheed Martin, and my technical skills never get questioned." Almost 20 years out of CMU, he still benefits from his university experience.
More than anything over the years, Hinderliter has nurtured his confidence. "Some people are just nervous to present and afraid to try things," he said. "But I had enough experience through Lockheed Martin and Emory that, when I presented to clients at Barclays, I was confident I could do it."
At Barclays, Hinderliter learned the phrase, Success breeds success: one opportunity opens access to another. For Hinderliter, the phrase holds true.