"Cosplay," or the practice of dressing up as a character from a movie, book, or video game, is a subset of the broader concept of "costuming." Engineering can apply to cosplay, but cosplay can also apply to engineering in surprising ways.
Halloween is arguably (well, we would argue) the best time of the year. The tricks, the treats, the crisp fall air, and—best of all—the costumes. It's not every day we get to dress up as Dracula, or Pikachu, or Queen Amidala, or… the possibilities are endless. But what is it that makes us want to imitate a character, to don their outfits and take on their personalities for a night? Admiration, fear, or the thrill of successfully pulling off a look?
Whatever your reason to love this spooky season, for some people, including some of our students in the College of Engineering, Halloween isn't enough. Some look for more opportunities than just Halloween, like renaissance faires, comic conventions, and more, to don a costume and give their all to its design—and for a lot of them, most of the fun is in the making of the costume itself.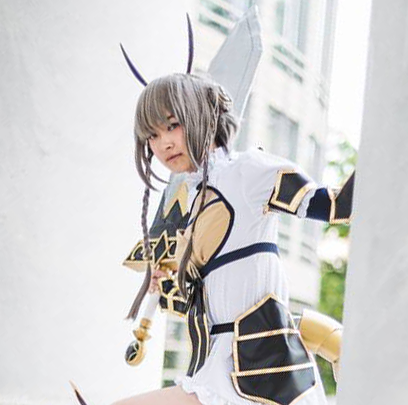 "On a basic level, cosplay is your interpretation of a character," explains Molly Whittaker, a senior in civil and environmental engineering. "So for me, it's not just copying whatever costume the character's wearing, but also thinking, 'Would they actually wear this?' or 'Would they incorporate this into their costume?' It's trying to embody the character of someone that really appeals to you."
"Cosplay," or the practice of dressing up as a character from a movie, book, or video game, is a subset of the broader concept of "costuming," or designing costumes or outfits that emulate a specific character or the garb of a specific time period. Whittaker is an avid cosplayer who attends comic conventions and designs and builds her own costumes from scratch—and her training as an engineer contributes to her success in these wearable tech projects.
"As a civil engineer, I like to make Gantt charts [a type of bar chart that illustrates a project's schedule and work breakdown structure] and I sometimes use CAD modeling software like Auto-CAD to figure out patterning details," says Whittaker. "I start by breaking a project down into big chunks of work, then breaking it down into smaller pieces."
Whittaker started out her cosplay hobby by creating Star Wars costumes—she's cosplayed the character Aayla Secura, from the Star Wars prequels, as well as fabricated her own Mandalorian battle armor (pictured in the slideshow below).
A lot of the machining I've learned for robotics and my civil engineering job have come to play in my cosplay work, and vice versa.

Molly Whittaker, Senior, Civil and Environmental Engineering, Carnegie Mellon University
"When I did my Mandalorian armor, I used a material called 'sintra,' which is like a PVC plastic foam blend that I cut, shaped, finished, and painted," says Whittaker. "The helmets were made from scratch, using fiberglass sheets and car products like Bondo, a fiberglass resin. An armor CAD model template was available online, but I made a lot of my own adjustments in Auto-CAD." (For more information about Whittaker's Mandalorian armor, a walkthrough of how she constructed it is available on her blog.)
There are many different ways to get involved with cosplay, from independently attending cons to joining groups such as Cosplay@CMU, a student organization that unites CMU students from all corners of the university to represent fictional characters through the creation and donning of costumes. Cosplay@CMU is a group for anyone who loves cosplay, and cosplay beginners and veterans alike are welcome. The group meets to work on cosplay together, provides advice and materials such as sewing machines and cutting boards to its members, and hosts workshops, social events, and group trips to conventions.
Several members and officers of Cosplay@CMU are students in the College of Engineering. Undergraduates Daniel Alvarado and Jamei Wang both served as officers in the organization during 2016-2017, and are still involved as members.
CEE undergrad Molly Whittaker sews and embroiders her own fabric costumes and cosplays.

BME/ChemE senior Jamei Wang, a member and former officer of the student organization Cosplay@CMU, 3-D printed the pommel of a sword for her cosplay of the character La Pucelle from the series Magical Girl Raising Project. Jamei designed the pommel of the sword using a CAD model.

Jamei's La Pucelle sword pommel directly after it was 3-D printed, before and after cleaning.

CEE undergrad Molly Whittaker and a friend pose in the Star Wars Mandalorian armor she fabricated using CAD modeling, sintra, fiberglass, and car products like "Bondo."
Alvarado, a senior in electrical and computer engineering and former vice president of Cosplay@CMU, has cosplayed as characters such as Saitama from the anime One Punch Man and even the Pokémon Magikarp. Jamei, a fifth year senior in chemical engineering and biomedical engineering, attended the anime convention Otakon in August 2017. She has made many cosplays, some of which contained rapid prototyping elements such as parts made using 3-D printing and laser cutting (as shown in the slideshow above).
You don't need to be an engineer to cosplay, says Alvarado, but engineering certainly helps.
"Some of the more mechanical cosplays are hard to make," says Alvarado. "If you want to immerse yourself in making a really cool technical costume, then having knowledge of materials science or electrical engineering really helps, and it's really fun."
As a specific example of where engineering and materials science would play a significant role in cosplay, Alvarado points to a pair of boots from a popular video game:
"The Long Fall Boots from Portal have an arch that you stand on," Alvarado explains. "You'd need to make sure they're balanced and safe to walk on, and that the materials they're made out of are resistant and can support the weight of yourself and the costume. So knowing those things from an engineering perspective can be really helpful."
"You can just buy a cosplay costume, which is totally fine, but when making your own cosplay, being able to do calculations is really convenient," adds Jamei. "When you make your own cosplay, it's possible to embed LEDs in your costume, or draw up a circuit plan. There's also materials science, when working with resin or plastics—understanding what your costume materials are capable of."
A career in engineering can apply to a cosplay hobby, but a hobby in cosplay can apply to an engineering career in surprising ways.
"Learning to work with new materials applied a lot to the research I was doing this past summer, where I was designing testing devices in Auto-CAD or in another 3-D simulator," explains Whittaker. "So designing these materials, and then making them, was very similar—with different tools, but the same idea. A lot of the skills go well with each other. So a lot of the machining I've learned for robotics and my civil engineering job have come to play in my cosplay work, and vice versa."
So have fun this Halloween (or this past Halloweekend), and we hope you had fun making your costumes!