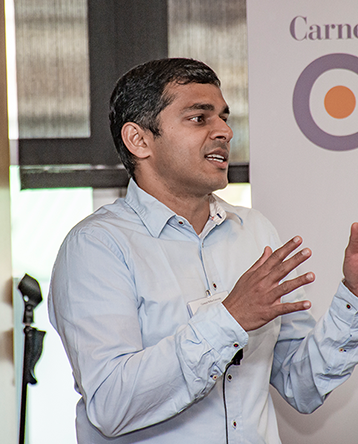 Vyas Sekar is a professor in the Department of Electrical and Engineering at Carnegie Mellon University, and is affiliated with the CyLab Security and Privacy Institute. His research is at the intersection of networking, security, and systems. Sekar's current research focuses on systems for accelerating the deployment of innovative network middleboxes, and designing content distribution mechanisms to improve user experience. 
Sekar received his Ph.D. from the Computer Science Department at Carnegie Mellon University in 2010. He has been the recipient of multiple awards, including a National Science Foundation CAREER Award in 2016. He earned his bachelor's degree from the Indian Institute of Technology Madras, where he was awarded the President of India Gold Medal. His work has been recognized with best paper awards at ACM SIGCOMM, ACM CoNext, and ACM Multimedia. In addition to being a professor of electrical and computer engineering, Sekar is affiliated with the CyLab Security and Privacy Institute.
Network Security: Making the Internet a Safer Place
Improving Video Streaming
Education
2010 Ph.D., Computer Science, Carnegie Mellon University
2003 BS, Computer Science and Engineering, Indian Institute of Technology Chennai
Affiliations
Media mentions
WESA
Sekar quoted on cyber security infrastructure funding
ECE/CyLab's Vyas Sekar was quoted in WESA about the $1.2 trillion infrastructure bill that was recently approved by the U.S. Senate. The bill includes funding to help the country resist cyber attacks, but cyber security's complexity means it will be difficult.
CMU College of Engineering
Engineering faculty awarded professorships
ECE faculty Franz Franchetti, Gianluca Piazza, Shawn Blanton, Maysam Chamanzar, and Vyas Sekar were awarded professorship titles in April and May 2021.