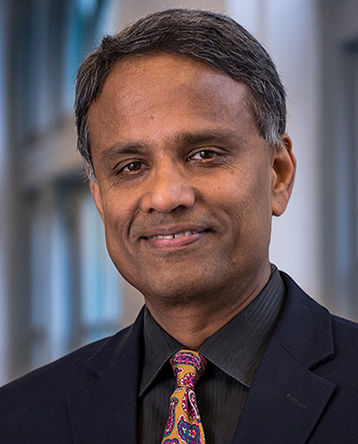 Ramayya Krishnan is the dean of Heinz College and the W. W. Cooper and Ruth F. Cooper Professor of Management Science and Information Systems. He has a B.Tech. in mechanical engineering from the Indian Institute of Technology, Madras, and an M.S. in industrial engineering and operations research and Ph.D. in management science and information systems from the University of Texas at Austin. He is an International Research Fellow of the International Center for Electronic Commerce in Korea and a visiting scientist at the Institute for Information Systems at Humboldt University (Germany). He was a founding faculty member of the Information Systems Management program at Heinz College.
Krishnan's current research projects investigate risk management in business process design and in information security, large scale social network analysis, and the design of policies that take into account the competing needs of promoting data access and protecting privacy. His ideasLab presentation on data analytics at the World Economic Forum summarizes key ideas from his research program.
Krishnan's teaching interests lie at the interface of technology, business, and policy aspects of internet-enabled systems. He has taught courses on e-business and telecommunications management, and led the creation of a capstone course on digital transformation that integrates technological and managerial aspects of information technology. He is the recipient of the General Motors (GM) Technical Education Program Outstanding Distance Learning Faculty Award, which honors a professor for demonstrating excellence in distance learning education. He has received the Martcia Wade Teaching Award, and has twice received the Teaching Award for the Heinz College's IT programs. He has taught in numerous executive education programs and is an expert on the use of IT to both create and capture value for organizations.
Education
1987 Ph.D., Management Science and Information Systems, University of Texas at Austin
Affiliations