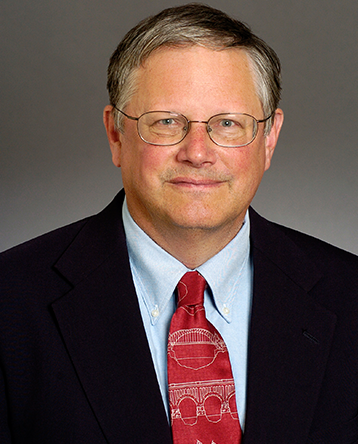 Chris Hendrickson is a Hamerschlag University professor emeritus, the director of the Traffic 21 Institute at Carnegie Mellon University, a member of the National Academy of Engineering, and the editor-in-chief to the ASCE Journal of Transportation Engineering. Hendrickson's research, teaching, and consulting are in the general area of engineering planning and management, including design for the environment, system performance, construction project management, finance and computer applications. Hendrickson has co-authored five books: Environmental Life Cycle Assessment of Goods and Services: An Input-Output Approach (Resources for the Future, 2006), Project Management for Construction (Prentice-Hall, 1989, updated on the web), Transportation Investment and Pricing Principles (John Wiley & Sons, 1984, now updated and on the web), Knowledge Based Process Planning for Construction and Manufacturing (Academic Press, 1989), and Concurrent Computer Integrated Building Design (Prentice-Hall, 1994). In addition, Hendrickson has published numerous articles in the professional literature.
Hendrickson's education includes: a bachelor's and M.S. from Stanford University, a M.Phil. in economics from Oxford University, and a Ph.D. from the Massachusetts Institute of Technology. Hendrickson has received the 2009 Faculty Award from the CMU Association (2009), the Turner Lecture Award from the American Society of Civil Engineers (2002), the Fenves Systems Research Award from the Institute of Complex Engineering Systems (2002), AT&T Industrial Ecology Fellowships (2000-2002), a Lucent/NSF Industrial Ecology Fellowship (1998), the ASCE Frank M. Masters Transportation Engineering Award (1994), the Outstanding Professor of the Year Award of the ASCE Pittsburgh Section (1990), the ASCE Walter L. Huber Civil Engineering Research Award (1989), the Benjamin Richard Teare Teaching Award from the Carnegie Institute of Technology (1987), and a Rhodes Scholarship (1973). Hendrickson is a Fellow of the American Association for the Advancement of Science (2007), a distinguished member of the American Society of Civil Engineers (2007), and an emeritus member of the Transportation Research Board (2004).
Hendrickson's professional career includes research contributions in computer-aided engineering, transportation systems, construction project management, and environmental systems. Central themes in Hendrickson's work are creating systems-wide perspective and balancing engineering and management considerations. His doctoral work included the development of a travel distance formula for random stops that is still in use for home service planning (1978). He pioneered models of dynamic traffic equilibrium, including time-of-day departure demand models. He was an early contributor to the development of probabilistic network analysis for lifeline planning after seismic events. His work in construction project management emphasized the importance of the owner's viewpoint throughout the project lifecycle, summarized in his text (with T. Au), Project Management for Construction, now available on the internet. With others at CMU's Engineering Design Research Center, he developed a pioneering, experimental building design system in the early 1990s that spanned concept initialization through construction scheduling and animation. Since 1994, he has concentrated on green design, exploring the environmental life cycle consequences of alternative product, and process designs. He has contributed software tools and methods for sustainable construction, pollution prevention, and environmental management, including life cycle analysis software, and a widely-cited analysis of the life cycle consequences of lead acid battery powered vehicles.
Education
1978 Ph.D., Civil Engineering, Massachusetts Institute of Technology
1975 Master of Philosophy, Economics, Oxford University
1973 MS, Civil Engineering, Stanford University
1973 BS, General Engineering (Resources Strategy), Stanford University
Media mentions
Hendrickson receives ARTBA's S.S. Steinberg Award
CEE's Chris Hendrickson was selected by the American Road and Transportation Builders Association (ARTBA) to receive the Research and Education Division's (RED) prestigious S.S. Steinberg Award. This award honors educators at an institution of higher learning for contributions to research and education in transportation, development, or construction and will be presented at the ARTBA RED meeting on January 12 in Washington, DC.
Hendrickson awarded CUTC- HNTB Lifetime Achievement Award
CEE's Chris Hendrickson was selected by the Council of University Transportation Centers (CUTC) and HNTB to receive the Council's prestigious CUTC-HNTB Lifetime Achievement Award for Transportation Education and Research. The award will be presented at the CUTC Annual Awards Banquet on Saturday January 11, 2020 in Washington, D.C.
CMU Engineering
Mobility for all
In December 2016, CEE Ph.D. student Corey Harper's research paper on self-driving car technology was selected for an Elsevier Atlas Award, an award that recognizes research that could significantly impact people's lives.