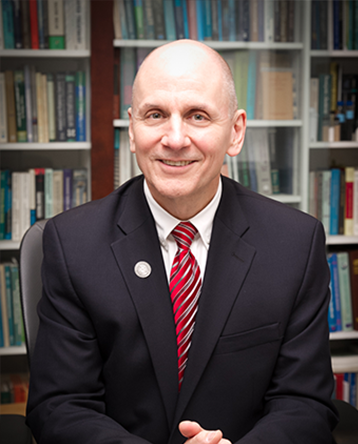 David Dzombak is the Hamerschlag University Professor and head of the Department of Civil and Environmental Engineering at Carnegie Mellon. The emphasis of his research and teaching is on water quality engineering, sustainable water resources, and energy-environment issues. At Carnegie Mellon he also has served as associate dean for Graduate and Faculty Affairs for the College of Engineering (2006-2010), as director of the Steinbrenner Institute for Environmental Education and Research (2007-2013), and as interim vice provost of Sponsored Programs (November 2012-August 2013).
Dzombak received his Ph.D. in Civil Engineering from the Massachusetts Institute of Technology in 1986. He also holds an M.S. in Civil Engineering (1981) and B.S. in Civil Engineering (1980) from Carnegie Mellon University, and a B.A. in Mathematics from Saint Vincent College (1980). He is a registered professional engineer in Pennsylvania, a board certified environmental engineer by the American Academy of Environmental Engineers and Scientists, and a member of the National Academy of Engineering.
Dzombak's professional service activity has included membership in the EPA Science Advisory Board (2002-2016); the DoD Strategic Environmental Research and Development Science Advisory Board (2013-2016); the National Academies Roundtable on Science and Technology for Sustainability (2013-present); the National Research Council (various committees, 2000-present); Editorial Advisory Board for ACS Sustainable Chemistry & Engineering (2012-2016); associate editor of Environmental Science & Technology (2005-2012); Editorial Board of Water Environment Research (1993-1998) and Ground Water (1991-1993); chair, Board of Directors, AEESP Foundation (2012-2014); Board of Directors and Officer (Treasurer) of the Association of Environmental Engineering and Science Professors (1996-1999); chair of committees for the American Academy of Environmental Engineers, American Society of Civil Engineers, and Water Environment Federation; and advisory committees for Allegheny County, the Commonwealth of Pennsylvania, and numerous universities and organizations.
Water Quality & Resources: The Intersection of Water & Energy
Education
1986 Ph.D., Civil Engineering, Massachusetts Institute of Technology
1981 MS, Civil Engineering, Carnegie Mellon University
1980 BA, Mathematics, Saint Vincent College
1980 BS, Civil Engineering, Carnegie Mellon University
Media mentions
The American Society of Civil Engineers
Dzombak named Distinguished Member of ASCE
CEE Head David Dzombak was named a Distinguished Member of the American Society of Civil Engineers (ASCE), America's oldest national engineering society that represents more than 150,000 civil engineers worldwide.
Dzombak and Samaras recognized during ASCE Pittsburgh's Engineers' Week
CEE's David Dzombak and Costa Samaras received awards from the Pittsburgh Section of the American Society of Civil Engineers during its 2019 Engineers' Week Banquet.
Chemical & Engineering News
Dzombak comments on fracking studies
Penn State researchers found a way to use chemical signatures to differentiate between natural methane leakage and methane that leaked as a result of fracking. CEE Head David Dzombak, while impressed, says we need to do more to understand the impact of fracking on ground and surface water. He suggests that government, industry, and scientists should work together on prospective studies throughout the life cycle of a well.