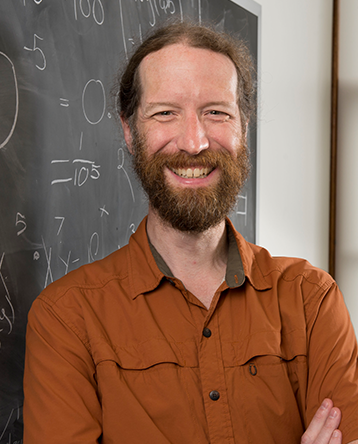 Neil Donahue is a professor in the Departments of Chemistry, Chemical Engineering, and Engineering and Public Policy at Carnegie Mellon University. He also directs the Steinbrenner Institute for Environmental Education and Research. He seeks to understand how Earth's atmosphere works, and how humans affect the atmosphere. One of his objectives is to help all graduating Carnegie Mellon students understand the climate problem and to apply their outstanding problem solving skills to solutions of this enormous challenge. He is a member of numerous professional societies, a Fellow of the American Geophysical Union, and an editor with several academic journals.
Donahue's research group focuses on the behavior of organic compounds in Earth's atmosphere. They are world experts in studying what happens to compounds from both natural sources and human activity when they are emitted into the atmosphere. Recently his research has focused on the origin and transformations of very small organic particles, which play a critical role in climate change and human health. Particles scatter light, influence clouds, and kill roughly 50,000 people each year in the US, mostly of heart attacks.
Donahue's father taught physics at Pitt, and Donahue received a B.S. in Physics from Brown University in 1985. He received a Ph.D. in meteorology from MIT in 1991, and spent nine years as a research scientist at Harvard before returning to Pittsburgh in 2000. He lives with his wife Maren Cooke and daughters Kielan and Innes in Squirrel Hill. They have three kW of photovoltaic solar panels on their roof. Donhaue is also an avid road cyclist; you may find him on one hill or another around town.
Clouds Are the Clue to Climate Predictions
Organics & Atmospheric Aerosols
Education
1991 Ph.D., Meteorology and Atmospheric Chemistry, Massachusetts Institute of Technology
1984 BA, Physics, Brown University
Media mentions
Chemical Engineering
Donahue receives AAAR David Sinclair Award
Carnegie Mellon University's Neil Donahue, the Thomas Lord Professor in Chemical Engineering, Engineering and Public Policy, and Chemistry Director of the Steinbrenner Institute for Environmental Education and Research, has been named the American Association for Aerosol Research's (AAAR) 2022 David Sinclair Award recipient.
Public Source
Donahue quoted on Allegheny County's bid to be a "clean hydrogen hub"
ChemE/EPP's Neil Donahue was quoted on the proposal to make Pennsylvania the host of one of four clean hydrogen hubs nationwide. "Hydrogen is another form of energy storage, like batteries," Donahue says. "The question is where does the energy required to produce hydrogen come from?" Donahue suggests that we should instead be focusing on funneling resources to renewable energy.
Donahue is founding editor in chief of Environmental Science: Atmospheres
ChemE/EPP's Neil Donahue is the founding editor in chief of Environmental Science: Atmospheres, a gold open access journal committed to bringing the wider environmental science and climate change communities together in a fresh, open approach.