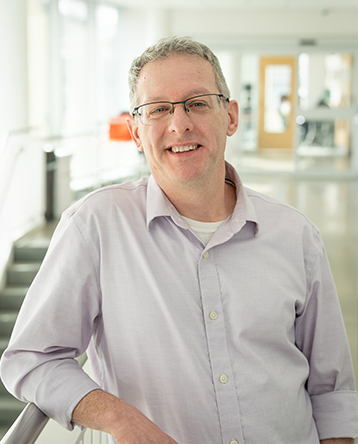 Steven Chase is a professor in the Department of Biomedical Engineering at Carnegie Mellon University. Chase uses brain-computer interfaces to study motor learning and skill acquisition. His work stands to provide a better understanding of how movement information is represented in networks of neurons in the brain and will inform the development of neural prosthetics.
Chase was a Wimmer Faculty Fellow in 2013-14 and the recipient of a National Institutes of Health Individual National Research Service Award in 2002. His work has been supported by the NIH, DARPA, and the Craig H. Neilsen Foundation.
Designing Brain-Computer Interfaces to Understand Motor Learning & Control
Education
2006 Ph.D., Biomedical Engineering, Johns Hopkins University
1999 MS, Electrical Engineering, University of California, Berkeley
1997 BS, Applied Physics, California Institute of Technology
Media mentions
ESPN Radio 102.7
ESPN Austin welcomes Chase as on-air guest
BME's Steve Chase was interviewed on ESPN Radio's "The Night Talker with Trey Elling" on July 5. Joined by his longtime University of Pittsburgh collaborator, Aaron Batista, the pair shared new developments in their ongoing research related to choking under pressure and its application to the world of sports.
Scripps News
Chase comments on approval for Neuralink human trials
In an interview with Scripps News, BME's Steve Chase lent his insight about brain-controlled interfaces (BCIs) to a segment discussing the recent FDA approval for Neuralink to conduct its first round of human trials. Chase uses BCIs to study motor learning and skill acquisition.
NSF
Three-million dollar grant to fund study of internal states in the brain
Steve Chase, Matt Smith, and Byron Yu were recently awarded a $3 million grant from the NSF to support research investigating internal states in the brain, including motivation, attention, and arousal, using brain-computer interfaces.
Multiple outlets
Chase research on "choking under pressure" featured
Research from BME's Steven Chase on the "choking under pressure" phenomenon in rhesus monkeys has been featured in Ars Technica, Nerdist, The Daily Mail, and Technology Networks.
NIH/NIBIB
He and colleagues receive NIH/NIBIB Neural Interfacing Training Grant
BME's Bin He and his team were recently awarded an NIH/NIBIB Predoctoral Training Grant on Neural Interfacing. Over the next five years, the grant will fund the effort to establish an integrative Neural Interfacing graduate training program at Carnegie Mellon University. Other investigators of the grant are Marlene Behrmann, Steve Chase, and Matt Smith.