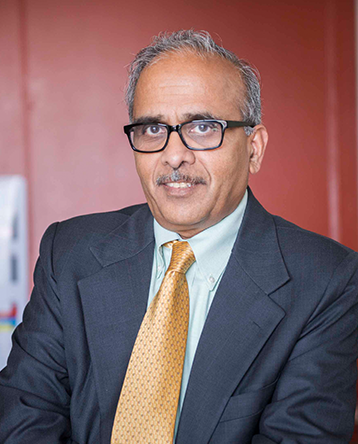 Vijayakumar Bhagavatula received his B.Tech. and M.Tech. degrees in Electrical Engineering from Indian Institute of Technology, Kanpur and his Ph.D. in Electrical Engineering from Carnegie Mellon University, Pittsburgh. Since 1982, he has been a faculty member in the Department of Electrical and Computer Engineering (ECE) at Carnegie Mellon where he is now the U.A. & Helen Whitaker Professor of Electrical and Computer Engineering. He also served as the Associate Dean for Graduate and Faculty Affairs for the College of Engineering from July 2010 to March 2017. Professor Kumar served as the Associate Department Head of the ECE Department from 1994 to 1996, as the Acting Head of the ECE Department from 2004 to 2005, as the Interim Dean of the College of Engineering from August to December of 2012 and as the Interim Vice Provost for Research (VPR) in 2017. He served a the director of Carnegie Mellon University Africa from January 2018 to December 2021.
Kumar's research interests include computer vision and pattern recognition algorithms and applications and coding and signal processing for data storage systems. His publications include the book Correlation Pattern Recognition, twenty-two book chapters, more than 410 conference papers and 210 journal papers. He is also the co-inventor of 12 patents. He served as a topical editor for Applied Optics and as an Associate Editor for IEEE Transactions on Information Forensics and Security. Kumar has served on many conference program committees and was a co-chair of the 2008-2010 SPIE conferences on Biometric Technology for Human Identification, a co-program chair of the 2012 IEEE Biometrics: Theory, Applications and Systems(BTAS) conference and a Program Committee co-chair for the 2015 International Conference on Biometrics(ICB). Kumar is a Fellow of IEEE, SPIE, OSA, IAPR (the International Association of Pattern Recognition), AAAS and the National Academy of Inventors (NAI). In 2003, Kumar received the Eta Kappa Nu Award for Excellence in Teaching in the ECE Department at Carnegie Mellon and the Carnegie Institute of Technology's Dowd Fellowship for educational contributions, and he was a co-recipient of the 2008 Outstanding Faculty Research Award in Carnegie Mellon's College of Engineering. In 2019, the CMU College of Engineering selected him as the inaugural recipient of the College of Engineering's Faculty Outstanding Service Award.
Generating Maps from GPS Data
Education
1980 Ph.D., Electrical Engineering, Carnegie Mellon University
1977 Master of Technology, Electrical Engineering, Indian Institute of Technology, Kanpur
1975 Bachelor of Technology, Electrical Engineering, Indian institute of Technology, Kanpur
Affiliations
Media mentions
Bhagavatula participates in World Academic Summit panel
CMU-Africa Director Vijayakumar Bhagavatula particpated in a panel disussion on "An innovation in 'excellence'—new concepts from Africa" at the World Academic Summit in September.