Carnegie Mellon researchers are developing artificial and tissue based approaches to create more biocompatible cardiac support. Artificial approaches include a muscle-driven, extra-cardiac ventricular assist device for long-term cardiac support. Our tissue-based approach integrates developmental biology, stem cell science, materials science and engineering, and additive manufacturing to print replacement cardiac tissues.
Bioengineered hearts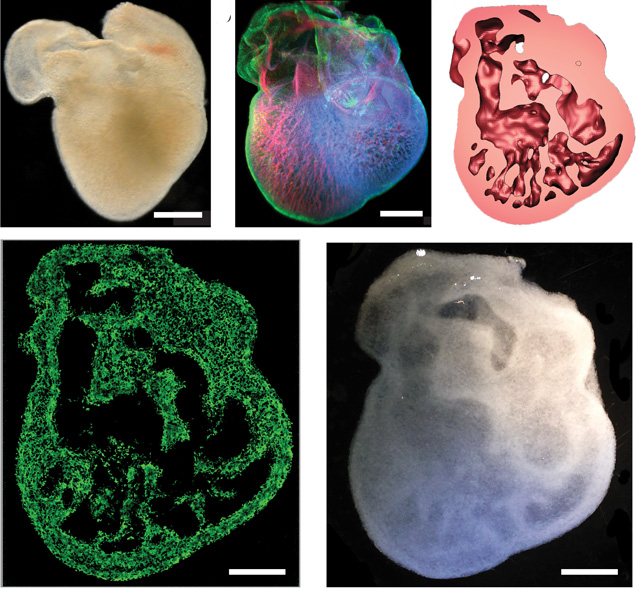 Bioprinted hearts
The heart, unlike skin, cannot heal itself once it becomes damaged. Given enough damage, a patient may require a heart transplant to survive, but currently the number of people who need a transplant largely outnumbers the amount of hearts available. Carnegie Mellon researchers are developing techniques to use 3-D printers to "bioprint" heart tissue that could someday replace damaged heart tissue, alleviating the necessity of a transplant altogether.
Publications: 
Artificial heart assist device with a muscle-driven energy source
Carnegie Mellon researchers are working to solve two of the biggest problems with long-term use of cardiac assist devices: risk of infection from an externally connected device and blood clots caused by blood-contacting surfaces. They are creating a novel device that is completely implantable and does not require any connection to an external power source. Instead, the implantable device has its own internal power source that converts muscle contractions into hydraulic energy. And because the device acts to compress the heart from the outside and does not contact the bloodstream, patients would avoid complications due to blood clots or bleeding caused by anticoagulation medication.
Publications: 
Explore Other Research Topics