Defining the future of advanced manufacturing research and education
The Next Manufacturing Center is one of the world's leading research centers for additive manufacturing (AM), commonly known as 3-D printing. The center leverages the engineering and data science expertise from across Carnegie Mellon University to advance additive manufacturing.
Our researchers have access to state-of-the-art equipment in our additive manufacturing laboratories on campus and at Mill 19 that enable them to develop new approaches for design optimization, materials development and characterization, process parameter selection, and parts qualification and certification.
In addition to leading cutting-edge research in these critical areas, our faculty and staff are also educating and training the next generation of AM innovators through creative, hands-on problem-solving.
Capabilities
Metals, Ceramics, Sand, and Composites
EOS M290 Direct Metal Laser Sintering
TRUMPF TruPrint 3000 Laser Powder Bed Fusion
TRUMPF TruLaser Cell 3000 with TruDisk 6001 Laser Metal Deposition
Freemelt ONE Electron Beam Powder Bed Fusion System with Backscattering Electron Detector
ExOne Innovent+ Binder Jetting
ExOne M-Flex Binder Jetting
Lincoln Electric SCULPRINT RND-ADDSYS-1 Wire Arc Additive Manufacturing
Lincoln Electric ClassMate Laser (Hot Wire)*
Electronics
Optomec Aerosol Jet 300
Optomec Aerosol Jet HD2*
Polymers
Objet350 Connex Multi-Material
Objet30 PRO Desktop
(5) Stratasys Dimension Elite FDM
(5) Form 2 Desktop SLA
(11) Dremel 3D40 FLEX
Biomaterials
Biomaterial printers are custom-built by individual labs.
Characterization/Finishing
Freeman Tech FT4 Powder Rheometer
Granutools GranuDrum Powder Rheometer
(2) Keyence VR-5000/6000 Wide Area 3D Measurement System
Keyence VL-500 Series 3D Scanner CMM
Infinite Focus G4 with Real 3D Surface Measurement
ZEISS Xradia Crystal CT 3D X-ray Tomography System
(4) Shot peen (ceramic and metal shot media)   
(2) CM Furnace
(2) GF Machining Solutions AC Progress VP3 Wire EDM Machine
Testing
Split-Hopkinson pressure bar for testing stress-strain of materials
Gleeble 3500-GTC system for thermal and mechanical testing
*Will be available in 2023.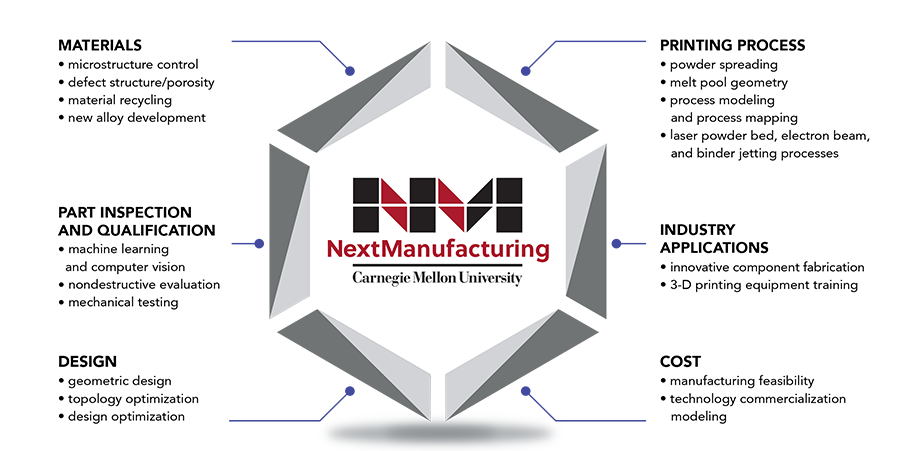 Innovating additive manufacturing
The Next Manufacturing Center research focuses on current AM processes, but also looks ahead to where additive processing will be in the future. Efforts in the Next Manufacturing Center will allow metals AM users to be able to:
Design the process as they design the geometry of the part
Monitor and control the AM process
Vary material microstructure and properties within a single AM part
Use a wide variety of metal powders
Eliminate or design for internal porosity
Apply machine vision, machine learning and other computational tools across AM
Develop new alloys specifically designed for AM
Next Manufacturing research has helped enable these advances, which will significantly increase build rates, reduce costs, improve properties such as fatigue resistance, allow for customization of the entire process, and, ultimately, help to increase the widespread adoption of AM.
The Next Manufacturing Center is a leader in the field of additive manufacturing.